Summer's almost here, mamas!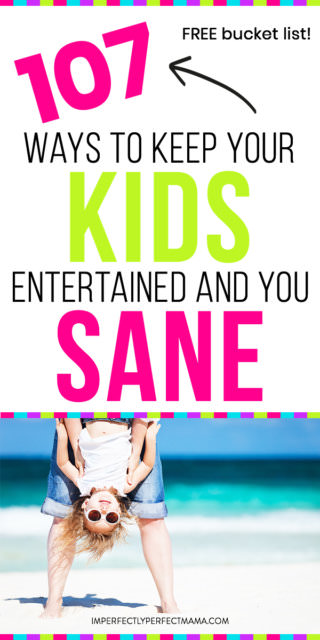 And that means it's time to get your summer plans in place now, so you're not feeling overwhelmed when school's officially out!
If all your kids are school-aged and you work from home, summer can feel like a major source of anxiety. Suddenly, all your kids are home and looking for fun and entertainment.
No need to worry, this list has you covered!
There are more than enough fun activities for every day of your summer break.
There is a mixture of child independent and parent-involved activities that are perfect for both sunny and rainy days.
I believe summer should be filled with fun and relaxation.
It's not necessary to turn your home into a full-on summer camp. Kids need rest on their summer break too.
And don't feel the pressure of checking off every activity on this list.
Just use it as inspiration so you never have to hear the phrase, "I'm bored" for the entire summer! And that's what we call winning!
Make sure to grab the FREE summer bucket list of this post so you can do all of these activities this summer!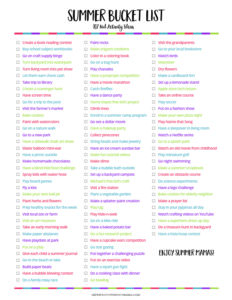 You can offer these activities up like candy to your kids when they come looking to you for fun and you're all tied up.
Also, please note this list is about surviving the summer while the kids are out of school, so I've only included activities that are suited to school-aged children.
No toddler-focused fun here unless you're really brave, of course!
But for specific activities for toddlers, make sure to check out our post on 50 Outdoor Activities to Do With Your Toddler.
107 Activities to Create Your Family's Summer Fun Plan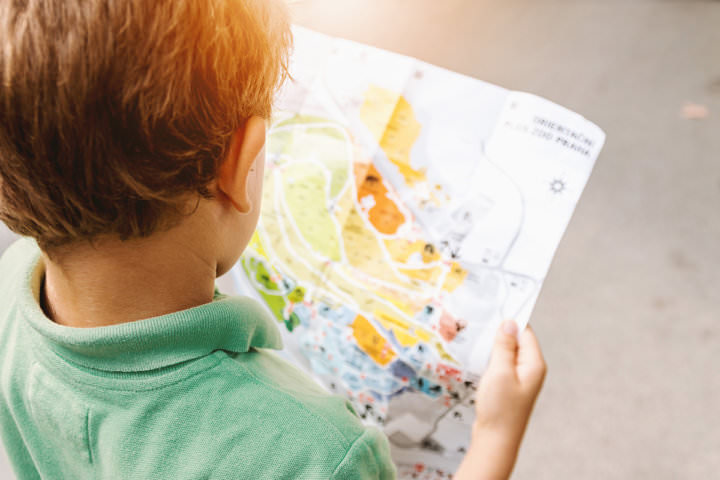 1. Create your own book reading contest
Make a roster to track each book your child has read over the summer.
Offer great prizes for the winning child. If you have one child, give them a goal and if they meet the goal, they get the prize.
2. Buy school subject workbooks
We all know why learning during the summer is a good thing. But kids actually like working through learning activities as long as it doesn't "feel" like work.
3. Go on craft supply binge
Many craft stores have a clearance section where you can find crafting supplies for really cheap.
Store all your finds in a big plastic tub and pull them out easily when it's craft making time!
4. Turn your backyard into a water park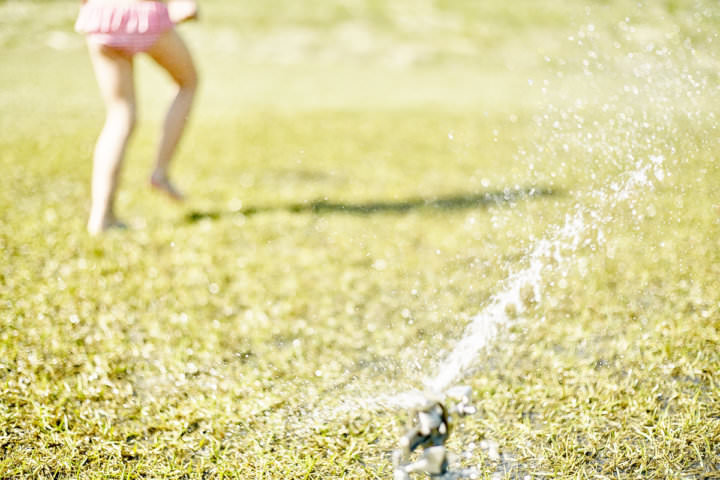 Use sprinkler heads, a slip n' slide, and a kiddie pool to create a super fun obstacle course! They'll never want to come inside.
5. Turn your backyard or living room into a pet show
If you have pets, dogs work best, make an obstacle course that resembles a fancy dog show or have your kids teach your dog fun new tricks.
6. Let them earn chore cash
Give them extra chores around the house to earn summer spending cash!
7. Take a trip to the library
Most local libraries have tons of activities lined up for summer fun.
Just check your child in and find a comfy spot and get some precious quiet and work done!
8. Create a scavenger hunt
You can make one for inside the house, at the park, in the backyard, and even at the grocery store. Creativity is a must!
9. Let them have screen time
I'm firmly in the camp of moms who think it's perfectly OK to allow your kids to watch TV or play games on their tablet.
Just set timeframes for usage so they don't spend their entire summer staring at a screen.
10. Take a trip to the pool
Swimming is great exercise and wipes out the kiddos like nothing else. And that means quiet for mom, later!
11. Visit a farmer's market
This is a great place to pick up fresh produce at a great price, but there are usually fun and educational activities for your kids to enjoy too!
12. Bake cookies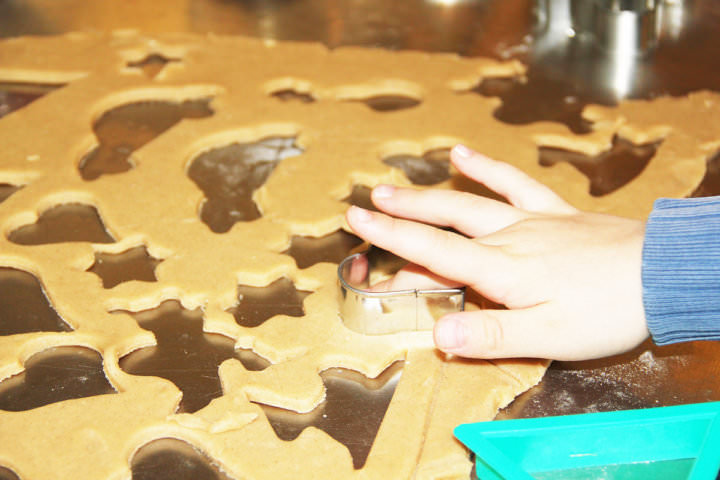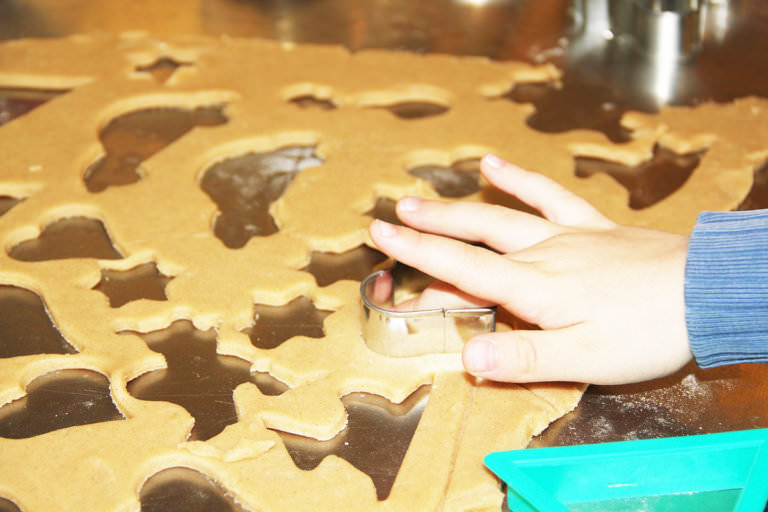 Turn those yummy cookies into even yummier ice cream sandwiches! You can make extra and wrap them in plastic wrap for a cool treat later.
13. Paint a landscape with watercolors
Go outside and find a pretty spot to paint.
14. Go on a nature walk
Kids need lots of fresh air and so do you! Go outside and find a walking trail to explore nature.
15. Go to a new park
This one doesn't involve any planning… just let them freely play until they whine it's too hot, I've gotta go potty, or I'm hungry!
16. Have a sidewalk chalk art show
Buy some cheap sidewalk chalk and let your kids decorate your driveway with their masterpieces.
17. Fill up water balloons and have a mini-war
They make filling water balloon so easy now, so no excuses. Fill them up and get in on the action!
It's perfectly acceptable to throw things at your child as long as it's filled with water. 😉
18. Have a picnic outside
Make a healthy bagged lunch and bring a giant blanket to your local park, or even your own backyard.
19. Make homemade chocolates
All you need is some simple food molds.
Melt chocolate and a little cream in a double-boiler.
That's just a glass bowl that sits on top of a pot of simmering water. Stir the chocolate until it's melted and pour the chocolate in the molds.
Place in the freezer to set, and enjoy!
If your child doesn't like chocolate, check out these fun homemade candy recipes:
20. Have a blind-folded food challenge
Open cans of veggies, beans, and other canned food items. Have your kids taste each one and see if they can guess what the food is.
21. Make it rain!
Have fun mom, and spray your kids with the water hose. Trust me, they'll love it and you'll be secretly getting back at them for leaving the bathroom a mess all week!
22. Dust off those board games and play them
Bring your board games out of the back of your closet and put them out front during the summer. When they say they're bored, simply point in the direction of their games. Don't forget to play too!
23. Go fly a kite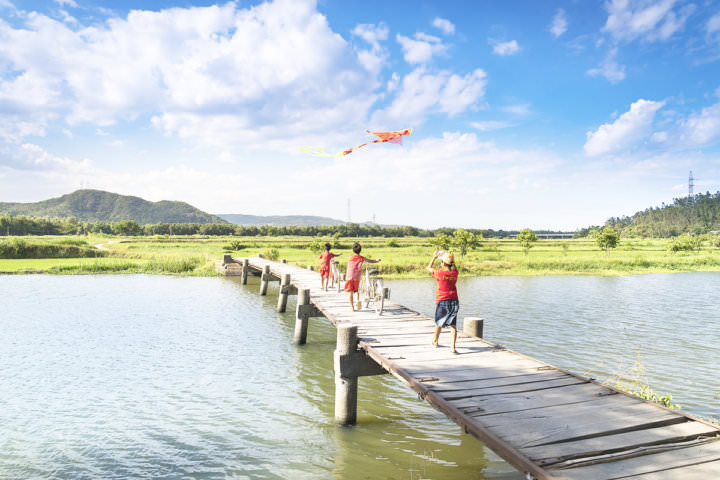 On a windy day, flying kites is really fun. You can buy kites at the dollar store for just a dollar too!
24. Make your own ball pit!
Use a kiddie pool and fill it up with plastic balls. You'd be surprised how much this is for elementary aged kids!
25. Plant herbs and flowers
This can be done inside using simple pots or out in the backyard. Choose easy to grow and take care of plant varieties and let your kids watch their new seedlings grow tall over the summer.
26. Make healthy snacks for the week
Chop up fruits and veggies, make homemade granola and power balls, yummy popsicles, and even create kid-friendly smoothie bags to make cool smoothies in a snap.
27. Find the animals
Plan a visit to your local zoo, farm, or animal sanctuary. Keep a lookout for deals and kid discount days.
28. Visit an art museum
Museums are fun for kids and are obviously educational. Our local art museum has a wonderful kid play center that they are happy to spend hours in.
29. Take an early morning walk
Wake up your kiddos as the sun comes up and take a walk. It's much cooler and quieter in the morning.
Plus, you'll probably see more wildlife action because no one's out there but you!
30. Make paper airplanes and have a flying contest
Buy a cheap ream of paper and let them make endless paper airplanes to see which ones fly the best!
31. Invite their friends to a playdate at the park
Playing at the park means zero planning on your part, mom! And the best part is you can catch up with your friends too.
32. Put on a play
Have your kids act out scenes from one of the books they read this summer and put on real performance. Encourage them to get creative and make their own costumes and makeup using what's already in the house.
33. Give each child a summer journal
Encourage them to write down all their summer fun!
34. Go to the beach or the lake
We live in Florida so we're pretty close to the ocean. If you live near a lake or river, go there!
35. Build paper boats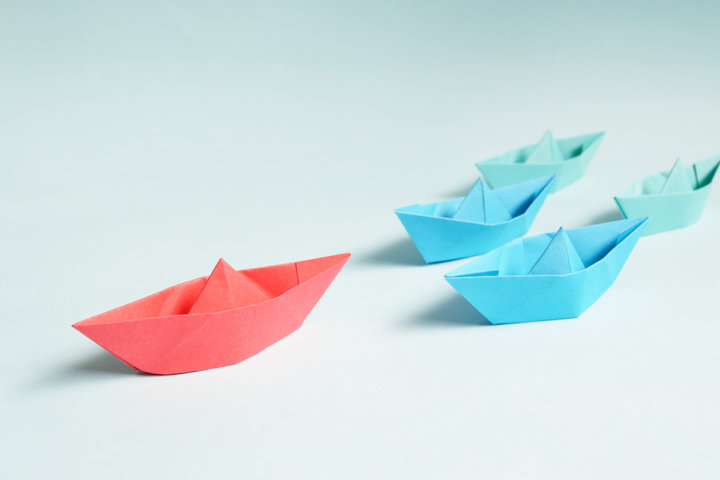 Use that ream of paper you already bought and let them make paper boats to see which ones actually float. This is perfect for the kiddie pool or even the bathtub. Be sure this activity is supervised.
36. Have a garage sale
Your kids can decide to sell some of their forgotten toys and earn some extra summer-fun cash!
37. Make driveway board games
Use their sidewalk chalk to create fun games like a bullseye game. Make giant circles to form a bullseye and add scores to each circle layer.
Let your kids throw bean bags from a distance to land in the highest scoring circles. Also, hopscotch or some other variation is fun too!
38. Have a bubble blowing contest
Get plenty of bubble soap and wands and see who can blow the longest string of bubbles.
39. Do a family relay race
Get the kids outside and invite the neighborhood kids and have an old-fashioned three-legged, sack, and egg on a spoon race.
40. Paint rocks
Make creative designs on all the smooth, flat rocks you can find.
41. Make origami creations
Youtube is full of kid-friendly videos showing how to make cool origami creations. Check out this awesome creation:
42. Get your color on!
Coloring books are all the rage now… even for adults. Find a beautiful and challenging coloring book to keep your artsy kids busy for hours.
43. Go on a bug hunt
Find an area of moist soil in your yard and let your kids start digging.
44. Play charades
You don't need a fancy game for this. Just write down some simple scenarios and let the kids act them out.
45. Become a jump rope champion
Get a couple jump ropes and let your kids practice tricks like the pros do.
46. Have a movie marathon
Rent a few dollar movies, close the shades, and butter the popcorn. This is perfect when you've got tons of work to do and they'll love the treat!
47. Catch fireflies
We don't have fireflies down in the south, but I remember catching fireflies when I lived up north as a kid. So much fun!
48. Have a dance party
Turn up the kids' favorite dance music and let them go wild!
50. Visit your local Home Depot and complete their free kid's project
51. Climb trees
I used to climb trees as a kid, and sit there reading books for hours!
52. Enroll in a summer camp program
There are many safe and fun summer camps that help kids learn new skills like art, dancing, and sports camps.
53. Go see a dollar movie
Many theaters feature older movies during the summer for a dollar.
54. Have a makeover party
If your girls love makeup, let them play in your makeup or buy cheaper versions at the drugstore.
55. Collect pinecones
Go on a hunt for pinecones and take them home to decorate.
56. String beads and make jewelry
This activity is perfect for boys and girls if you use plain beads without the frills for the boys.
57. Have an ice cream sundae bar
Fill up little bowls of toppings and let them go to town!
58. Make fun tutorial videos
If you have outgoing kids who like to share their creativity with others.
Let them produce their own videos for kids. And you don't have to actually publish them if you don't want to.
59. Make slime
Yes, I know this one has been overdone, but my kids are still not over their own slime and putty addiction. Here's a super simple 3-ingredient slime recipe.
60. Take a bubble bath outside
Fill up a kiddie pool with water and bubbles. Don't forget the bath toys! That kiddie pool is really coming in handy, right?
61. Set up a backyard campsite
Pitch a tent complete with all their favorite camping equipment. For dinner roast marshmallows and hotdogs. And try these easy s'more brownies to go with the roasted marshmallows!
62. Visit your local Michael's and complete their free kid's craft
63. Visit a fire station
Firefighters love to show kids around and take out the big fire engines.
64. Plant a vegetable garden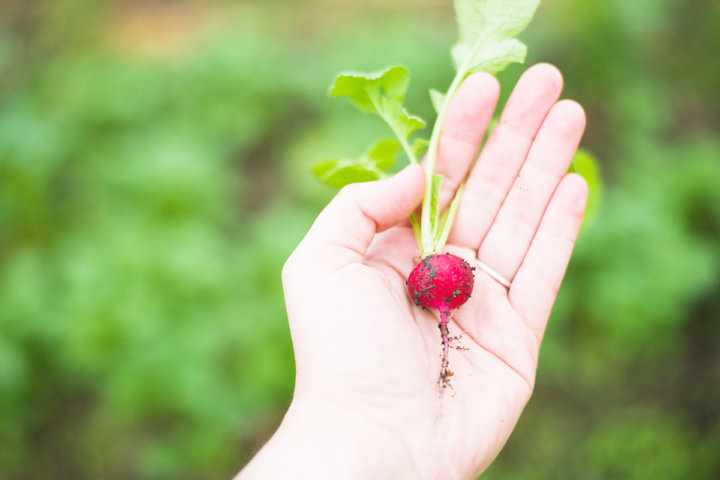 And eat the yummy results!
65. Make a splatter paint creation
Buy a cheap poster board and lay it on the grass outside. Let the kids splatter paint on their canvas until their heart's content.
66. Play tag
I'm serious this game never gets old!
67. Play hide n' seek
This game also never gets old.
68. Go on a bike ride
This is perfect for the whole family to get some fresh air and exercise.
69. Forget real dinner, have a giant baked potato bar
Simply bake the potatoes in the oven until done, then let the kids top their potato with their favorite toppings.
70. Do a fun research project
Let them choose to learn about any topic they want, and go online or to the library to complete their research.
71. Have a cupcake wars competition
Make a batch of yummy cupcakes and decorate them like a fancy bakery and judge the winning cupcakes.
72. Go star gazing
Wait until dark and go outside and look at the stars.
73. Put together a challenging and fun puzzle
This activity can go on for days!
74. Put on an exercise video
Many cable providers have streaming exercise programs.
75. Find a fun dance video one and let the kids enjoy
The dance ones are really fun!
76. Turn dinner time into a cooking class
Let your little chef help and learn while you're making dinner.
77. Go bowling
Many bowling alleys have a kids night or discounted day for family fun. Some are even free.
78. Visit the grandparents
Drop them off for a sleepover for a few days, even.
79. Go to your local bookstore
Attend the free story reading.
80. Watch birds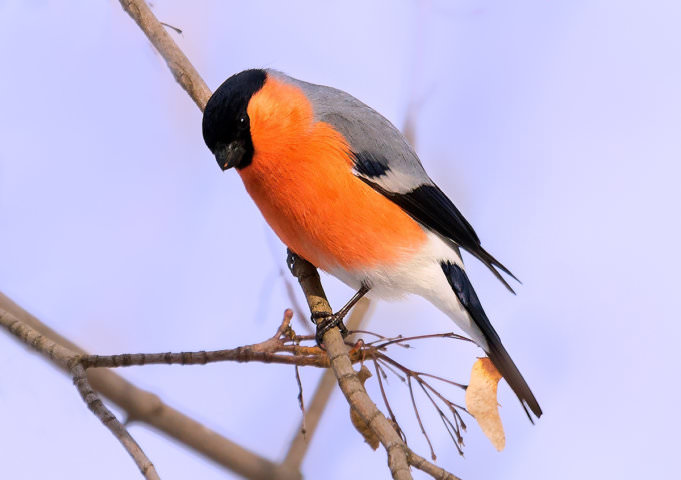 Get some binoculars and go bird watching.
81. Volunteer
Find a way to help others in your community.
82. Dry flowers
Pick wildflowers and let them dry upside down in the sun.
83. Make a cardboard fort
Find a giant box and let your kids decorate it and play inside.
84. Set up a lemonade stand
Make fresh lemonade and offer it for sale to the neighborhood.
85. Learn tech skills at an Apple Store
They offer classes to teach kids new tech and computer skills.
86. Take an online course for kids
Many online courses teach kids skills like drawing or computer coding.
87. Play soccer
Practice soccer drills outside at the park or even in the living room.
88. Put on a fashion show
Let them dress up from your closet and put on a real fashion show.
89. Have a make your own pizza night
90. Play Name that Song
Offer prizes for the winner.
91. Have a sleepover in the living room
Part of the fun of summer is not getting up early. Let them camp out downstairs or in the living room.
92. Watch a Netflix series
This isn't for every day but perfect for rainy or lazy days.
93. Go to a splash park
Many cities have free outdoor splash parks to enjoy in the summer months.
94. Watch an old-school movie from your childhood
95. Play miniature golf
96. Go night swimming
There's nothing more fun than swimming after dark!
97. Make a summer scrapbook
The more creativity the better.
98. Create an obstacle course
This is great for inside or outside.
99. Do science experiments
There are lots of books in the library with simple and inexpensive experiments to do.
100. Have a lego challenge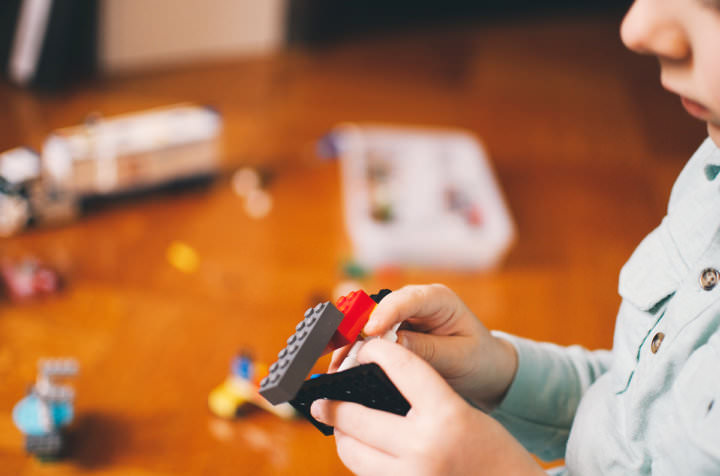 See who can build the biggest, highest, or some other challenge.
101. Bake cookies for an elderly neighbor
102. Make a prayer list to pray for others as a family
103. Stay in your pajamas all day
Yes, that includes you mama!
104. Watch crafting videos on Youtube
Here's a great YouTube channel full of craft ideas for kids. Then let the kids try them.
105. Have a superhero dress up day
106. Do a treasure hunt in the backyard
This is similar to an Easter egg hunt. Just hide whatever treasures you like.
107. Have a hula-hoop contest
There you have it, more than 100 activities that will carry you through every single day of summer break!
Just remember one thing, mama… enjoy the summer and have fun!
Is there anything I've missed on this list? What would you add?
And make sure to grab the FREE summer bucket list!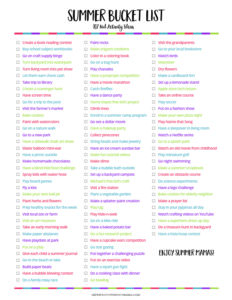 Please share your ideas in the comments below!