I don't know about you and your kids, but we LOVE to play outside.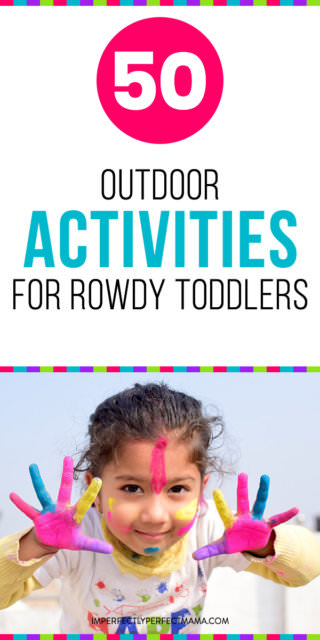 I love it because it keeps the house from looking like a tornado came through. The kids probably love it for other reasons.
Here are some of our absolute favorite outdoor activities.
If you are looking for a birthday present or just more outdoor activities, I have posted links to products that go with the activities. (These are affiliate links, and I do receive a small fee if you click through and buy the product here.
Please know I only recommend products I love and would use myself.)
The links below are affiliate links. If You purchase an item from the links below, I will receive a small fee or commission (at no extra cost to you). However, I can assure you that all opinions stated below are my own.
I do not share products that I do not use and love, myself. Please visit my Disclosure and Privacy Policy for more information! Thanks for your support!
One more thing! If you have older children, make sure to check out this awesome resource list with over 100 ways to keep your kids entertained – and you sane mama!
Learn to ride a tricycle.
Play with sidewalk chalk.
Blow bubbles.
Feed the birds.
Plant flowers.
Dig in the dirt.
Have a water balloon fight.
Play in the sand.
Go fishing.
Go for a walk.
Go for a hike.
Take pictures.
Play hopscotch.
Go to a park.
Pick up trash.
Play catch.
Have a picnic.
Play in the dirt.
Have a race.
Play tag.
Play hide and seek.
Rake leaves.
Build a Snowman.
Go swimming.
Play in the sprinkler.
Read books.
Build a fort.
Walk on a balance beam.
Plant a garden and watch it grow.
Set up a tent.
Catch lightening bugs.
Jump on the trampoline.
Play in the water table.
Kick a ball.
Climb rocks.
Water the flowers.
Drink from the hose.
Play in the rain.
Play in the mud.
Get the mail.
Shovel snow.
Have a snowball fight.
Have a lemonade stand.
Look at the stars/sun/moon/clouds.
Ride a scooter.
Pick up sticks.
Wash the car.
Please comment below with your favorite outdoor activities! Now get outside and have some fun! 🙂
Don't forget to pin this article on Pinterest for future reference! Join me on Instagram and like my Facebook page to be a part of a wonderful community of new moms!
We are a participant in the Amazon Services LLC Associates Program, an affiliate advertising program designed to provide a means for us to earn fees by linking to Amazon.com and affiliated sites.
Save
Save
Save
Save
Save
Save
Save
Save
Save
Save
Save
Save
Save