I do not claim to be a baker, nor do I really enjoy baking. Mention the word, "S'mores," on the other hand, and I can whip up some gooey, chocolatey, delicious concoction!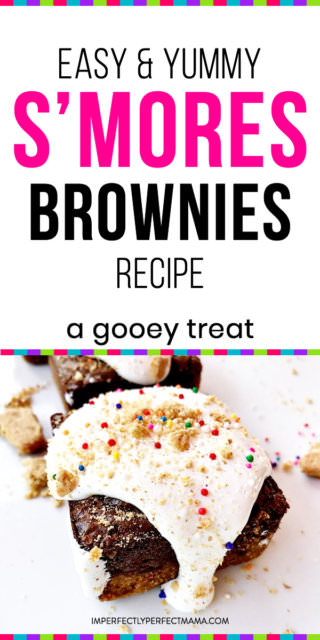 So, when my daughter mentioned that she wanted to go camping (one time) I jumped at the chance to make that her third birthday party theme!
Because camping = S'mores! And I love S'mores. Did I mention that?
I had so many ideas for S'mores treats, it was hard to settle on this one, but I'm glad I did, because I think they turned out pretty tasty!
So, without further ado, here it is! The S'mores Brownie.
This post may contain affiliate links. If you purchase anything from these links I will receive a small fee at no additional cost to you! These fees are what keep our site up and running! 🙂
Originally, I had planned on making S'mores cupcakes. Then I had a brilliant idea to make S'mores BROWNIES. Yumm! So I borrowed this brownie pan, which I am in love with, from my sister and got to work.
First I started with the graham cracker crust.
There are many different ways to make a graham cracker crust, apparently, but I decided to keep it simple. I put two packages of graham crackers into my food processor. Once crumbled I ended up with exactly 2 cups of graham cracker crumbs.
You can also buy graham cracker crumbs at the store if you want to make it easy and skip this step!
Next, I added 8 TBS of melted butter, and 1/4 C. of white sugar.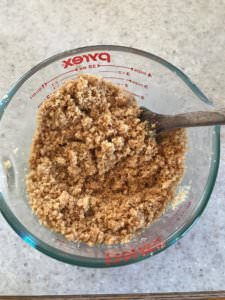 Once that was ready, my daughter helped me scoop the graham crackers into the brownie pan. We used a spoon to press them down into the pan.
Then we made the brownie batter. We used Betty Crocker brownie mix, but you can use your favorite. Once it was done, we poured the batter over the graham cracker crumbs.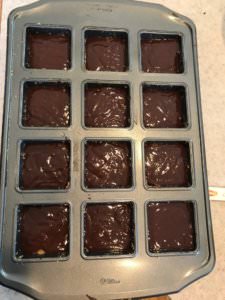 Bake according to brownie directions and let cool. Use a knife or spatula to loosen the edges and get brownies out of pan. Place on a plate or platter.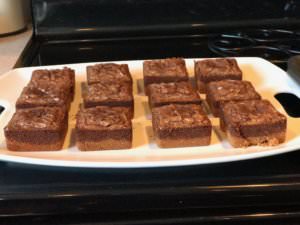 Pretty sure I told you I'm not really a baker, right?
Okay so this next part might give that away. I was really going for a marshmallow topping like the one over at Baking Mischief, (looks amazing!!) but in a last second decision at the store I grabbed two jars of Marshmallow Fluff. I'm not proud of this decision and it really wasn't the texture I was going for but hey, it happened.
So, instead of whipping together my own homemade marshmallow frosting, I just dabbed some of this gooey goodness on top of each brownie. Followed by some more graham cracker crumbs and birthday sprinkles..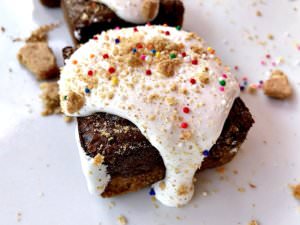 Soo, not all exactly homemeade or at all healthy, but quick? Yes. Easy? Yes. Delicious? YES!
Enjoy!
Save
Save