As a mom and preschool teacher, I love to find new ways to teach foundational skills to my kids.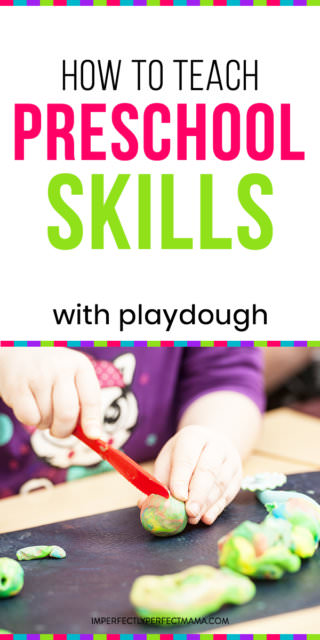 I get especially excited when I find something that can be used to teach many different skills at once.
That is why I love using Play-Doh so much!
You can use to teach letters, numbers, counting, colors, shapes, sorting, and size!
And my daughter loves it soo much. We can spend hours making shapes, animals and so much more.
Yes, it can be a little messy at times, but I have found that if you set a few simple ground rules, the kids do just fine with it.
Also, make sure to teach your little one not to put Play-Doh in their mouths.
I know there are edible Play-Doh recipes out there, but to be safe, I always teach children not to put non-food items in their mouths.
Learning Through Play
Many of the examples I will give below are for teaching foundational skills.
The key word here is teaching. Meaning you are interacting and playing with your child.
At this age, teaching can be playing with, talking to, copying, and interacting with your toddler or preschooler. Kids LEARN through PLAY! This is something adults tend to forget. Their knowledge is expanding through every activity, game, or interaction they have each day.
So, while you might feel like you are just playing, your child is LEARNING!! With that said, your child also learns a lot through free play. So, there are benefits with structured play as well as free play.
The links listed below are affiliate links, meaning I will earn a small fee if you click the link and buy a product. Please know that these are my personal opinions and I only recommend products that I know and love. Please visit my Disclosure and Privacy Policy Page for more information!
How to Teach Preschool Skills with Playdough
The first thing you need, obviously, is playdough.
You can either buy Play-Doh which is available HERE, or you can make your own. I tried making pumpkin playdough once and it was a complete and utter failure.
Not really something I want to try again, but maybe someday in the future! So, here are a few blogs that give some great playdough recipes!
Just click on any of the links to visit their page!
Living Well Mom has a great, simple recipe for playdough in 10 minutes!
She also has a gluten-free playdough recipe for those gluten-free kiddos! You can find it HERE.
If you click through her blog you can also find several playdough mats and other playdough resources to use with your toddler!
Now, if you are looking for something a little more complicated, but also super fun and creative, you should visit Sweet as Honey for her Supersoft Swirl Playdough Recipe!
I'm loving the swirls of different colors and the glitter!
Of course, you can always find more playdough recipes on Pinterest!
Ways to Teach Letter Recognition
Lakeshore Uppercase Letter Stampers &Lakeshore Lowercase Letter Stampers
These are my favorite stamps for playdough! They are great for stamping letters in your name, sight words, alphabetical order, or just free choice! There are so many ways they can be used and the kids love them too!
You can also work on letter recognition by rolling out the playdough and using it to form the letter.
My daughter's name starts with R so we like to practice "her letter" a lot. This is a great hands on way to show your child how the letters are formed as well!
Ways to Teach Number Sense
Play-Doh Shape and Learn Numbers and counting
These are great little number mats. Each number mat has that many shapes associated with the number.
You and your child can form the number with playdough, while working on counting, shapes, and colors at the same time!
You can also practice counting objects with playdough. Simply making them into a shape and putting them on the table.
I recommend teaching your child to point to each object as he/she counts.
When they get a little older, I would also teach them to move each object into a pile once they have counted it. This will help to prevent counting an object twice or counting too fast.
Ways to Teach Shapes and Colors
Teaching shapes and colors is so easy with playdough!
You can manipulate the playdough into different shapes while talking about the colors. If you want something more structured, Play-Doh makes ashapes and colors play mat, but I don't think it is completely necessary to have!
Some other skills you can teach using playdough:
size
colors
shapes
patterns
Ways to Teach Fine Motor Skills
Fine motor skills are important for children to be able to manipulate smaller objects such as buttons, zippers, and pencils. There are many ways to strengthen a child's fine motor skills and playdough is definitely one of them. Here are some of my favorite fine motor playdough tools to use with my daughter and students.
Playdough scissors are great for toddlers to practice cutting with no real danger.
These playdough scissors are great, but were a little top heavy for little hands.
They also have two small holes for the fingers, and I prefer the ones that have one larger hole so they can use more fingers for closing the scissors.
I have linked to a pair that would work better HERE. I love these Play-Doh scissors for many reasons.
Number one, the blades are not sharp like real scissors so they are child-safe. Number two they have a large hole and a small hole for the thumb. This teaches kids the correct way to hold scissors. Number three, it is a great fun way for kids to learn how to cut before using actual scissors!
These little extruders will keep your kiddos busy, while also strengthening their hand muscles.
I have a set of these at school and my kids loved making new creations with them! You basically put the playdough in the tube and use the pusher to push it through the tube to make a shape. This is great for strengthening hand and finger muscles, which will help develop fine motor skills.
Even if your child is simply playing with playdough, there are many skills to be learned. So again, while it can be messy, your child is learning! Playing and learning go hand in hand for children. It won't always be pretty, tidy, clean, or structured and that is okay! Have fun!