The holidays are just around the corner.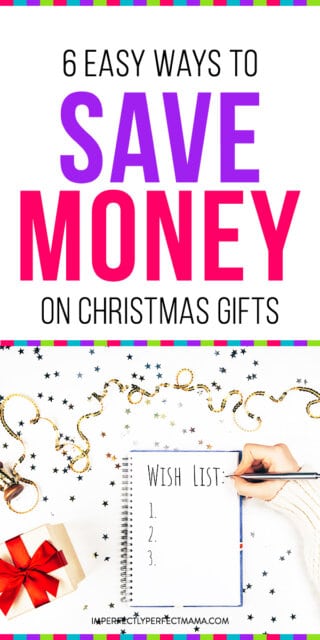 As a mom, you know that creating memories with your family is one of the best things about Christmas.
You want everything to be perfect and your loved ones deserve the best.
Unfortunately, retailers play to these emotions during the holiday season.
If you tend to associate appreciation of a loved one with a price tag, you could be in danger of overspending this year.
What's worse is that it may take months to pay off the holiday credit card debt incurred as a result of this overspending.
If you're already trying to get out of debt, this is not a welcome picture.
However, with some planning, you can financially prepare for the holiday season so that your gift-giving doesn't ruin your holiday cheer.
1. Start with a Plan
Before you head to the stores or log on to your favorite online retailer, figure out the total amount you are going to spend on gifts and the people you need to buy for.
A great way to make sure that you stick to your list is by taking out cash for your purchases when you go shopping. Cash will make sure you hold yourself accountable and stick to the budget. Once cash is gone, it's gone.
If you don't want to carry around that much cash, get a prepaid credit card card. After you make your purchases, keep a running list of what you bought, for whom, and how much you paid for it.
Obviously, this is no fun (unless you really love budgets). However, it's absolutely necessary if you have a habit of spending more than you intended every holiday season.
2. Have an Honest Conversation
Another way to make sure you don't overspend on gifts is by having an open conversation with family members and friends about setting limits on gifts.
This could be a dollar limit, or if your family has a habit of giving many gifts, you can also ask to set a limit on the number of gifts.
Many parents are using the three-gift rule to simplify Christmas and take the focus off materialism.
Another thing you can do is make gift giving just for the children. Many couples who are serious about paying off debt could choose this route to stay under budget.
If that doesn't sound like fun, you and your significant other could choose a mutual gift for each other–for example, a night out at your favorite restaurant, tickets to an event, or something else you both will love.
3. Choose Personal Over Expensive
Expensive gifts are great, but there is something even better than that– a personalized gift just for them.
The best part about personalized gifts is that the receiver knows it took thought and time. You didn't just swipe your credit card at the last minute.
It doesn't even need to be expensive to achieve that effect, and you don't have to be a DIY queen to make some incredible personalized gifts.
Pinterest is full of examples of affordable DIY gifts–everything from mug cake kits, monogrammed hand towel tutorials, to handmade jewelry from old costume jewelry pieces.
Before you choose to go this route, make sure that the cost of the individual craft pieces don't end up costing more than buying a similar item at the retail store.
The trick is to choose something that matches your skills and is under budget.
If you are not handy, that's not a problem. You can still personalize gifts inexpensively without making them yourself.
For example, Etsy has downloadable artwork and sayings you can print and frame yourself. You can also buy decals specifically made for mugs or glasses, which you can purchase inexpensively.
Another example of a personalized gift idea that you don't have to make yourself is a book set.
You can purchase books by the person's favorite author or another theme, such as cookbooks for a person who loves cooking. You can buy some gently used books at a second-hand bookstore or even your local library.
You can also check out thrift or consignment stores for low-priced items that you can put your own personal touches on.
Some ideas include home decor items or furniture pieces you can paint and easily refurbish with some inexpensive changes.
Think outside the box when it comes to gift-giving and rest assured that more expensive doesn't always mean better.
4. Give the Gift of a Group Experience
If you have older children or many children in the family to buy for, a great alternative to physical gifts is the gift of a fun experience.
Not only may it be preferable to a physical gift, it has the added value of creating more memories for your loved ones.
Some examples are a day at a theme park, a sports game, bowling-alley, or even a group class.
Keep your eyes open for places offering discounted group rates. One great way to snag a good group deal is by using Groupon.
Before purchasing, however, make sure that you read the fine print so that there are no additional fees that aren't included in the original price.
A fun group experience not only makes a great gift, but it can be a money saver if you plan it right. Just make sure that it fits into your budget and doesn't end up costing more than a physical gift.
5. Focus on Traditions Instead of Gifts
Nearly half of Americans feel compelled to overspend during the holiday season. Spending money that you don't have, even if it's for the right reasons can cause you to go further into debt.
As a mom, it's easier to scrimp and save when it comes to yourself than it is on your loved ones. And there's nothing like the holidays to send your guilt into overdrive.
Unfortunately, all you're doing is lining the pockets of retailers. You can do a lot more for your kids down the road if you focus on staying on budget and staying out of debt.
There's no reason to pay interest on a $100 gift you can't afford in the first place. That extra money would have been better used if you placed it into their college fund.
Instead of feeling guilty about the number of gifts or amount you spend per person, focus on creating some new traditions with your family instead.
You can bake together, make ornaments, play board games, or even create a Christmas Day Treasure Hunt for little ones.
Another way to take the importance off of gift-giving is to volunteer with your family. Together you can create happy memories for other children within your community.
6. Plan Ahead for Next Year
Some people are great at budgeting all year long so that they have a nice Christmas fund when the holiday season arrives.
If this is not your style, don't worry! You can also make next year's Christmas a little easier on your wallet by shopping the sales the days and weeks following Christmas.
On the days following the holiday season, you can oftentimes find heavily discounted items that would make perfect Christmas gifts for next year.
It's not unusual to find gift ideas that are 50-80% off their original price. (You can also use this opportunity to shop for birthdays that are a few months away.)
If you do decide to go this route, just make sure you still stick to your budget. You can easily spend over your limit if you're not careful and get too excited by all the deals.
Wrapping it Up
The holidays are a time to spend with your loved ones without worrying about getting into debt. After all, taking care of your finances is showing love to your family.
With some planning, creative gift ideas, and focusing on the non-material aspects of the holiday, you can have a stress-free holiday without going over your budget