Being a parent is one of life's greatest joys.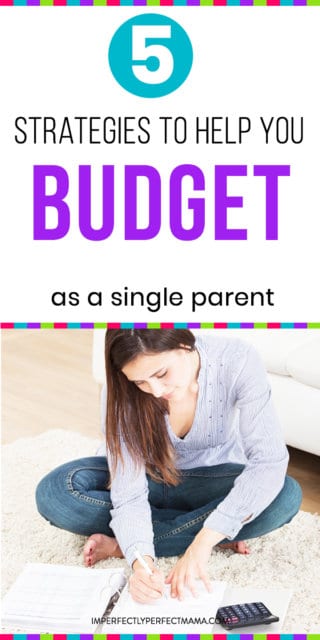 However, when you're the head of a single-parent household, parenthood can feel a little more overwhelming, especially when it comes to finances.
Fortunately, creating a budget isn't something you have to avoid.
Here are five strategies to help you budget as a single parent.
1. Know Your Necessities
The first step of any budget is knowing what you absolutely need to spend money on in any given month.
Items like a mortgage or rent, food, utilities, and transportation costs, should all be taken into consideration.
Once you know your expenses , you'll have a clearer picture of the numbers you need to hit in order to live comfortably.
2. Consider Alternative Childcare
For many single parents, childcare costs can skyrocket. Since there is no other parent to take care of the kids, it may seem that daycare is the only way to go. However, there are several alternatives you can consider that could reduce your monthly spending. One option is to see if your work will let you work from home on some days.
If your kids are old enough to entertain themselves, this will give you the ability to keep an eye on them while also getting your work done.
Another option is to set up a childcare swap.
If you know other single parents who have different schedules, you could agree to take care of each other's kids on different days, so no one has to pay for daycare.
Of course, if you have a trusted family member who lives at home or nearby, you may be able to arrange childcare with them, sometimes even for free.
3. Cut Utility Costs
When you evaluate places to save money, your utilities may not be the first thing that comes to mind. However, more often than not, families tend to use tons of electricity, gas, and water without even thinking about it.
According to House Method, you may be able to save money by looking at your monthly utilities and seeing where you could cut costs.
Consider setting your thermostat a degree or two lower in the winter and higher in the summer.
Be sure to unplug appliances when not in use, take shorter showers, and turn off lights when you leave a room.
4. Shop in Bulk
Another way to better budget your life as a single parent is to shop in bulk.
This is especially helpful when buying items like diapers, toothpaste, baby wipes, and any other non-perishable necessities—you'll be able to save yourself some cash by buying more than you need in the current moment.
In a similar vein, you should keep an eye out for sales at the grocery store, so you can pick up items your family uses regularly for less.
5. Pursue a Side Hustle
When most single parents think of a side gig, they worry that it will take them away from their kids even more.
These days, there are countless part-time jobs like pet sitting, delivering packages, taking surveys, and more that can be made to fit your schedule. You'll make some extra money and still have time to spend with your family.
As a single parent, you have a lot on your plate.
But, the good news is that your budget doesn't have to add to that stress.
With just a few simple changes to the way you live your life, you'll be more financially comfortable and won't have to worry about how you're going to provide for you and your family.