Did you blink your eyes and now your child is approaching the age of the beginning of kindergarten?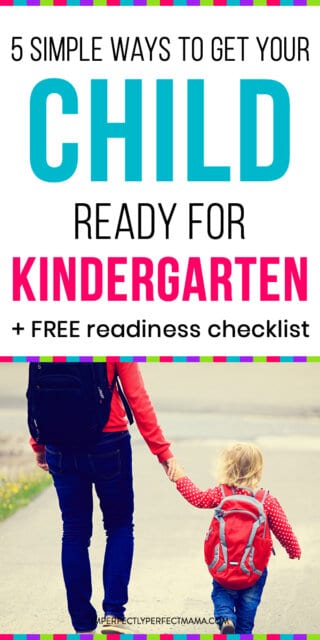 I did! Did you just get done registering them for school? Did that thought make you panic?
Are you breathing heavily now?
Stop, take a breath mama, we can get there together!
No worries!
Before we get into the nitty gritty of this post, make sure you grab this FREE Kindergarten readiness checklist (no email required)!
Let's discuss academic and social skills for kindergarten readiness and how to make them fun!
1. Letter Recognition
I have found the best way for my little to work on letters is a multisensory approach!
Basically, what that means is that we work on letters in lots of different ways!
Please check out this article I wrote on my blog, A Place 4 Mamas about Hands on Activities to work on Letters for ideas on how to get hands on with letter learning!
We follow the Jolly Phonics recommendation for the best letter sequence to teach letters.
By following this sequence, children are able to form words almost right away which helps form a sense of pride and determination to keep going!
s, a, t, i, p, n
c, k, e, h, r, m, d
g, o, u, l, f, b
j, z, w, v
y, x, q
As, I began teaching my son his letters I posted the first set of letters in a spot in our home. As he would run by I would stop him to ask what the letters were. I was trying to make it as fun as I could to get us going, so he did not see it as work!
We have a chalkboard wall in our living area. I wrote the letters on the wall one group at a time.
As he would master a group and could tell me what they were and what sounds they made, we would switch the group out for another. After he mastered letters, I would make a flashcard for them.
We would occasionally practice these just to make sure it stuck with us!
This is just a few of the ways we practiced our letters to work our kindergarten readiness. Working on letter sounds can be a challenging task. My little is much more willing to work on letter recognition so I had to get creative with letters sounds.
Check out this super fun letter sound activity to work on letter sounds by using their toys! They love it!
2. Name Writing
A good skill to practice to ensure Kindergarten readiness is writing their name! This is something I also enjoy being hands on with when we can. I try to mix hands on activities with structured writing practice!
One of my favorite activities to do is to get a big piece of construction paper and write their name in glue.
Then you have them pick up cereal (cheerios work great, but anything will do) and put it on the glue. This will form their name and make a great visual. This activity also works on the pincher grasp which is great for finger strength.
This is so important for holding a pencil!!
Another fun way to work on their name is to write the letters of their name on an index card. Cut it apart and ask them to sort it to form their name! This is great practice before putting the pencil or marker in their hand to begin working on their name!
We do a lot of practice with a highlighter while practicing their names and letters.
I will write their name in highlighter or yellow marker and they have to trace their name over top. After they have mastered this, then you write their name on the top of the paper in a colored marker.
Then they have to look at the model and produce their name below. This is a scaffolded approach, think of it like a ladder, one step at a time. After they have successfully mastered this for a while, then you ask them to produce it without a model. This takes time!
If you are unsure of what writing tool your child is ready for check out this article on my blog about the Best Writing Tools for Kids.
3. Numbers
A great way to get ready for kindergarten is to work on numbers: counting, recognition and writing numbers. To work on counting we count anything and everything, toys, cereal, noodles, etc. We try to get active with it and count jumping jacks, laps around the house, jumps on one foot, etc. (especially right before bedtime, to tire us out so we sleep really good).
Many of the activities we have already discussed work great to learn numbers as well as letters such as writing it in glue and placing cereal on it, using a highlighter to have them trace it, rolling it out in playdough, etc.
We also like to play what we call number whack. I have written numbers 1-50 on individual flashcards. I then lay a bunch of them on the floor. He holds our fly swatter (it is a new one I keep for activities like this) and I call out a number.
As, I call out a number he has to find it and whack it! This game involves lots of giggling and learning!
As he learns the numbers, then we practice them as flashcards to make sure we can recall them quickly. This is something that will be done in kindergarten to assess their knowledge of these numbers.
A big part of kindergarten is counting and telling how many. This is a skill they will need for lots of different activities! Practice this with things that interest them, their toys, snacks, shoes, etc.
A great way to do this is to use your muffin tin. Write numbers on muffin papers and put them in the muffin tin. Then ask them to count out cheerios to go with that number. It is great to use something they are motivated to eat in the end, it helps make it exciting!
4. Sight Words
Reading Sight Words
Sight words can be a challenge when working on them with your little!
The most important thing to remember is sight words are words we must memorize. They cannot be sounded out as they do not follow our typical sound patterns. That is what they have always said about sight words, now we are finding the easiest way to teach sight words is to learn the phonics patterns in the words that we do know and go from there.
As I work with my little guy, we try to sound out the words. Then we typically have to say "no that doesn't make sense" and from there we talk about what we know. Such as if we were working with the word "me", we know the "m" says MMMM.
We brainstorm together to see what we can come up with for the rest of the word, a lot of talking together goes into this.
Writing Sight Words
You could use many of the ways we have previously discussed to work on sight words. One of our favorite ways to work on sight words is to use shaving cream. Get out a cookie tray, I prefer one with an edge, and put shaving cream on it.
Then I show him a sight word on a flashcard, he has to write the word in the shaving cream. We practice writing it and reading it this way. Writing the words uses a different part of the brain then reading the words.
It is good to practice both skills.
My oldest and I have just started working on beginning sight words for kindergarten readiness.
I looked up a list on Pinterest that told me what order the words are taught! We use the chalkboard wall for this too! I currently have 5 words written on the wall. As he runs around playing, I stop him to get him to practice the words several times a day.
When he finishes a word and now has it memorized to read we move on to spelling them. As he runs by then I stop him and ask him to look away. Then I ask him to spell words or write words.
After he is proficient, we erase it together.
Then I put the word on a index card and add it to our word wall in our craft and school room! If you do not have room to make a word wall, you can easily make a word file folder. For example open a file folder and write each letter and then as your little finishes letters, write them under the appropriate letter.
5. Rhyming
The easiest way to work on rhyming with your student is to start discussing what it means to rhyme.
Talk to your student about how rhyming words end in the same sound, give an example, ball, hall, wall…they all end in the "all" sound. Typically we practice rhyming in the car or the tub, because it is an easy skill to practice in a spot that is not easy to practice many things!
We practice by me starting the rhyme, at least at first.
Me: ok bud, let's rhyme, I will give you two words and then you give me a word that rhymes with them. Hop, pop,?
Him: stop
Pro Tip: if your child produces a made up word as a rhyming word and it actually rhymes, accept it!
Especially for the beginning phase. Once they have figured out rhyming and what it means, then I prompt them by saying that does rhyme you are right but can you give me a real word that rhymes?
Things you are already doing
Mama, take a deep breath, I am sure you are already doing many things to work with your child on kindergarten readiness skills and do not even realize it! I am sure you are working on social and emotional skills such as:
sharing
turn taking
talking turns
following directions
using their words to express their feelings
spending time away from parents without getting upset
caring for self (blowing nose, washing hands, put on and off coat, button pants)
and the list goes on! These are all very important skills for getting ready for school!
If you haven't started on the academic things yet, take it one day at a time!
Try to implement something new and be consistent with it! Maybe start with having them retell you a story you just read, take little steps and do not forget to breathe. You are doing an amazing job!
Stop by my blog APlace4Mamas for more ideas on activities to work on academic skills.