One of the most exciting parties that you can throw or attend are baby showers.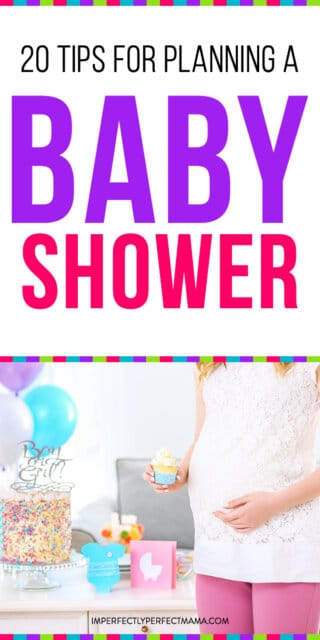 If you're reading this post chances are, you're in charge of throwing a shower for a friend or family member.
Unlike other parties, you'll want to make sure that every T has been crossed and every I has been dotted.
The most important thing to remember when planning a baby shower is that you'll have to stay extremely organized right from the beginning and give yourself enough time to thoroughly plan and execute.
In this post, you'll read 20 tips broken down by weeks that they need to be executed.
Grab a notebook and let's dive in!
9-10 Weeks Before The Baby Shower
1. Select a Date and Time
The very first thing you have to do when planning a shower is to pick a date and a time for the event.
Most showers are held when the expectant mom is about 6-7 months pregnant.
This time frame is mostly because the mom to be is far enough along and will give her time to organize everything before the baby comes.
2. Determine the Guest List and Budget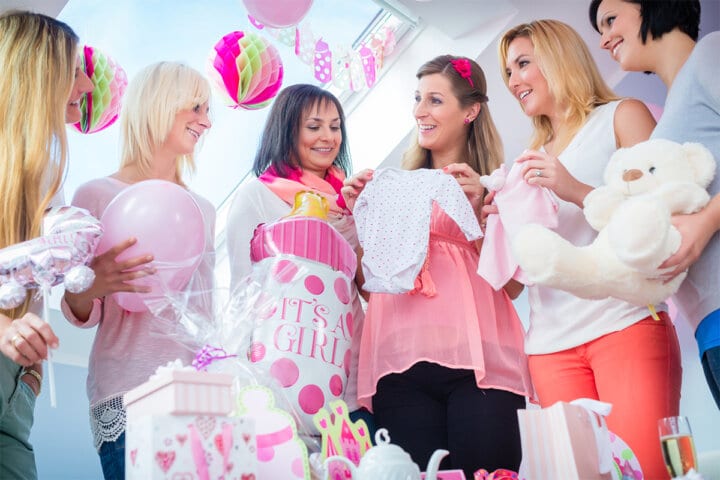 After you have a date and time nailed down, you'll need to figure out the guest list and how much you can spend on the event.
Sit down with the mom to be and make a list.
In terms of budget, keep in mind that it should be big enough to select a venue, pay for food and any party favors you'll be giving away.
3. Select a Venue
Next, you'll need to pick a venue. Most showers happen at the home of the mom to be or a close relative like a parent.
If you are planning on a larger group, you can look at event centres, hotels or private dining rooms.
5-6 Weeks Before The Baby Shower
4. Prepare and Send Invitations
Invitations should be sent no later than six weeks before the event.
This gives guests plenty of time to RSVP and shop for the perfect gift.
You can send formal invitations or even email or text invites.
5. Plan the Menu and Decor
After invitations, you need to come up with the menu and the decor you'll have at the party.
For food, plan on catering to the guest of honor's tastes.
For decor, if you will have decorations that are perishable, such as flowers, you'll want to get them closer to the event.
6. Check on the Gift Registry
You'll then want to take some time to get an update on the gift registry and make sure that everything is listed before invitations go out.
Here is a good list of newborn baby must-have items that can be added if she needs some help.
4 Weeks Before The Baby Shower
7. Come Up With an Agenda
With four weeks until the event, you'll want to pull together the agenda for the event.
Make sure to include activities, time to have refreshments and open presents.
Here's a good shower agenda you can take and run with.
8. Order the Baby Shower Cake or Cupcakes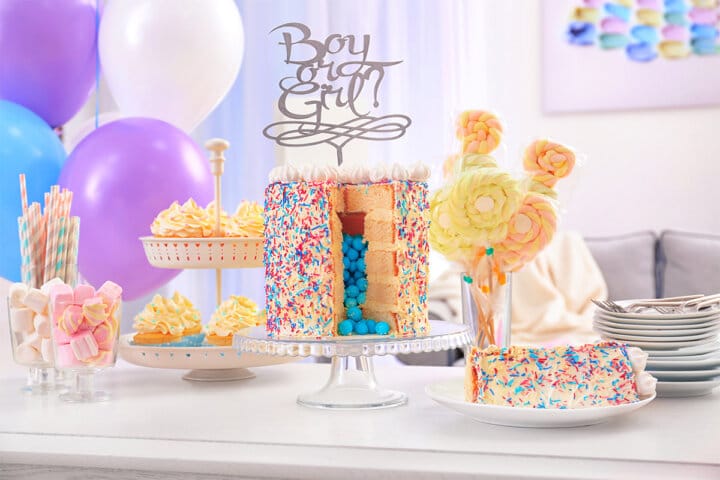 After the agenda, you'll want to order the cake or other treats like cookies or cupcakes.
9. Order Baby Shower Favors
You'll also want to order the shower favors so you have them in time. Here are 21 ideas that shower attendees absolutely love.
10. Assign Someone to Be the Photographer
Lastly, you'll want to assign one of the guests to be the official photographer. Pictures can be uploaded to the cloud or even added to a Chatbook that can be purchased for the momma to be.
2 Weeks Before The Baby Shower
11. Follow Up With Any Guests Who Haven't RSVP'd
If some of your guests have not confirmed their attendance, you'll want to check in with them.
12. Pick Up Shower Favors
After checking with the guests and getting a final count, you'll need to pick up the shower favors.
13. Confirm Event Reservation
If you are holding the event at another location than someone's home, you'll want to make sure to confirm the reservation so there are no surprises.
1 Week Before Before The Baby Shower
14. Shop for food
About a week before the event, you'll want to shop for all of the food you'll be having at the event.
2-3 Days Before The Baby Shower
15. Finish Any Outstanding Shopping
A few days before the event, you'll want to take some time to finish up any outstanding shopping.
16. Pick Up Food
If you ordered any food, you'll want to pick this up as close to the event as possible to ensure freshness.
1 Day Before The Baby Shower
17. Pick Up the Cake or Any Other Desserts
You'll want to pick up the cake and any other desserts a day before the event and make sure to store them properly to ensure freshness.
18. Set Up the Event Space
Smart planners will setup at least one day in advance. It's really stressful trying to setup the day of the event.
The Day Of The Baby Shower
19. Designate a Place for the Gifts
Make a small place for the gifts to be placed.
20. Assemble Food and Drinks
Make sure that all of the food and drinks are set up and ready to go so guests can start snacking as soon as they arrive.
Enjoy Yourselves!
Take a deep breath and enjoy the event.