With so many of us staying home more, cooking has become something that a lot of us have taken more of an interest in, and not just adults.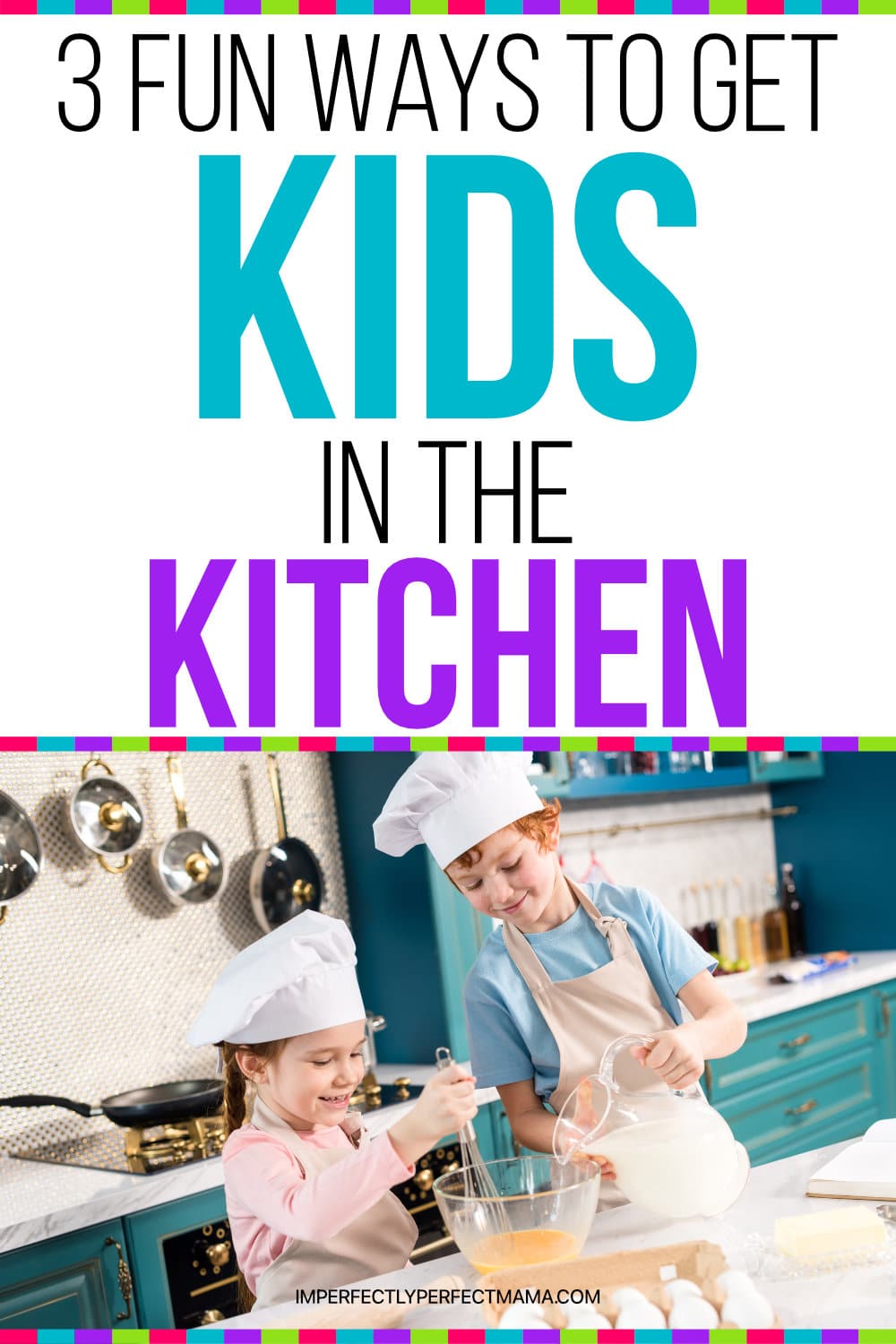 Kids have taken a shine to being in the kitchen more and what an awesome thing that is.
I know personally that my three are much more involved in cooking and baking then they have ever been.
Not only have they taken an interest in it, but they are more willing to try new things or spice up old recipes.
Here are three fun ways to help get your kids in the kitchen more.
1. Birthday Dinner
It has been a tradition in my family that on your birthday you get to pick what we have for dinner and no one gets to complain about it since it's your birthday.
Well recently I started incorporating that the birthday boy/girl gets to help out making that special dinner. I found that not only are they supper excited to help out, but they are more likely to want to try something new.
For example: My son is a HUGE lover of pork chops and this year not only did he help me make them, but he wanted to try some new seasonings on them as well.
Not only was he excited to try them out, butt old me that they tasted even better since he helped.
2. Make Recipes That They Can Help With
During the summer months my kids and I do a lot of pick your own produce.
Once we get home, we look for ways to use what we have. One of our favorites is Freezer Jam. (You can find my favorite recipe here.)
This is such a supper easy way to preserve fresh fruit, and is the perfect way to have kids help to make it.
My one daughter and I look forward to this every year and make a few different types of jam depending on what's in season. When she was younger she loved smashing up the fruit with a potato masher. Get's the aggression out and preps the fruit all at the same time! Win!
We also tend to grow our own herbs that they help to plant. We keep a few pots of our favorites on our deck. They help to water and care for the plants.
Then we need them, they get to pick what is needed. They also help me to dry the extra for us to save and use later when needed. Mason jars work great for dried herbs. Let them decorate the jars once the herbs are dried for storage.
3. Let Them Get Messy
If you are anything like me, my kitchen is sacred to me and very few people are allowed to cook in it.
I personally hate it when they do, as they tend to make a mess and that drives me crazy, but recently I have learned that it is ok to make a mess.
My oldest wanted to make her own hand pies. I was very excited as she is not one to really want to be in the kitchen, so off we went to the store to get what she needed.
Once home she set to work and boy did she make a mess (You can read the whole here).
The one thing I did learn from that whole episode was that even though my kitchen was a mess and I had a bunch of cleaning to do, my daughter was so proud of what she had made and couldn't wait to share her creations with everyone. It totally made the mess worth it.
She not only learned a new skill, but she learned that sometimes getting messy can have a sweet reward in the end.
Remember that no matter what you do to get your kids in the kitchen, make it worth wild.
Try something new, or spice up something old. Let them put cheese on things and let them know that they did a great job.
Sure, not every recipe is going to come out good, but that is not the point. The point is to create memories and get kids interested in making their own food.
They are more likely to eat healthier and appreciate what is made if they help.
My kids have taught me so much over the years, but one of the biggest things that they have taught me is that living life to the fullest is one of the best things out there.
Cooking and baking with my kids is one of the greatest things that I have learn being a mom.
Even now, we are working on what to plant this year and maybe even take a stab at canning this year!
That is something I am really looking forward to.