The refrigerator was one of those places in my home that was always neglected.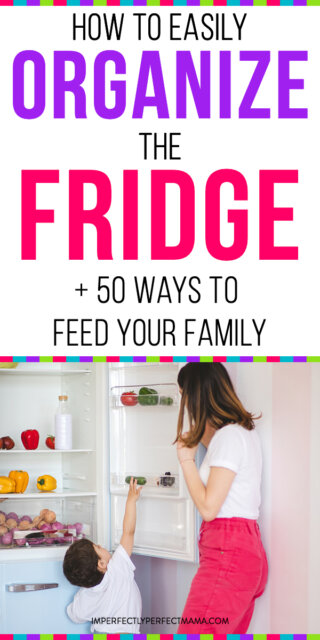 It was hard to find anything, and stuff got scattered around a lot.
Which means my family was wasting a lot of food because we forgot it was in there.
I was tired of wasting food (and money!) so I made a simple change that has made all the difference.
In this post I'll share my two easy tips to organize your refrigerator so you are no more wasting food and I'll give you 50 meal ideas to feed your family if you're a busy mom.
How to Organize Your Refrigerator
1. Use Bins and Simple Multi-purpose Containers
I put bins in my refrigerator to keep like-things together, and I used small containers for most of my leftovers.
Now the only leftovers that don't get eaten around my house are the ones no one wanted to eat in the first place.
It's true. I'm not the best cook. And I try new things sometimes that are awful. (Like secretly put it outside and hope stray animals eat it kind of awful.) Sometimes that food is in the fridge and gets "forgotten" about until "oops! This is no longer edible because it might literally make me ill, so now I don't have to feel guilty about throwing it out."
But the good, edible stuff? It's no longer tragically getting lost in the back of the fridge with a wedge of moldy cheese only to be excavated a month later.
The bins I used are the big Rubbermaid take-along containers (sans lid), and the small containers are from Reditainer Extreme freeze. They are freezer, microwave, and dishwasher safe deli containers- so that leftover soup can go directly into the freezer or the fridge. Possibly my favorite thing about them is that they are great for packing lunches- they don't leak, and I'm not in a huge money loss if they don't make their way back home.
I love how the kids' snacks are easy for them to grab and that my containers are easy to organize. They don't make me look like a before video in an infomercial.
2. Use Labels
Yup. You are a mom. In two days you will not remember that this container is full of sweet potatoes. Label it. 🙂
I put some chalkboard labels on my containers and I write on them with a chalk marker. The only downside to this is if someone touches the label with a wet hand, the writing comes off. But the labels can go through the dishwasher like a dream. Alternatively, you could use masking tape and a permanent marker.
If you want some pretty labels for your refrigerator bins (or go crazy and label everything in your house!), subscribe to the blog and download them for free from the subscriber's library. The labels are editable so you can type in whatever you want!
50 Ways to Easily Feed Your Family When You Have No Time or Energy to Cook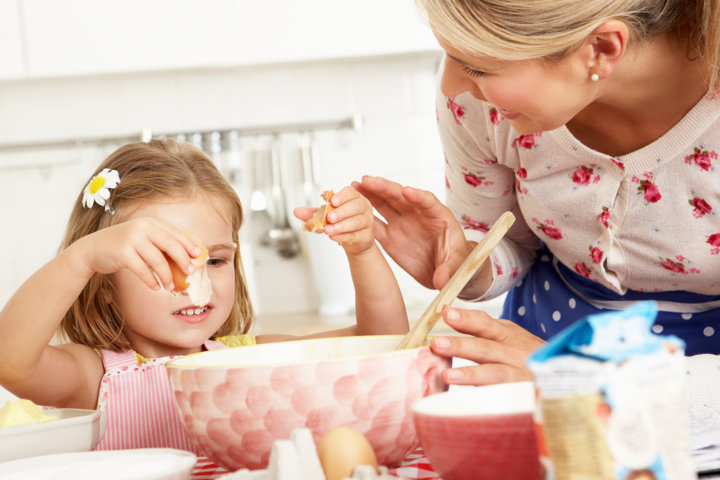 You need to eat, and heaven knows your family needs to eat, but if you are maxed out on time and motivation because of work, school, chauffeuring, having a new baby, toddlers that eat fifteen meals a day, or all of the above, the solution for meals is having healthy, ready-to-eat, minimal-clean-up, whole food on hand at all times.
ALL. TIMES. This just got serious.
When I was a new mom, breastfeeding made me ravenous, but because I was up to my elbows in exploding diapers, hadn't showered for 3 days, and only had two hours of sleep in two days, the last thing I had time for was cooking and washing dishes!
Can I get an AMEN!?
I had dutifully packed freezer meals into my freezer before having my baby, but most of the time I couldn't even remember to thaw the bags in the fridge the night before, or put them in the crockpot in the morning.
A good day was when I had thawed that bag of frozen Italian chicken and actually washed the crockpot from the day before.
On a bad day, you would have found me delirious, crying on the couch with a spoonful of peanut butter in one hand and a sleeping baby in the other.
Sad, right? But I think we have all been there. That place where we just can't.
Can't cook. Can't clean. Can't find the time. Can't find the motivation.
Guess what. There is a simpler way.
Step One: Stock the Kitchen with Zero Prep Whole Foods
I've listed lots of different types of foods and examples of each. This will give you a good idea about what easy foods you can stock your pantry and fridge with.
Nuts/Seeds/Beans: almonds, cashews, walnuts, peanuts, nut butter/sunflower seed butter, sunflower seeds, pumpkin seeds, flax seeds, healthy trail mix, canned black beans, canned chili beans.
Meat:

Turkey/ham/beef slices, rotisserie chicken, marinated tuna pouches, boiled eggs

Fruit:

Apples, applesauce, oranges, bananas, grapes, berries, apricots, or any in-season fruit

Dried Fruit:

raisins, prunes, medjool Dates

Dairy:

Yogurt, Cottage Cheese, Cheese sticks/cubes/slices, milk, sour cream

Grains:

whole wheat crackers, rice cakes, baked corn chips, english muffins, whole grain bread, wraps/tortillas, pretzels, instant oatmeal, granola, cereal

Vegetables:

pre-made salad mixes, spinach, cherry/grape tomatoes, microwave steam-able veggies, raw baby carrots, celery hearts, broccoli, cauliflower, bell peppers, sugar snap peas, avocados, canned tomatoes

Condiments/Other:

salsa, hummus, guacamole, pickles, barbecue sauce
Step Two: Mix and Match Your Ingredients to Make Meals and Snacks
Here's the beauty of this stocked kitchen. You can mix and match your ingredients to create plates full of yummy goodness. The combinations create variety that makes it healthier and less boring. Here are some combination ideas to get you thinking:
Breakfast Combinations
Instant oatmeal with flax seeds, milk, blueberries
Almond butter on toast and apple slices
Toasted English muffin, avocado slices, and strawberries
Yogurt with fruit and granola
Cereal with milk and a banana
Boiled egg, buttered toast, applesauce
Lunch Combinations
Cream cheese and turkey slices on crackers with grapes
Egg Salad served with bread/lettuce
Turkey and lettuce sandwich
Peanut butter sandwich
Green salad with chopped egg and tomatoes
Rotisserrie Chicken slices, raw carrots and broccoli with dressing
Marinated Tuna and tomatoes lettuce wraps
Snack Combinations
Ants on a log
Peanut butter on crackers
Cheddar cheese and crackers
Apple and cashews
Roasted pumpkin seeds and berries
Chips and salsa or hummus
Cheese cubes and pretzels
Almonds and medjool dates
Apple slices or banana with nut butter
Rice cakes and raisins
Trail mix
Dinner Combinations
Here are some dinner combinations, they will look like you dutifully followed a recipe, when in fact you just put a little of this and a little of that on a plate and called it a day.
Chicken Burritos- Warmed rotisserie chicken on tortillas with cheese, salsa, & guacamole
Green Salad- Salad mix with Cherry tomatoes, shredded cheese, chopped Turkey slices, and roasted sunflower seeds with your favorite dressing.
Taco Salad- Salad mix topped with black beans (rinsed and drained), grape tomatoes, cheese, diced rotisserie chicken, and plain yogurt or sour cream
Layer Bean Dip- Re-fried beans, guacamole, salsa, sour cream, and cheese layered in a dish and served with baked corn chips
Fast Chili- 1 can tomato sauce, 1 can diced tomatoes, 1 can black beans, 1 can chili beans, 1 cup frozen corn (optional), 3 TBSP Chili Powder, + salt and pepper to taste. Stir together and heat until warmed through. Serve with crackers or corn chips.
BBQ Chicken Sandwiches- Mix shredded rotisserie chicken with barbecue sauce. Serve on buns with pickles and a steamed veggie.
You know my favorite thing about preparing meals this easy? Less dishes to wash!
For more ideas, here are low-carb dinner meal ideas for you.
There You Go!
I hope you find the time to organize your refrigerator so you can avoid waisting food and find these helpful meal ideas if you're busy.
Share in the comments your favoriate go-to snack idea!