Do your kids fight chores like crazy?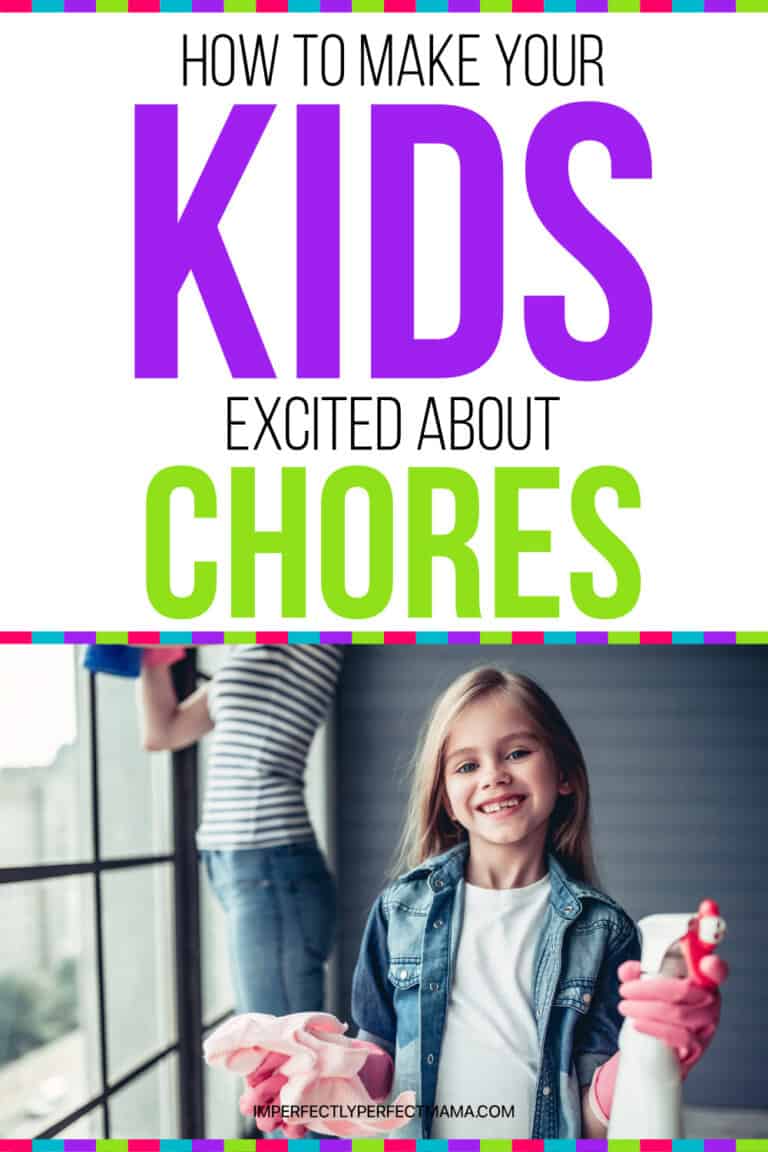 I can't say I blame them, but they're an essential part of an organized household.
The key to getting your kids motivated – and even excited – to do chores is positive reinforcement.
Providing rewards for completing tasks around the house makes even the most boring chore something your child will want to accomplish.
As a special education teacher, I've used many positive reinforcement programs to help motivate students to do campus jobs and complete their schoolwork.
Having something to look forward to takes the focus off what children have to do and shifts it to what they want to earn.
The strategies are simple, effective, and easy to incorporate into your home.
There are tons of different ways you can use positive reinforcement to motivate your children.
Here are some positive reinforcement strategies you can start using today!
1. Give Specific Praise
This strategy is extremely easy, but it's also extremely effective.
When your child does something helpful around the house, make it a point to compliment their efforts.
Use specific, positive language so your child knows that you're paying attention to their efforts.
This strategy works great for my 2-year-old. She decided that it's her job to recycle any cans and bottles she finds around the house, and our applause definitely reinforced her behavior.
Unfortunately, she's now generalized the skill, so she has begun to grab full bottles of water, dump them right into the recycling bin, and throw the empty water bottle on top of it.
Of course, we don't want to discourage her from recycling, but we do want her to start dumping any remaining liquid into the sink.
So every time we see her pick up a bottle or can, we compliment her for finding it and encourage her to go to the sink.
When she gets there, we clap like she just won her first Academy Award and tell her how much we love the way she dumped the water in the sink.
It's simple, but she glows with pride, and she's definitely starting to show some improvement!
Another option is to set up a positive reinforcement plan to encourage your children to do chores.
There are a variety of ways to do this, but here are some helpful hints:
2. Start Easy
People like to be rewarded, so any time you start a positive reinforcement program, make it super easy to earn rewards at first.
For younger children, give a reward for every chore they complete.
For older children, start by rewarding every three chores.
After a few weeks, up the ante. Increase the amount of work your child has to do to earn their reward.
For older children, consider intermittent positive reinforcement, or rewarding them at random rather than on a consistent basis.
This strategy works great because your kid will have no idea when the reward is coming, which is the most effective way to motivate behavior.
3. Make a Menu
A rewards menu is a fantastic tool to help get your child excited to do chores. For younger kids, the menu can look like a BINGO card with plenty of visual options.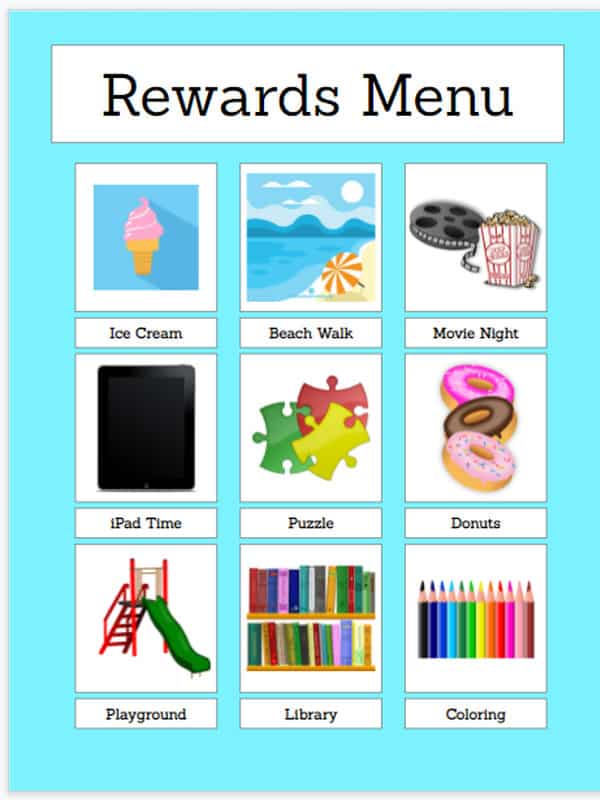 For older children, make something that looks more like a restaurant menu.
Make sure to have a broad range of values so that your child has the option to use their points right away or save them for something great. That way, you're building in some experience with budgeting!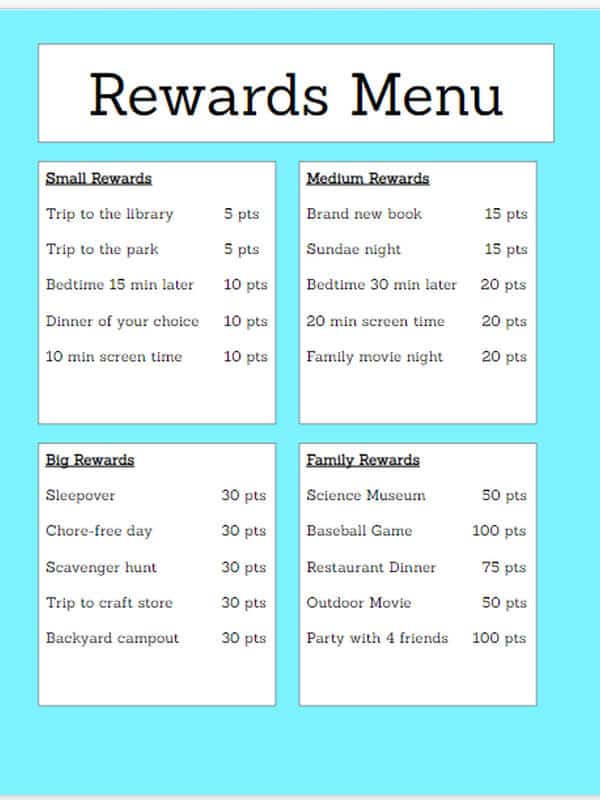 Check out these free rewards menu templates if you'd like to make your own!
They're editable on Google Slides, so you can customize them however you'd like. Canva also has beautiful menu and bingo card templates.
The most important part of making the menu is to get your child involved in the process.
Ask them what they want to earn and, as long as it's reasonable, include it.
Encourage your child to think of a broad variety of rewards to make the process more interesting and exciting. Earning only one type of reward will get boring after a while.
Be prepared to follow through on whatever is on the menu. They need to know that they're going to get what they've earned!
4. Decide on a Point System
There are many different point systems you can use.
For younger kids, sticker charts are especially fun because they can choose the sticker they earn each time. Point systems work well for older children.
Vary the value of chores based on the effort required. Something quick and simple like unloading the dishwasher might be 1 point, but something more difficult and time consuming like vacuuming the entire house could be worth at least 3 points.
You can also consider your child's preferences when designing the point system. Make chores they hate worth more to motivate them to complete those tasks.
Consider a Family Reward Program
Rewards don't have to be individualized. If there's something big your children really want, think about making a family reward system where everyone works together toward a common goal.
I used this strategy in my classroom one year.
My students were given plastic popcorn containers from Dollar Tree, and I bought those little fluffy pom poms. Once everyone's containers were full, we took a class trip to the movie theater – with popcorn, of course!
My kids earned pompoms for completing their work or doing something kind for others. If a task was especially difficult or an action was especially kind, they earned more than one pom pom.
This system worked great because my students encouraged each other to earn rewards.
Whenever someone did something impressive or kind, their classmates never hesitated to praise them and remind me to give out the pompoms.
In the end, the class ended up closer and kinder to one another, something that lasted well beyond our well-earned trip to the movies.
A reward program like this is a great way to bring your family together, especially if your children have been fighting a lot. Having them work toward a common goal, encouraging and praising each other along the way, will bring them closer together!
For more classroom management strategies that you can use in your home, check out these 11 tips to defuse toddler meltdowns!