As a preschool teacher, I invite my students to participate in sensory play every single day. As a mom, I try to integrate it at home as well. There are many benefits to sensory play and you may be doing it without even knowing it.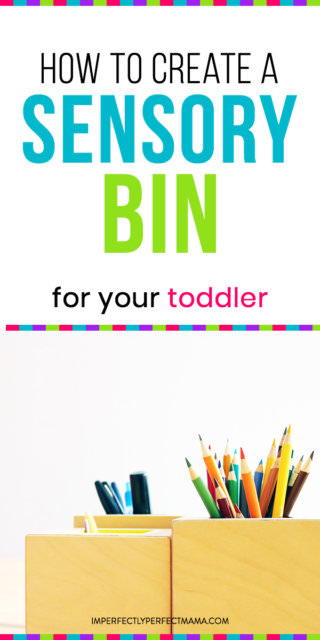 Playing in the water, dirt, or even baking or playing with toys in your home can be considered sensory play. Your child relies on his or her senses (touch, taste, smell, sight, and sound) to learn new things.
Think about your baby who puts absolutely everything in their mouth. Why?
This is how they explore new things in their environment. They might pick up something sticky and realize their hands are dirty. Your child might touch something hot and realize it is painful. They might smell cookies baking in the oven and associate it with something that tastes good.
They are learning something new from all of these experiences. While scooping, pouring, and measuring different objects may seem simple, they are complex tasks for a toddler.
There is something to be said for natural sensory experiences such as these.
However, you can also provide sensory experiences your child might otherwise not encounter. It might seem like a huge feat to create a sensory bin for your home. That is why I am sharing an idea that my aunt gave as a kid's birthday gift. It is easy, tidy, and can be as cheap or expensive as you would like it to be.
This sensory bin has always been a huge hit with kids of all ages, and is my favorite thing to pull out on a rainy day. An added bonus is that it always seems to be a very calming activity!
This post may contain affiliate links. When you purchase an item through these links, I receieve. small fee. Please be assured I only recommend products I love! For more information see my Disclosure and Privacy Policy.
Here are the must haves you need to start
A under bed storage bin like the one pictured here will allow for your child to reach over the sides and have plenty of space to play. Be sure to get one with a lid so that you can easily store it away when it is not being used. (You can also find these at Walmart for less, but the link is for Amazon in case you want it sent to your house.)
A table cloth that is bigger than the bin but can easily be folded up to put inside the bin when it is not being used. This is a must because when your child is done playing you can just fold it up and pour the mess back into the bin. If your child is like mine, they will find ways to still get it on the floor, but it is a great opportunity to have them help clean up!
Now choose your sensory items. Here is a list of ideas
The options are endless, but these are some of my favorites. Some items you may have to purchase more than one to fill the bin. It is up to you how messy you want this to be. The good thing about the sensory bin is that you can put it on a table, the floor, or even take it outside. Keep in mind if you have a child with allergies or who puts everything in their mouth and choose accordingly.
*I just have to note that these can be considered choking hazards for small children. They should be closely supervised while at play.
Finally, get some tools for your child to use. Here is a list of ideas:
I love using all of these tools for different objects so choose your tools based off of the sensory items you will be using it with.
What if you don't feel like doing the work to put a sensory bin together? Here are some great themed sensory bins that you can buy!
Have Fun!
This is such a creative gift. Especially for stay at home or home-school moms who need something new on a rainy day. Leave a comment and tell me your favorite ideas for a sensory bin!
We are a participant in the Amazon Services LLC Associates Program, an affiliate advertising program designed to provide a means for us to earn fees by linking to Amazon.com and affiliated sites.
Save
Save
Save
Save
Save
Save
Save
Save
Save