This holiday season has been especially fun for my family.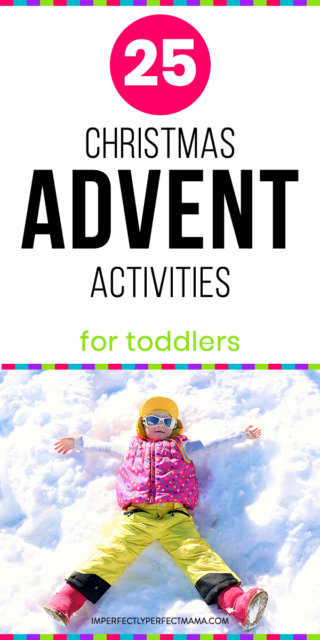 It is the first time our daughter (3) has recognized the lights on houses, decorations around the house, presents under the tree, and all of the other fun Christmas traditions.
So, we've decided to start a tradition of doing one special Christmas activity each day during December.
It may be a small activity like reading Christmas stories, or it might be something more involved like building a gingerbread house.
I am so excited to slow down and have some extra time to spend as a family creating memories that we will have forever!
We have decided that right when my husband gets home from work we will spend the first hour doing the activity of the day.
Not only will the kids look forward to seeing daddy, but they will look forward to the activity we have planned!
Here are the activities we are planning to do in the month of December. (Some will require supplies which I have linked within the activity.)
We do not necessarily plan to do the activities in order but we will plan according to the amount of time we have each day. I also planned several activities that incorporate the theme of "giving" so they aren't always just "fun activities" but rather, things that will teach our kids the meaning of Christmas.
Also, be sure to check out the Advent Calendar Ideas I have rounded up!
1. Make Christmas Cards
We plan to use construction paper, holiday markers, and stickers for these and send them to grandma and grandpa!
2. Open One Early Present
I always remember getting to open ONE early Christmas present. It was always fun to pick which one we wanted to open first and guessing what it might be! It also spreads out the gift opening so that they aren't so overwhelmed with so many gifts at once.
3. Random Act of Kindness
My plan is to take the kids somewhere to find someone that is in need. Figure out something they need, go get it, and deliver it to them.
4. Go Ice Skating
We have never done this before but it should be interesting with our one and three year olds!
5. Donate Toys to Kids in Need
Take the hour to go through toys and find at least 5 things that are in good shape to donate to a child who doesn't have as many toys. Then find a place that takes toys for kids.
6. Make Reindeer Food
Here is an adorable recipe and craft idea!
7. Make a Bird Feeder
Here is a cute Christmas tree one!
8. Make a Gingerbread House
Get yours here!
9. Christmas Pajama Day
We plan to spend the day in our Christmas jammies!
10. Drink Hot Chocolate
When daddy gets home we will sit down at the table and drink our hot chocolate!
11. Look at Christmas Lights
I love taking the kids out to look at lights! This year we plan to go to a neighborhood that always has good ones! I am especially excited for this because my daughter loves seeing the lights on people's houses!
12. Read Christmas Books By the Fire
Being a classroom teacher, I have a ton of Christmas books I can't wait to read to the kids!
13. Make a Hand Print Ornament
Get yours here!
14. Make Christmas cookies
Can't forget the Christmas cookies! I have an awesome video of our family making Christmas cookies for the first time last year. It created such great memories!
15. Go to a Christmas Eve service
Our church has some different ones for several days in a row.
16. Take Pictures with Santa
We plan to get this done early this year. Last year we waited too long and we ended up having to wait in line for quite a while to see Santa!
17. Donate Food to a Food Bank
I plan to clear out my pantry and donate all of our canned goods to a food bank.
18. Sleep Under the Christmas Tree
A new tradition I want to start, because who would forget this tradition!?
19. Read the Christmas Story
We have this version and the kids love it.
20. Little People Nativity
We love playing with our Little People Nativity Set and now my daughter is old enough to understand parts of the story!
21. Watch a Christmas Movie
Probably on a Friday night, and with popcorn, and red and green M&Ms!
22. Make a Snowman
If it snows before Christmas, a snowman is a MUST!
23. Make Christmas Slime
Check out these amazing Christmas/Holiday slime recipes!
24. Deliver Gifts to a Nursing Home
It is always nice to see the smile you can bring to someone's face with this simple gesture.
25. Listen to Christmas Music
We love to have dance parties in our kitchen so what better excuse??
You can cut them out to put in envelopes or simply color in the tasks you've completed. They are not numbered so that you can do them in whichever order you'd like!
What activities would you add?
If you like this post, you are sure to love my post about 22 Non-Traditional Gifts That Keep On Giving.