Do you want to encourage your kids to read more?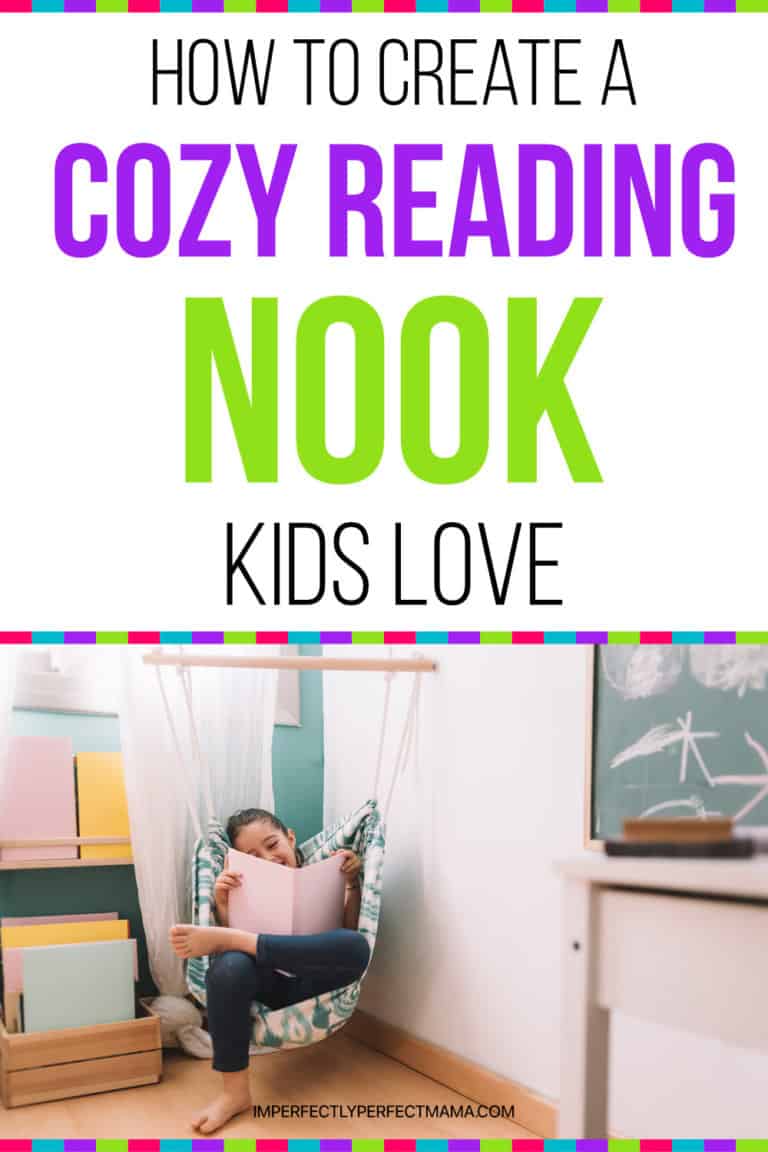 Try creating a cozy reading nook.
A reading nook can be a magical place for kids to relax and let their imaginations run wild.
It's a spot just for them to cuddle up with one of their favorite books whenever they choose.
And with such comfy accommodations, they may want to stay to read longer.
Whether you go all out on the design or keep to a budget, you can easily create a cozy reading nook your kids will love.
Plus, a reading corner can fit just about anywhere you have a little extra space in your home.
Follow these easy steps and simple tips to get inspired to create a reading nook your kid may never want to leave.
7 Easy Steps for Creating a Cozy Reading Nook for Kids
1. Find a Fun Spot
The first step towards creating a cozy reading nook starts with finding the perfect location.
Walk around your house and search for potential spots.
You'll want a space that's out of the way of foot traffic and relatively distraction-free. Also, this area should feel safe and secure, have good ventilation, and adequate lighting for reading.
Most reading nooks work best in a bedroom or a playroom. However, feel free to get creative!
A reading nook for kids can be as clever as a compact little hideaway or as simple as a floor pillow beside a bookshelf.
In an empty closet
Nestled into built-in wall shelving
Beneath a bunk bed
Under a canopy, a play teepee, or a tent
In a cleared-out wardrobe
Beside a window or on a deep sill
Inside an odd space like under the stairs
In an easy-to-access attic space
Outside on a patio, porch, or deck
2. Make It Comfy and Cozy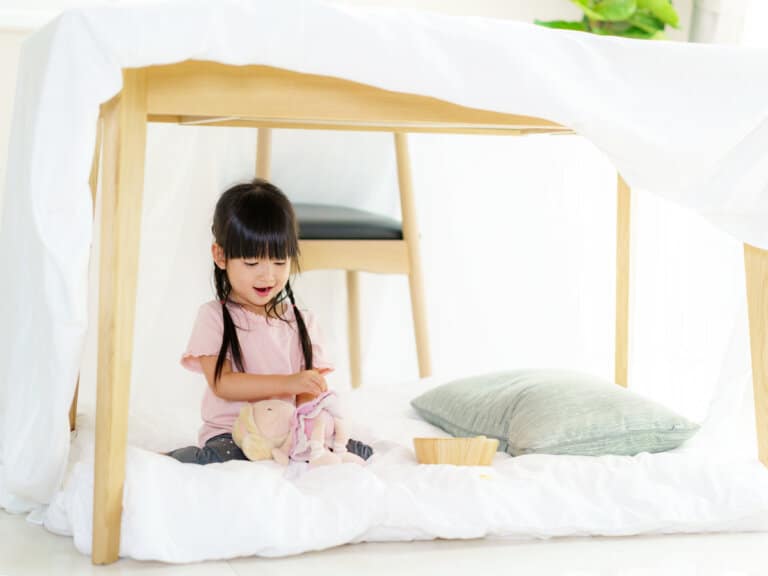 Once you've decided on the "where," it's time to make your kid's reading nook snuggly with soft seating and plush blankets.
To stay on budget, repurpose furniture, pillows, and throws you already own.
Perhaps transform an armchair into a cozy reading spot. Even a pile of extra pillows can become a relaxing place for your kid to crash and read.
Consider placing your reading nook on the floor. Kids tend to be more comfortable on a floor area, and it's easier for them to access it without your help.
A colorful bean bag, a sturdy reading pillow with a backrest, or a thick-cushioned floor pillow works great.
However, if you're short on floor space, set your sights upward by hanging a reading hammock or a swing from the ceiling.
For kids who like to be in motion, the swaying movement of a swing or hammock may add a calming sensation as they read.
3. Choose Lighting
Good lighting in your reading nook not only helps your young reader avoid eye strain but can also set the mood. A string of fairy lights provides both illumination to read by and a magical element.
If you position your reading nook by a window or under a skylight, you can take advantage of soothing natural light. However, you'll still need a backup lighting source for darker days or evenings.
If your reading nook occupies a hidden cubby or a shady corner, buy a reading lamp with adjustable settings or a warm overhead light fixture.
4. Book Display and Storage
Once your kid has a cozy place to rest, turn your attention toward book storage and display. Choices for storing books include a bookcase, shelves, containers, or inside a bench or a window seat.
No matter what storage you use, make it easy for your kid to reach for their favorite book.
Tips for storing and displaying your kid's book collection:
Keep books on a low shelf or a kid-size bookcase.
Display book covers facing out (to pique your young reader's interest)
Consider investing in a forward-facing bookshelf.
Store books in containers with an open top for quicker access to books.
Choose soft textured totes or baskets to keep it cozy.
Install child-friendly safety hinges to avoid pinched fingers when using storage benches.
Ensure an enclosed bench has enough ventilation (if your kid decides to climb inside and hide).
5. Choose Books for a Little Library
Once you have a place to store them, the joy of assembling a little library for your child's book nook comes next.
Actively involve your kids in choosing which books to include on their shelves or in their containers.
Let them take the lead. They're more likely to want to spend time in their book nook if the books are the ones they selected.
Stock your child's reading nook with old favorites and new titles. Start with the collection of books you already own, especially the ones they want to read over and over. Then, take a field trip to your local library or bookstore for new titles to build some excitement and curiosity.
The amount of storage space in your reading area will dictate how many books you can add.
It's wise not to overwhelm your reading area. A messy book nook loses its cozy factor.
Instead, rotate your child's book collection every month or season.
A new set of books, especially ones relating to the current season, can spark a renewed interest in reading.
6. Decorate, Decorate, Decorate!
Beyond involving your child in selecting books, get them involved in decorating and personalizing their book nook.
They can add their artwork or favorite stuffed animals.
Add pops of playful color like a brightly patterned rug, whimsical wall art, fun wallpaper, or a fresh coat of paint in your kid's favorite color.
Help make their book nook their own secret hideaway by hanging curtains, draping a canopy, or setting up a tent or a play teepee.
Most of all, have fun decorating.
Maybe make it a whole family project. What a great way to encourage your kid's creativity and imagination!
7. Add Fun Items
Make reading time more meaningful by stocking your kid's reading nook with fun reading accessories.
Add colorful bookmarks, a reading journal, bright pens or coloring supplies, and other interactive materials.
Reading is more than flipping through pages, especially for kids. Build their developing literacy skills by providing outlets for creative expression about the books they just read.
For much younger readers, offer puppets to playact stories or coloring books related to the subject of one of their books.
Older readers can benefit from keeping a reading log or journaling their thoughts about a book.
Depending on your space, you could set up a small table and a chair near their reading nook.
A tray works great for reading nooks lower to the ground. Plus, tables and trays provide a spot for their drinks or snacks while they enjoy their reading nook.
Final Thoughts on Creating a Cozy Reading Nook
The most important takeaway is to have fun setting up a reading nook for your kids.
If you create an enjoyable, relaxing reading space for your kids, you may notice them choosing a book (over their electronic devices) much more often.
Also, get in there and join your kid in their reading nook with your book. Modeling your reading habits can encourage your kids to develop a love of reading, too. For great book recommendations for "mom" readers, check out my helpful booklists on my Book Lovers Blog.