Autumn is right around the corner and in my family that means, soup for dinner! So, I have gathered 20 soup recipes that look amazing to try this fall!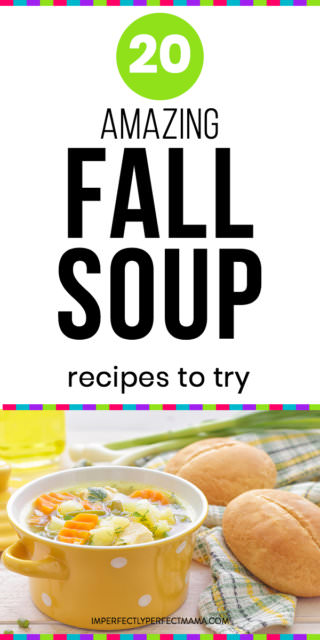 You may have noticed (or not) that I recently took a little break from blogging.
Here's why. I decided to stay at home with my kids this year in order to spend more time with them. However, I was starting to feel like I was working a full time job again, from home.
This is not what I wanted!
I love blogging (a lot) but it sure takes up a lot of time! So, I took a little break to reconsider my priorities.
I've decided to keep blogging but I am really focusing on keeping a balance between blogging, being a mom and wife, and training for a 1/2 marathon.
Therefore, I want to keep my blog post more simple and fun!
One thing I love to do is cook so I want to incorporate that in more as well! So, here you have it 20 fall soup recipes I want to try this year!
I hope you do too!
Here they are! 20 amazing soups to try this fall!
French Onion Soup by The Starving Chef
The Best Instant Pot Chicken Noodle Soup by Sidewalk Shoes
5 Ingredient Broccoli Cheese Soup by Wholesome Yum
Thai Spiced Fresh Pumpkin and Bacon Soup by The Culinary Jumble
Copycat Panera Autumn Squash Soup by Cincy Shopper
Creamy Potato Soup with Bacon and Cheddar by Savory Tooth
Roasted Butternut Squash Soup by The Starving Chef
Smokey Butternut Squash and Carrot Soup by Strength and Sunshine
Creamy Roasted Tomato Soup by Watch What U Eat
Quick and Easy Butternut Squash Soup by Fearless Dining
Copycat Panera Bread Tomato Bisque Soup by Thrifty Jinxy
One Pot Pumpkin Chipotle Soup by Recipes for Instant Pot
Healthy Carrot Soup by Happy Foods Tube
Vegan Miso Pumpkin Soup by Rhian's Recipes
Chicken Tortilla Soup by 3 Boys and a Dog
Creamy Kobocha Squash and Cauliflower Soup by The Fit Blog
Velvety Rich Carrot Ginger Soup by The Search for Imperfection
Homemade Creamy Chicken Noodle Soup by The Rising Spoon
Caramelized Onion Roasted Garlic Bisque by Life Currents
Coconut Curry Chicken Soup with Quinoa by One Clever Chef
Which one will YOU try first?
I see a lot of recipe posts in my future. What types of recipes would you like to see? Quick and easy? Low carb? Kid-friendly? Let me know if the comments below!
If you would love to see more recipes like these, sign up to have them sent straight to your inbox! I will be sending out a recipe round up each month!
Save
Save
Save