Hey mamas! It's meal plan Monday!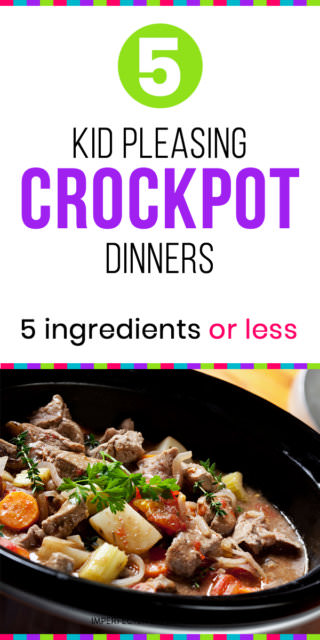 This week is dedicated to WHY I love meal planning so much! I will get to that in just a second, but first I want to give you a glance at next week's post, which I am really excited about!
Why I Love Meal Planning
This post may contain affiliate links!
So mamas, I'm sure I don't need to go into much detail about WHY I love meal planning.
I mean, if you are a mom, you are probably busy. And if you are busy, you are probably looking for a way to save time.
I recently watched an online conference called The Mom Conference. It was totally amazing and life changing!
One of the speakers talked about different types of tasks we all have to do each and every day.
One type of task was "fires."
"Fires" are tasks that have to be done right away, usually last minute stuff which can cause a lot of stress in our lives. There are some ways of making fires less urgent and one of the ways is to build those tasks into our routine.
So, let's take the task of making dinner as an example.
There are several days in the week where I look up at the clock and it is already 5:30 and I haven't even thought about what I am making for dinner that night.
Then I am rushing around to get dinner started, maybe even calling my husband to pick up a few ingredients on the way home, and the kids are melting down because they are hungry. Making dinner becomes a "fire" task.
So how to we keep cooking dinner from become a "fire" task?
We build that into our routine. Plan our meals for the week ( EVERY week) and set a timer to start cooking dinner at 5:00. That way, when dinner time comes around we aren't scrambling to get it all done at once.
Now, when I say meal plan, I don't just mean have an idea of what you are eating that week. I mean grocery list, meals for the week, prep the food ahead of time (even snacks) and have it ready to cook at any time.
Yes, I know this sounds like a lot of work, but I promise when you are prepared and have this built into your routine, you are going to save HOURS every day!
I could go on about WHY I love meal planning so much, but this basically sums it up. Time, organization, and routine. It makes all of the difference.
This Week's Meal Plan
This week I have put together a 5 day dinner only meal plan.
The great thing about these meals is that they are all 5 ingredients or less AND they are crock pot meals.
Meaning little to no prep time, thought, or effort while still having a hot meal to serve your family at the end of the day. You can either follow this plan to save the recipes for another time when you need an easy meal! OR check out my low carb meal plan here!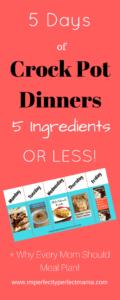 All of these recipes come from food bloggers I love! I have linked to each recipe below! Enjoy!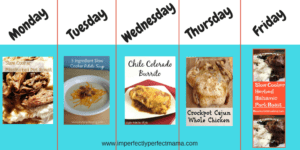 Monday
Slow Cooker Mississippi Pot Roast by Moore or Less Cooking
Tuesday
5 Ingredient Slow Cooker Potato Soup by Joyfully Thriving
Wednesday
Chile Colorado Burritos by Coffee With Us 3
Thursday
Crock Pot Cajun Whole Chicken by Coffee With Us 3
Friday
Slow Cooker Herbed Balsamic Pork Roast by Moore or Less Cooking
Did you try this meal plan? Let us know which recipe was your favorite in the comments below! 🙂
Save
Save
Save
Save
Save
Save
Save