Do you have a potty training toddler?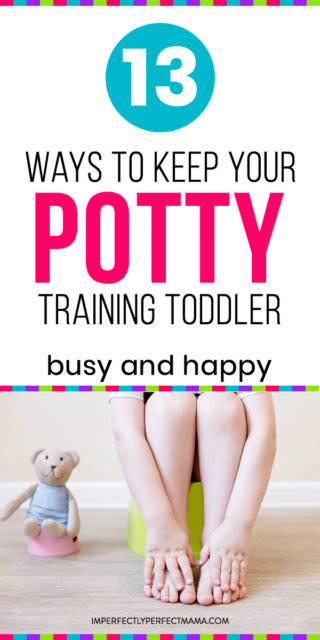 If yours is anything like mine, you have to sit with her most of the time, waiting for the potty to come.
Sometimes she can be on the potty for a very long time! If I don't keep her busy she doesn't like to sit for very long.
So, I've come up with 13 ideas to do with your toddler while they sit on the potty.
I have also listed 11 things YOU can do while your toddler is on the potty. Enjoy!
The links listed below are affiliate links, meaning I will earn a small fee (at no extra charge to you) if you click the link and buy a product.
Please know that these are my personal opinions and I only recommend products that I know and love. Please visit my Disclosure and Privacy Policy Page for more information!
1. Read Books
We love to use this time to read books.
I put a basket of books in the bathroom that she can choose from.
I put it on her stool so that when she is sitting on the potty, she can reach her books by herself. Sometimes I will do a little read aloud while she sits and sometimes she will pretend to read to me.
2. Paint Fingernails
My daughter loves to have her fingernails painted.
Sitting on the potty is a great time to do this because she has to sit so there is less chance of her messing up the polish. 🙂 I've heard great things about Piggy Paint, a non-toxic and chemical-free nail polish for kids! You can purchase it HERE.
3. Watch Netflix on Your Phone
If you have Netflix you are able to stream it on your phone.
Be sure to put a towel over your child's lap so the phone can't drop into the potty! This can be dangerous, but when you are sitting on the potty for hours sometimes you are just that desperate!
4. Play Games on Your Phone
Again, you have to be careful with this one, but another way to keep your child occupied while on the potty.
5. Sing Songs
Sometimes we will use my phone to play music and learn new songs. It is a fun way to pass the time.
6. Practice ABCs and 123s
We used Bath Crayons to write letters and numbers on our bathtub walls.
While my daughter sits on the potty we like to go through the letters and numbers. You could also use them to teach shapes, colors, and basically any other skill you want to teach your toddler. You can buy bath crayons HERE.
7. Try Out New Hairstyles
I know my toddler doesn't like to take the time to have her hair done all the often. I like to take advantage of the time she sits on the potty to try out new things with her hair.
8. Have a Conversation
Often times as adults we have to remind ourselves to just sit and have good conversations with our kids. They learn so much just through talking and listening to an adult or even other kids. This is a great time to introduce new things, talk about your day, or talk about what you want to do later.
9. Practice Cutting with Scissors
My daughter saw me using kid scissors the other day and of course she wanted to try them out.
I gave her one piece of newspaper and let her go to town. It ended up looking like this when she was done. 🙂 She was so proud that she had learned a new skill and it kept her busy for a long time!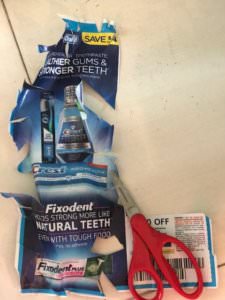 10. Have a Snack
If you aren't too grossed out about eating in the bathroom, you can always give your child a little bowl of snack to eat while waiting.
I also like to give my daughter a drink while she is on the potty to increase the urge to go!
11. Brush Teeth
My daughter likes to brush her teeth so this is always a good time to do it!
If your child doesn't like to brush his or her teeth, I recommend trying a kids electric toothbrush like the one HERE.
12. Look at Pictures on Your Phone
We love to go through pictures on my phone and talk about what we were doing or who is in the picture. She especially loves to look through her old baby photos.
13. Color On a Notepad
Notepads like this one or this one are great for balancing on your child's lap while sitting on the potty.
The back provides stability for coloring on.
If your toddler doesn't need your constant attention and entertaining here are some things YOU can do while you wait for your toddler to go potty.
Clean the bathroom.
Read a book.
Drink coffee.
Do laundry.
Clean rooms near the bathroom.
Take a shower.
Do an ab workout.
Do squats, lunges, leg lifts, or any other stationary workout.
Call a friend.
Do your hair/makeup.
Do some online shopping!
For me, it seems like potty training is taking forever. They always say they're not ready until they're ready and I am finding that to be very true. However, I think there is a light at the end of the tunnel. Consistency is key and finding ways to make it fun is making it easier to be consistent!
What are some things you do to make potty training more fun? Leave your ideas in the comments below!
Save