As an adult, you're probably used to some form of stress.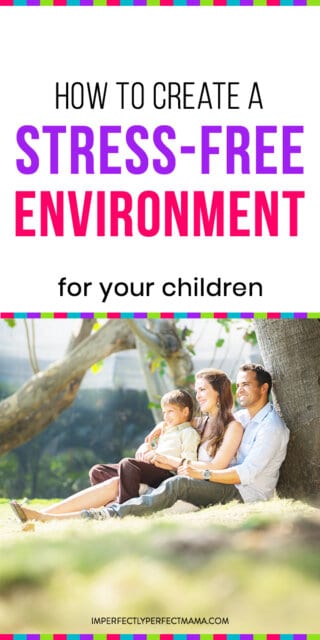 What you may not know is that stress can also be a part of your child's life.
As a parent, it's important to be aware of your children's stress levels and stressors and create a space where they can relax and recharge.
Here's how to create a stress-free environment for your children.
Create Downtime for Your Children
There are a number of ways you can help your children relax after a particularly stressful day.
One easy way to begin developing a stress-free environment is by creating downtime for your children.
Most families lead busy lifestyles which often result in over-scheduling from school, homework, and extracurricular activities with little relaxation time.
Your children need time to play without pressure and to rest and rejuvenate their minds and bodies.
By reducing commitments and making time for play and rest, your child will be able to slow down and feel less stressed.
They'll learn the importance of scheduling appropriately, as they relax and have fun, and how to understand the signals their bodies provide along the way—like the need to rest and sleep to feel their best.
Channel Positivity in the Home
Being a positive parent and role model is a great step toward creating a stress-free environment for your children.
Doing so means you, as an adult, must be able to manage your own stress successfully. Speaking positively and handling your stress in a healthy way allows you to be the positive example your children will follow.
Talking about your own feelings—both negative and positive—as well as how you manage those feelings can also give your children a greater understanding of how to manage their own stress.
Remember: always listen to your children by giving them your undivided attention, if only for a few moments, each and every day.
This shows that you care about their lives and value what they say.
Declutter Your Home
According to House Method, clutter can cause feelings of stress and anxiety to form.
Not only can it generate these feelings, but it can impact sleep and cause feelings of embarrassment and loneliness in your children.
Therefore, decluttering your home is a physical way to make your family's space more stress-free.
Go room by room and rid your home of items that aren't really needed.
Keeping clutter at a minimum is simple:
Keep all items in their proper place. Toys go in their respective baskets, electronics in their bins, kitchen items in the pantry.
Trash goes immediately to the trash can and gets disposed of regularly. Recyclables should have their own bin so they can be recycled/disposed of properly.
Items that need cleaning or repair should have a designated spot until you have time to take care of them.
Donate items in good condition that you no longer need to a charitable organization.
There You Go!
I hope these tips will help you create a wonderful stress-free environment in your home!