Summer vacation is finally here!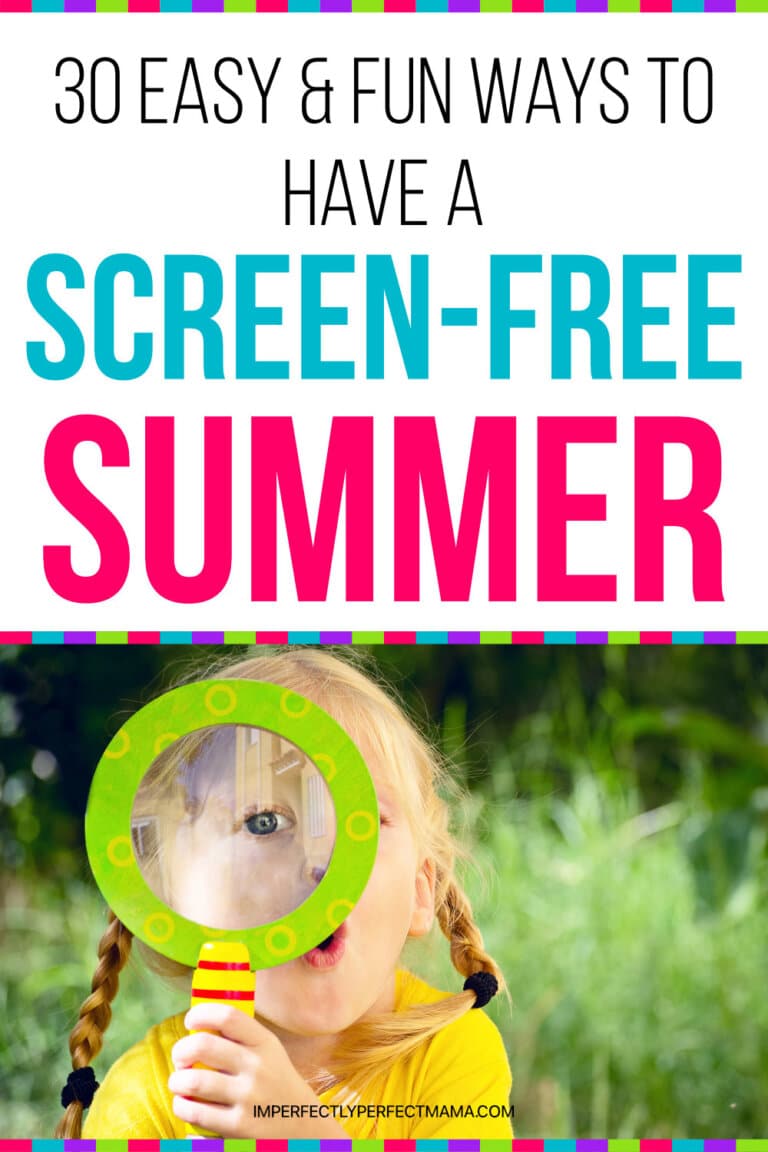 Our kids are super excited about it but we as moms and stay-at-home moms kind of dread it in ways though, right?
Routine seems to go out the window, our kids are "so bored," and we often, maybe even reluctantly, turn to screens.
Now listen, I'm the first mom to tell you not to feel guilty around screen time.
Sometimes we go into survival mode. TV time, YouTube videos, and phone games are all ways to get our kids out of our hair and give us some peace and quiet.
And I really think that's totally ok!
But for summer vacation, I'm also all about limiting screen time a few days a week and having some fun together!
I've come up with a list of things to do with your kids that are screen-free.
Some things will require lots of attention from you, some will keep those kiddos silently occupied with only a little observation from you.
It's the best of both worlds – spend time together when you don't have chores to do, or keep them occupied while you get things done! Which screen-free idea will you choose today?
1. Water Beads
These little beads soak in water overnight then become squishy little balls.
They are perfect for a water table, bathtub, or just playing with in a big bowl!
They are a great sensory activity for little ones who don't put anything in their mouth anymore. You can find them on Amazon.
2. Sprinkler Time
I mean, aren't our best childhood memories running through the backyard sprinkler?
3. Painting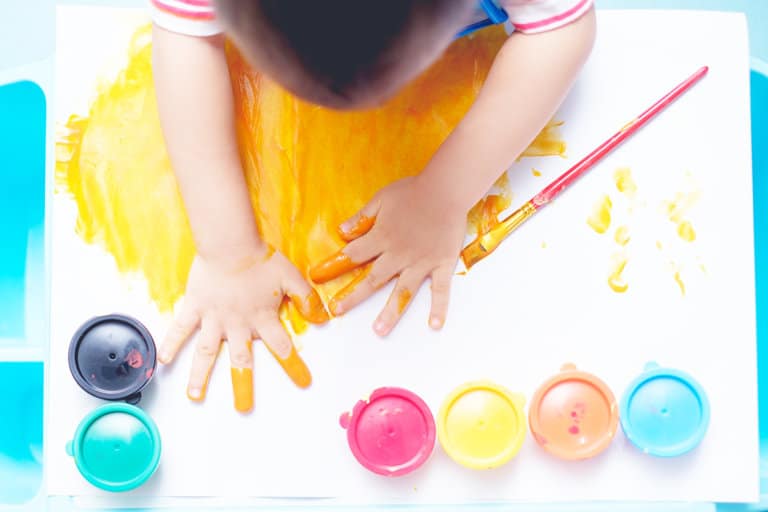 Watercolors are fun or try mixing paints for a great science activity!
4. Library Story Hour
Many local libraries offer story hours for specific age groups.
It's a great way to get out of the house, socialize, and have music and movement time!
5. Yoga
This is such a fantastic way to move your bodies together! There are many kid-friendly yoga books to help you learn!
6. Town Forests/Walking Trails
Town forests offer safe hiking options with marked trails, and they're a lot easier than mountain hiking.
7. Bike Ride
Go for a bike ride in your neighborhood or find a bike park.
8. Reading
Read with your children for 20-30 minutes a day. It helps expand vocabulary and build imagination.
9. Extra Large Crayola Coloring Pages
These are so fun and take lots of time to finish. So they're bound to keep your little ones entertained for quite some time.
They also have lots of themes for whatever your child is interested in.
10. Paint by Number Sticker Books
My kids are OBSESSED with these sticker books!
I think we've officially done every book by Workman's Publishing. You can also find these on Amazon.
11. Bake or Cook Your Favorite Food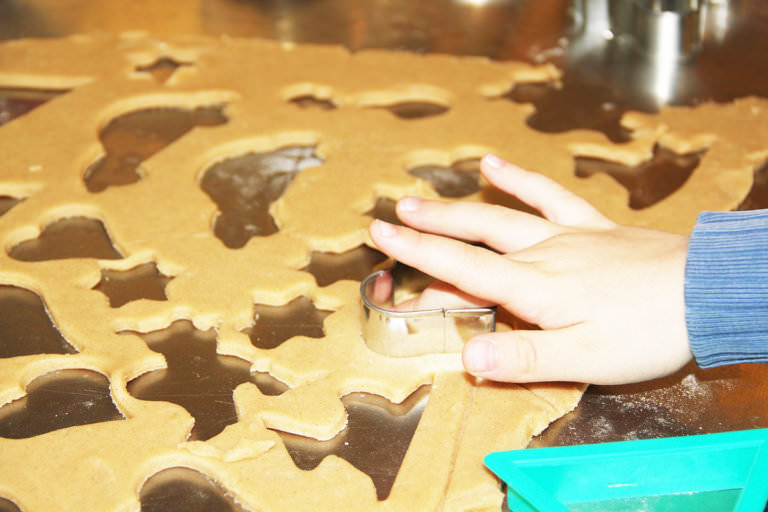 I'm honestly not a huge fan of baking with my kids, but they always tell me it's their favorite thing to do with me, so once in a while, I can manage.
12. Brain Quest
These are a great way to build your toddler's literacy skills and critical thinking skills.
13. Board Games
We love board games! Here are just a few of our favorites that are great for ages 3-6: Zingo, Drone Home, Candy Land, Chutes and Ladders, Disney Eye Spy Card Game.
14. Arts and Crafts
Here are some easy and mess-free crafts for inspiration!
15. Kinetic Sand
It is messy but it's also super fun. And it keeps my kids occupied for hours, so it's a win in my book.
16. Scavenger Hunt
You could do this outside or indoors depending on the weather.
You can make your own or recreate one. Pinterest has lots of fun ideas if you search "Scavenger Hunt for Kids." You can make these as challenging or simple as you want.
17. Strawberry/Blueberry Picking
Find a local farm and go pick some fresh berries, YUM!
18. Make Slime
I have a super easy recipe HERE.
19. Make Necklaces
Use beads or cereal like fruit loops or cheerios. This is a great fine motor activity for toddlers and preschoolers!
20. Do Some Puzzles
They are great for babies and beyond! Puzzles help with hand-eye coordination and visual-spatial reasoning.
21. Practice Lettering
Pull out the dry erase board or easel and get creative.
22. Have a Dance Party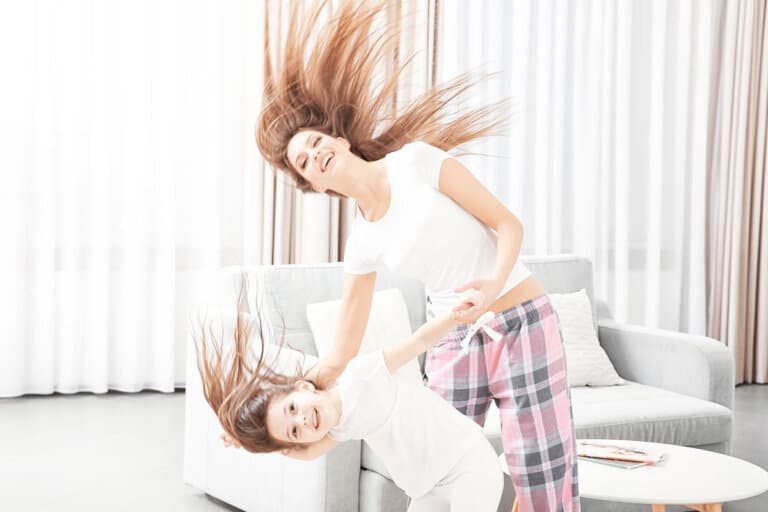 Dancing is a great way to get moving and can also change anyone's mood for the better!
23. Build a Fort
Get those imaginations working and work on problem-solving too!
24. Make an Outline of Your Children
Use butcher craft paper, then have them color themselves.
You can do this outside with chalk too, it was one of my favorite things to do as a kid!
25. Oobleck
This super simple science experiment is wonderful! One part cornstarch, one part water, mix, and play! It's messy but the clean-up is so easy.
26. Backyard Campfire
Treat the kids and make s'mores.
27. Water Balloon Fight
Don't forget to include a a water gun fight when it's super hot.
28. Backyard Obstacle Course
Again, Pinterest has some great ideas to help you create your own!
29. Stickers
Make a collage of stickers. This is terrific fine motor practice for little hands!
30. Sorting
Go outside and search for rocks of all sizes. Then sort them by size or color, and maybe even have some fun painting them!
There you have it!
Get outside with your kids, or help keep them occupied inside while you get dinner ready or fold the laundry.
This list of 30 fun screen-free activities is sure to keep you away from the TV for a few hours each day.
The best part is – your kids are learning through play with each of these activities!
Kiss that mom guilt goodbye and let me know which activities you'll be doing this summer!