There are currently 152 developing countries, a figure provided for by the International Monetary Fund (IMF).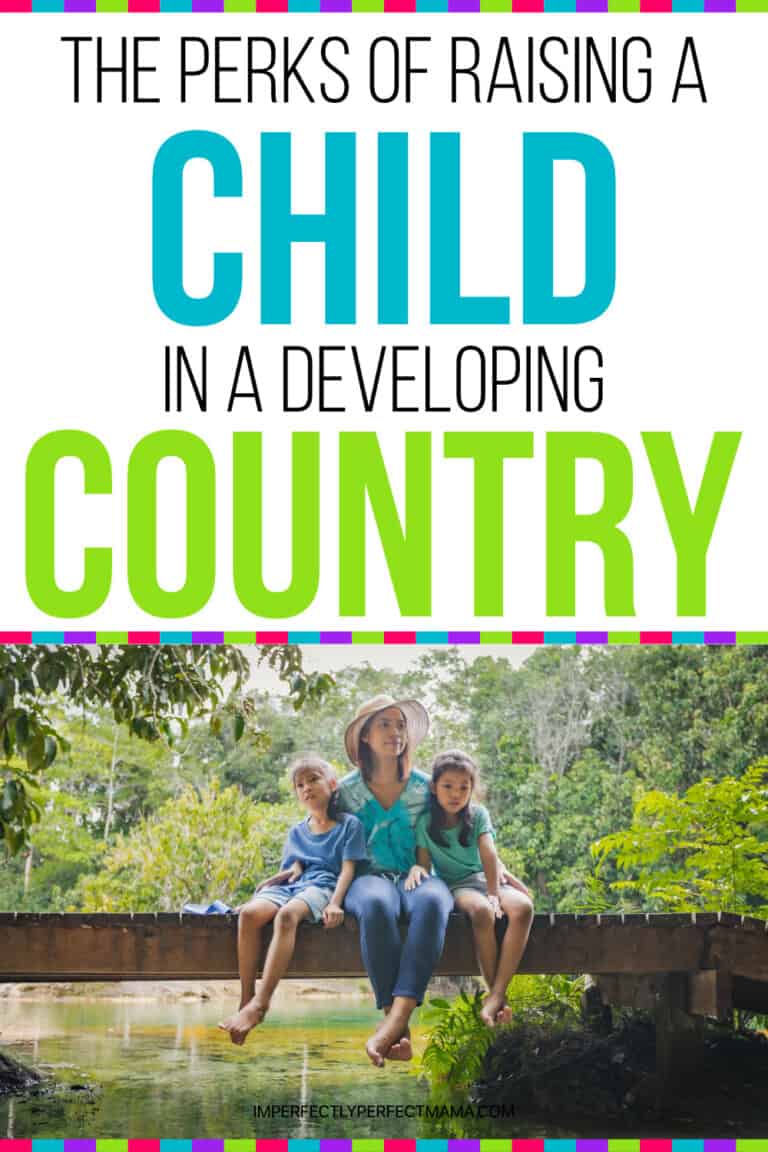 These countries are beset by common challenges, such as high levels of poverty, human resource weakness, and economic vulnerability.
To any parent, then, it can feel scary to want to raise a child in a developing country.
But despite these odds, there are considerable perks to raising a child in a developing country.
This post may generalize unnecessarily (since there are 152 unique developing countries, after all) but I base the following list on my experiences raising a child in my home country, the Philippines:
1. A literal Take on "It Takes a Village to Raise a Child"
Giving birth is a milestone in the Philippines that calls for a big celebration.
It is not unusual for family, friends, and neighbors to want to visit you at the hospital or the moment you get back to your home. It is also not unusual for couples to move back to the woman's parents for the first few months just so the new grandmother can help her daughter recover and help with child-rearing.
It feels like you always get extra sets of hands even if you don't ask for them, precisely because children are seen as blessings and gifts in the Philippines.
This warmth towards children may come from the generally warm and caring nature of Filipinos (I emphasize, generally), or the predominantly Catholic values ingrained in Filipino tradition where there is so much emphasis given to the right of birth.
If you need to leave the house and are worried about who will take care of your child, you need not worry.
Family members, friends, and neighbors will scramble out just to spend exclusive time with your child.
Of course, this perk comes with its downside, as well. Since people are so excited to see your child grow, they may also give you unheeded advice or feel like they need to teach you how to parent.
It depends on you and your relationship with your family, friends, and neighbors on how you want to deal with this, but as for me, just take it as it is. Don't argue, but it doesn't mean you're agreeing with what the other is saying. After all, you are the parent, not them.
2. Family Comes First
This may come as a surprise for those from Western countries, but in the Philippines, people take leaves from work because of birthdays, graduation days, and family reunions.
They also take leaves for when they need to tend to a relative or friend who's sick, depressed, or need someone to talk to.
In a country where people lean on each other because of the weak state and social systems in place, nurturing relationships with family and friends become so important.
That is why although many working women get back to work after their 105-day maternity leave, an expansion from the 60-72 days prior to March 2019, many others never get back to work or switch to more flexible careers that they can do from home.
It's a practice widely recognized, and, in fact, expected, given that Filipino moms are still the ones expected to do the majority of the child-rearing.
While valuing family first is commendable, it also goes at the cost of the mom's career where she is somehow expected to slow down, or altogether give up, her career for her family.
This also reflects the still enduring macho culture in the Philippines where women take on most of the domestic work.
3. Affordable Household Services
Compared to Western countries, hiring a babysitter, cook, laundry lady, gardener, and driver in the Philippines is way more affordable, that even middle-class families could afford house help.
I feel queasy about adding this one because I know legislators can do more in professionalizing household work in the Philippines.
Filipinos, also, could do more in choosing to professionalize it in their own homes despite the lack of protective legislation. Thus, household services being "affordable" cannot really be considered a perk, given the debilitating compromise that these people would need to agree on to make their services affordable.
So, the reason why I placed this one here is that I do admit hiring an extra set of hands is indispensable, especially for a working parent like me.
Without my child's babysitter, it would be impossible for me to continue pursuing my career, so I'm eternally grateful for her.
4. Strong Sense of Community
My fondest memories growing up were playing with my neighborhood friends after school and on weekends.
There was no need to drive to see friends, for friends were just around the corner. While the kids played outside, the parents would visit each other's homes for a snack and a chat.
Because people lean on each other through happy and tough times, they value maintaining harmony in the neighborhood.
It is heartwarming to receive homecooked meals and a visit whenever my child gets sick, or to have a coffee date at home with a friend when things get too overwhelming.
Playdates were once everywhere in the Philippines. But this is sadly slowly changing with the increasing influence of gadgets and the internet on the lifestyle and habits of kids and adults.
The threat of kidnapping has also increasingly been prevalent in the country, which makes it understandable why parents are now more hesitant to let their kids roam around the neighborhood on their own with their friends.
5. Resilience
Growing up in a country where at such a young age, you get exposed to political strife, vulnerable communities, natural disasters and their staggering effect on communities, weak infrastructure, and images of inequality that remain so real, you grow up acutely aware of these issues. You become less indifferent and more civic conscious.
You develop a level of resilience where it wouldn't bother you having a sudden blackout in the middle of the night, and a decreasing water supply where you have to take turns with other neighborhoods to take your fill.
It can be frustrating definitely but growing up in a developing country makes you ever more aware of the realities in many countries in the world where having a stable government, citizen-focused social security systems, and dependable basic services remain a dream.
You get to appreciate the littlest things, even if it's as mundane as filling up an electronic form or getting a full refund when you purchase a defective item.
But resilience has its limits, too.
While it's good to acknowledge Filipino resilience, it goes at the cost of state institutions shrugging off their responsibilities in improving public services in the country. When resilience is used as an excuse, then it comes at the great detriment of the people's opportunity for progress.
I am thankful for the opportunity to grow up in a developing country. I got to experience lots of love and care from family, friends, and neighbors.
My working parents believed so much in putting family first.
I had a great model from my mom who was able to continue pursuing her career while being a mom, thanks to my dad's support. I was imbued with a strong sense of community and a resilient character that will take me wherever I go in life.
And these are the reasons why I'm also choosing to raise my child in a developing country.
Although a lot still needs to be done to make it easier for parents to become parents in the Philippines, I wish to be a part of that change, starting with what I can do at home, and I wish to witness the process of how the Philippines will get to where it ought to go.