Is your newborn waking up multiple times throughout the night?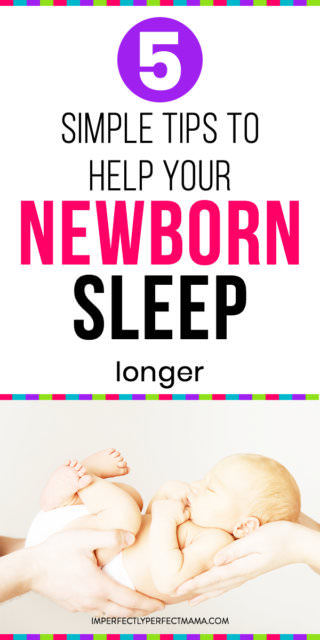 Does your newborn seem restless and irritable at night? Does your newborn startle every time you lay him or her down to sleep? These are all common complaints of many new moms.
Imagine being a newborn baby.
The new world they are born into is very different than the dark, warm, and soothing womb they are used to. It is cold and bright with unpredictable noises and movements.
Even the soft newborn clothes they wear are a different texture than what they are used to feeling on their skin.
On top of that they are now having to sleep, wake, and eat when someone else wants them to. It's no wonder newborns often have problems sleeping at night!
As a new mom, not getting the sleep you need can cause anxiety, frustration towards the baby, and even marital problems. However, it doesn't have to be that way.
There are many things you can do to help your baby sleep longer and more soundly at night.
Of course you will want to be sure that your baby is fed and dry.
Many moms have their husband, significant other, or someone that is helping to help do the initial changing.
If you are not nursing they can also take turns doing the feeding. If you are nursing and you will have to pump, it may make more sense for you to just feed the baby yourself.
Other than the routine feeding and changing, keep in mind that your baby is still used to the feeling of being in the womb.
Mimicking the sounds and feelings in the womb will help your newborn sleep better at night.
Here are some things I did that made a world of difference for us in the sleep department. (Keep in mind, this is all from my personal experience. I still wake up with my 11 month old once per night, but the following steps made a world of difference in the sleep department at our house).
The links below are affiliate links. If You purchase an item from the links below, I will receive a small fee or commission (at no extra cost to you). However, I can assure you that all opinions stated below are my own. I do not share products that I do not use and love, myself. Please visit my Disclosure and Privacy Policy for more information! Thanks for your support!
1. Swaddle
The first thing I changed was what my baby was sleeping in.
Newborn jammies are cute and all, but they don't do much to help your newborn feel like they're still in the womb. Newborns like to be snug and secure.
We started off swaddling with our amazing muslin blankets but it seemed like right when we cam home from the hospital our baby started figuring out how to his arms out.
This would result in the blanket falling off or his arm getting stuck and him getting mad.
Next, we tried the Swaddle Me Pod with works great if your baby likes their hands down (my kids did not).
I also tried the HALO SleepSack swaddles which are great for having arms down or completely out.
If your newborn likes to sleep with their arms out or up by their face, while still being contained. I highly recommend the Love to Dream Swaddle UP. It keeps the baby's arms snug, but allows them to put their arms up or even close to their face, which my baby LOVED.
They also have the next level for when they grow out of the small size. It has sleeves that can zip off for when the baby starts to roll over.
I give them as a gift for any baby shower because most new moms don't know about these and they were a life saver for me! I have also heard moms rave about Baby Merlin's Magic Sleepsuit and how much their baby started sleeping while using it.
These are only a few of the many sleep suits out there. The point is, babies love to feel cozy and protected just like they did in the womb.
*Please note that when your newborn is able to roll, you should discontinue swaddling.
2. Movement
When your infant was in the womb, he was constantly moving with you. The motion was a smooth rocking motion. This motion outside of the womb is important to sooth your newborn to sleep.
There are many ways to mimic the motion that is felt in the womb.
I spent many nights walking my daughter around the house in the Moby Wrap.
Being snug, warm, and close to me helped her sleep immediately. The only problem with this was right when I would put her down, she would immediately wake back up.
I finally found that she slept soundly in her swing or Rock 'n Play.
Not only did this keep her moving, but it also provided a slight incline to help with her reflux.
(Our pediatrician and I discussed this and agreed that as long as the baby is buckled and not in the swing or Rock 'n Play all of the time that this option was best for us. You should do your own research about this if you are uncomfortable with it!)
I am also completely in awe of what I call the Baby Space Shuttle or the 4moms mamaRoo Baby Swing. Several moms I know use it and say it works wonders in getting a baby to sleep!
3. Sound
According to the American Academy of Pediatrics (AAP), your baby hears a whooshing sound in the womb which may be due to the blood flowing through your body.
This noise in the womb is thought to be louder than a vacuum cleaner! Since your baby hears this constantly in the womb, you can imagine it is very soothing for a newborn.
You can mimic the sound by using a noise machine in whatever room your baby sleeps in. I used the SoundSpa by HoMedics for both of my babies and loved the picture projector feature that came along with it.
4. Sucking
Babies are born with a sucking reflex primarily because this is how they get their nourishment in the early months of their lives. However, it is also a very soothing reflex for babies.
I breastfed both of my babies and I was totally against giving my first a pacifier in order to prevent nipple confusion. However, my daughter was screaming and crying 80% of the time so my husband gave her a pacifier one night.
We were both shocked when she immediately stopped crying and fiercely started sucking on the pacifier.
This was a huge breakthrough for us and when she started learning to sleep for longer periods at night. The American Academy of Pediatrics also recommends giving babies a pacifier during any sleep time in order to decrease the risk of Sudden Infant Death Syndrome (SIDS).
I personally LOVE the Wub-a-Nub collection for a few reasons. For one, they are super cute and you can find the animal that matches your baby's personality. Secondly, it is easy for you or the baby to find and doesn't go far when it falls out of their mouth. Lastly, as they get a little older they use the stuffed animal as a little lovey to hang onto at night.
5. Naps
Good naps promote good nighttime sleep. However, it is important to let your infant know the difference between a nap and sleep during the night.
You can do this by letting them nap in a bright setting where other things are going on. Maybe you are doing the dishes or watching TV while your baby naps. You may want to gently wake the baby to eat every few hours during the day and encourage longer sleep periods at night.
Night time sleep, on the other hand, should be done in a dark room with soothing and constant sounds. Create a nap schedule that works for you and your baby and try to stick to it.
I have outlined below the amount of hours the American Academy of Pediatrics recommends for sleep according to a child's age. This is per 24 hours.
Newborns: 16-18 hours of sleep per day (including naps)
4- 12 Months: 12-16 hours of sleep per day (including naps)
1-2 years: 11-14 hours of sleep per day (including naps)
3-5 years: 10-13 hours of sleep per day (including naps)
While some of these things may not work for you and your baby, they sure did help me! It never hurts to try!
What have you done to help your baby sleep more soundly?
Happy Sleeping!!
We are a participant in the Amazon Services LLC Associates Program, an affiliate advertising program designed to provide a means for us to earn fees by linking to Amazon.com and affiliated sites.
Save
Save
Save
Save
Save
Save
Save
Save
Save
Save