To the new mama who cried this morning out of pure exhaustion.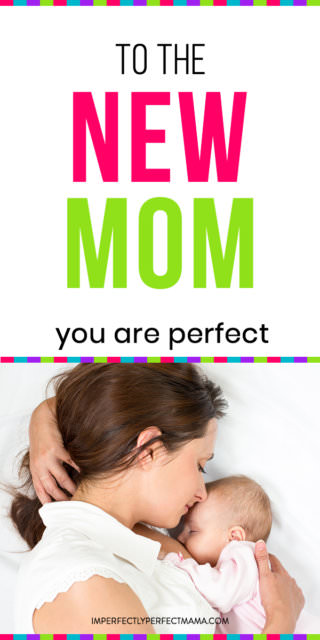 To the new mama whose seemingly, sole responsibility is to attend to her newborn's every little whimper.

The new mama who cried last night, knowing that her husband would be going back to work the next day.
To the new mama who just can't live up to other new moms who seem to have it all together.
To the new mama whose every thought is consumed with feeding, pumping, changing, and sleeping.
To the new mama, doing good just to brush her teeth each day.
To the new mama who wakes up at night thoroughly drenched with sweat, milk, and Lord knows what else.
To the new mama who is overwhelmed with feelings of love while simultaneously being anxious and filled with guilt.
To the new mama who cries, but can't really say why.
YOU. ARE. PERFECT.
You were made to be this precious baby's mama.
There is nobody more perfect for this job than you. Your baby needs you.
As overwhelming as that might be, it is what makes you absolutely perfect.
Your baby does not see your imperfections.
She does not care that the house is a mess. She does not care that you haven't showered in three days.
Give yourself a little (or a lot) of grace. You are learning. As long as you are a mama, you will be learning.
Your exhaustion is proof that you're giving it your all.
Your emotions are proof that you love your baby with everything you have.
Your loneliness is proof that you want to share this love with everyone else.
Reach out to other moms. Reach out to family and friends. Be honest with yourself and others.
Don't put so much pressure on being perfect. Ask for help. Most of all, listen to your new mama instincts and ask for help when you need it.
You are doing your best, and that is what makes you perfect.
Please join me on Instagram and like my Facebook page to be a part of a wonderful community of new moms!