The weather is turning – and you know what that means –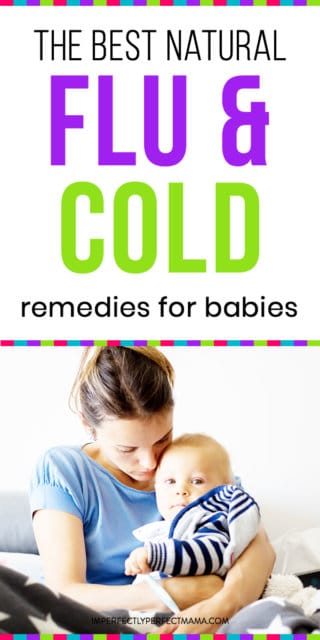 The dreaded carousel of viruses is about to hit our schools, communities, and eventually, homes.
This is one of those times when sharing is not caring. It is, however, pretty inevitable.
I know you feel me when I say that it's so hard to see your kids sick or uncomfortable.
So, that's why I'm sharing what I've got in my Flu & Cold Arsenal. Even better, it's all natural and some are even organic.
Before we dive in, I just want to say that I am not a medical professional.
You should always check in with your doctors with any concerns or questions regarding your child's health and any treatment plans.
Certainly take the advice of your trusted medical team if medications or antibiotics become necessary.
But, when your kids have one of those flu bugs or colds where you just have to wait it out – you may find something new here that you can add to your toolkit.
Why Choose Natural or Organic Products?
While I'm Imperfectly Perfect [ha, see what I did there ;-)], I do try to choose non-toxic, organic products whenever possible. I started doing this back when I was trying to get pregnant with my son and struggling with some different symptoms of autoimmune diseases.
It took awhile to get an accurate diagnosis – as most do – and I do share more detail about my autoimmune journey on my blog.
Even though I didn't know for sure what was going on – I started researching on my own and before long, I had gone deep down the rabbit hole of detoxifying our home and body care products.
Since then, I've learned a lot through trial and error on the ones that are both safe and effective, and I've shared about some of my favorite products for kids here.
Let's check out the most effective natural or organic flu and cold remedies:
1. The Humidifier
Behold! The mighty humidifier!
There are a couple of versions of these – one that produces a hot steam and one that produces a cold steam. For two main reasons, you'll probably want the cold steam humidifier.
First, if a child plays with one of these while it's on, the water will come out. We've had over 5 types of humidifiers over the years and none of them are leak-proof. I'm not down with my kid getting scalding burns, so I play it cool with a cold-air humidifier.
Second, the purpose of the steam is to keep moisture in the air to ease symptoms exacerbated by dry air.
They help moisturize dry sinuses, which can release tension in the air ways and ease coughing and congestion.
There are so many adorable, highly marketed humidifiers on the market, but after years of trying different, our favorite is this super affordable cool mist humidifier.
Mom Tip: Remember to regularly check these for mold or mildew growth. If you see any, descale according to the instructions.
2. Chest Rub
Another old faithful. The great thing about chest rubs is that several of them are safe enough for infants as young as 2 months. There is very little you can do for infants who get sick, so it's nice to have some of this in your stash when you need it.
There are a few great, natural options that use beeswax instead of petroleum and essential oils instead of synthetic fragrances. Here are 3 options you can find at your local store or online:
Maty's All Natural Baby Chest Rub
Zarbee's Naturals Chest Rub (2yrs+)
3. Oilogic Stuffy Nose & Cough Essential Oil Roll-On
I just grabbed this one desperate day when the kids were sick and I was out of the stuff I usually use.
Now, I always have some on hand. You just roll this a couple of times on the back of your child's neck – and voila! The essential oils do their work. I've even used this on myself when I am sick and there's something just strangely comforting about it.
The way I see it – if it's not really helping, it's certainly not hurting.
4. Essential Oils & Diffusers
Once you're on the essential oils train – you don't really get off. You start seeing all the benefits to using these safe, natural oils sourced from nature, and before you know it, you're like: AM GODDESS. AM MOTHER. AM ONE WITH EARTH.
Honestly, though, these things work. At a minimum, they are relaxing, and sometimes, even that is an improvement when you're sick in bed.
I've had some issues with diffusers leaking, having annoying lights you can't turn off, making noise, or just being ugly. The one I have been happiest with is this one. But, there are so many great options out there.
For essential oils, this can be a tricky one – because some people feel very passionately about their particular brand. I'll leave you with this short list of brands to get you started.
I am, by no means, an essential oils expert. So, feel free to read more about them in this very easy-to-read, well-researched article here.
5. Baby Nasal Aspirators
This came out when my son was an infant. I actually introduced it to our pediatrician at the time. Basically, you suck out the snot. But, the entire thing comes apart for sanitization purposes. You can use replaceable filters to keep it from coming up the tube.
Friends have asked me if I get sick after using it – from inhaling germs or whatever. I have never been successful at not getting sick with whatever my kids have, so I have no idea if this makes that better or worse. Regardless, this is one of the cheapest, most effective, safest ways to help your sick little ones breathe easier.
6. Zarbee's Naturals Cough Syrup + Mucus with Dark Honey
This one was actually recommended by our former pediatrician. The dark honey is great for killing bacteria and clearing out mucus. My son doesn't mind the taste. Remember that babies under 12 months can't have honey – so this is a remedy for your kids that are over one year of age.
7. Zarbee's Naturals Cough Syrup + Immune with Dark Honey and Elderberry
Is this starting to look like a Zarbee's infomercial? Don't even care. Big fan.
Many natural cough syrups use Elderberry syrup, which has long been touted as a powerful, natural way to fend off potential illness or shorten the lifespan of an existing bug. I did go through a phase where I thought I was going to make my own elderberry syrup by boiling down dried elderberries.
Let's all take a commercial break while we laugh together about that.
Now, I buy it. It's cheap. It works. Done. Book it.
If you're child is over 2, you can buy the Elderberry Immune Support Supplement. They're gummies and your kids will probably love them.
8. LoveBugs Baby Probiotic
We are learning more and more about gut health these days. And for good reason. Turns out, our gut flora controls a whole lot about our overall health. That's why we want to replenish the good gut bacteria – even for our little ones.
This is even more important during flu season, if your child is already sick, or if you child has been prescribed antibiotics from the doctor. I actually wrote a post about how a pediatrician recommended this to me as a way to battle a diaper rash. I share all about it in a blog post here.
Since then, I always keep this stuff around. It's tasteless, odorless, dissolves easily into water or juice. Easy, folks.
9. Smarty Pants Kids Complete Multivitamin
Should come as no surprise that the last item on the list is your best line of defense against illness to begin with. The best way to treat a flu or cold bug is to stop it in its tracks. AmIRight?
These gummy vitamins are great because they are non-gmo, mostly organic, and contain a line-up of powerhouse ingredients that will fortify your little one's body with Omega 3s, D3, B12, Folate, and so much more. Yes, they have organic cane sugar. I have yet to find a multivitamin that my kids will actually take that doesn't. At least it's organic #PickYourBattles.
Fight Flus and Colds Naturally!
There you have it, moms – 9 effective, natural remedies to fight the good fight against flu season.
Don't forget that these can work for you, too. If you're anything like me, you were bummed when you found out that the "moms don't get sick" thing was a sham.
Do you have a favorite natural cold or flu remedy? Please share it in the comments below!