Spring is finally here, well at least I hope so – it's taken long enough!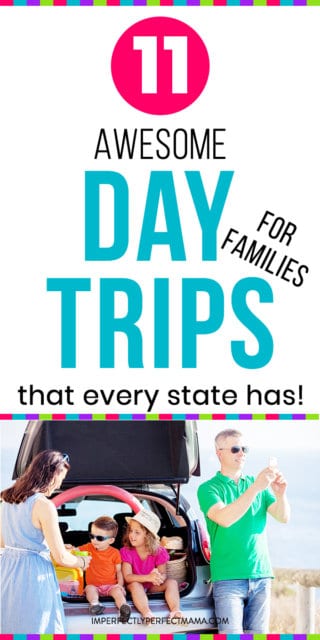 And you know what that means – school will be out for the summer and if you are anything like me you want to make some memories and have some fun while hopefully saving some money.
I love summer, my kids love summer.. all kids love summer.
What I don't love is hearing, "mom I'm bored, there's nothing to do, so and so is doing something cool."
I've done the busy box thing – you know, if they said they are bored they draw an activity out of the jar.
But, the time we have with them is so short, (seriously my oldest is going to be 18 – within a blink of an eye it happened and here we are) so I wanted to leave my children with some lasting memories.
When I was little my parents didn't have tons of money to throw around but we went on some awesome day trips that have stuck with me.
So, I came up with a list of eleven places that won't break the bank and are are budget-friendly.
Have an awesome time learning something new and plant a seed in your children that will stick with your them forever (bonus – every state has these places to visit!).
1. Museums
I live in Ohio and we have some pretty awesome museums to see, but all it takes is a quick Google search to see what your area offers. It can vary from science and art to kids or even a president's homestead.
To make the most out of your museum trips:
Make sure to pick up any maps, activity sheets or books about the items in the museum
Try to make connections with what they are seeing and tie that to past experiences they've had
Give your child your iPhone or camera to take pictures of their favoriate attractions
2. Visit Places of Movies
Has a movie been filmed by where you live recently?
Sometimes movie production companies have a list of places you can check out or a trail you can follow or even see if you have filming going on near you.
A few years ago, the last part of the Transformer movie was filming near us and we got to go and watch filming. I'm pretty sure my son will never forget watching the semi that represented Optimus Prime drive by us.
3. Local Library
I'm a huge advocate for our library.
They offer amazing programs for all age groups, reading challenges, movies and picnics.
My toddler, teens and myself all join the reading programs and they usually include information for activities like those museums (hint, hint). It's great socialization and encourages a love of reading and keeps those brains from turning to mush.
To get a head start on those free library activities, check your newspaper or online of when certain activities will take place. Mark them on your calendar and make sure to arrive a few minutes early to get a good view.
4. Local Movie Theater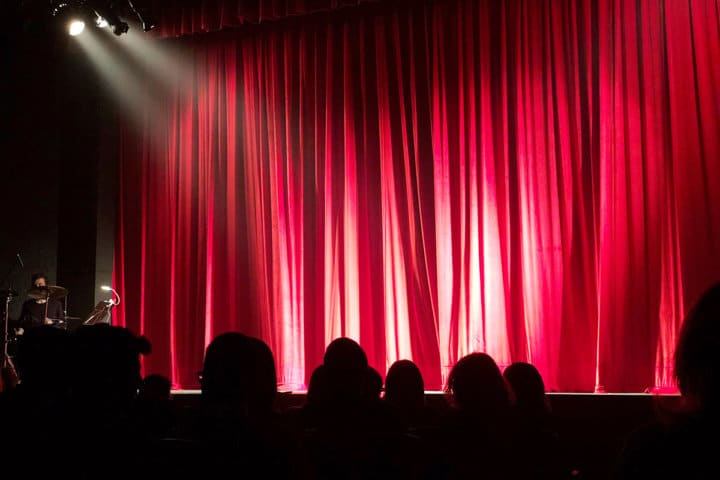 Many of local movie theaters offer free movies one day a week for families.
Now don't expect the latest blockbusters, but our movie theater always shows great family movies and mostly relevant to the last few years and they usually play them before normal opening times – like 10 am.
If your toddler or little one has never gone to the movies, prepare them by doing the following:
Make sure they are ready – If they are scared of loud noises or don't have a long attention span, they may not be ready to sit through a movie. The first time a child typically sees a movie at the theater is around three or four years old. But, waiting until they are ready will ensure everyone has a great time!
Pick the right movie – there may not be a lot of choices for a free movie, but make sure it's kid-friendly, slower-paced and something your little one can follow.
Go into the movie after the trailers – many children younger than eight can't tell the movie from trailers and these can last a long time – which results in wiggly kids!
4. Go Bowling
There is a nationwide program for free bowling called Kids Bowl Free. Just type in your zip code and they will show you the alleys closest to you.

And did you know that bowling can prepare your little one for kindergarten?
Creates patience – Your child has to wait their turn, which can be minutes long. This helps build patience that's needed in a full kindergarten classroom.
Self-confidence – Your child will be beaming with pride that they can lift that bowling bowl and push it down the lane all by themselves!
Hand-eye coordination – The act of bowling requires hand-eye coordination, which is a great skill to nurture.
5. Visit the Zoo
I don't care how old you are there is something about going to the zoo that brings out the kid in all of us.
We have a membership to our zoo that gives up reciprocal memberships to zoos around the country or a significant discount.
If you belong to your local zoo, I suggest looking into this.
And before we had a membership – when we lived in the city – they offered every Monday free for people who could provide proof they lived in that county.
See what options are available to you and then make a day out of it – pack a picnic and extra snacks get the wagon out and take a walk on the wild side.
6. Go Geocaching
One of our favorite things to do is download a Geocaching app and find as many as we can and even my preschooler thinks it's neat to find treasure. Here's a video if you don't know what Geocaching is!
7. Visit a Park
Everyone has a local, state, or national park – it doesn't matter. Some of them offer memberships – ours do, but most are still free either way.
Make a list of local birds or animals and take a nature walk to see how many you can find.
8. Meet With a Ranger
Meet with a ranger and find out what inexpensive classes on a variety of topics they offer.
My son even completed numerous scouting badges in their programs. Make sure to check the age limits in your state for fishing licenses – ours is 16 so most of my kids can go fishing for free in the lakes here by us.
9. Check Out a Baseball Game
What's more fun than singing that age old tune and cheering your favorite team on? Nothing!
I love baseball, it's in my blood and so do my kids. We have some great pro teams around us so we love cheering on our local farm team.
If your city has a team check out their website. Many times they will have special offers and family nights that include fireworks and kids running the bases.
If all else fails go cheer on the little leaguers – they have concession stands to grab some grub and how cute is it to watch the kids playing their hearts out and learning about so much more than sports?
10. Home Depot/Lowe's Classes
Check out your local Home Depot and Lowe's for some cute classes as well. Look online for kids workshops or call your local store.
The classes are free for kids in preschool to age 12.
My kids did these and got cute little aprons and learned how to use certain tools and tool safety. You get to keep whatever you make at the workshop too.
11. Make Memories at Home
Finally, make some of those memories at home.
Host a family game night
Play board games
Try charades – let the youngest choose first and see who is the most competitive
Go camping in your backyard – Use big tents, and make sure to have s'mores and tell ghost stories.
Plant a garden together – if your garden does well take a class and learn how to preserve some of it so you can open a jar of sauce in the winter and think about the amazing summer you had.
Host a water balloon fight
Have a family movie night – last year we borrowed a projector from a friend, put a sheet up, pitched the tent, and had a Disney movie marathon in our yard.
Never Run Out of Ideas Moms!
There are plenty more things you can do this summer – this list is just a jumping off point.
My hope is you can use some of these activities to help create some lasting memories for your family everyone will cherish and talk about for years to come.
Do you have any fond childhood memories of summer vacation that you want to share with your family? Don't hesitate, go for it; I promise you won't regret it one minute.
And who knows, maybe one day your grandkids will get to experience it too.