One thing I love about the holiday season is the smells. I love the smell of a real Christmas tree in our living room, a fire in the fireplace, and pies in the oven!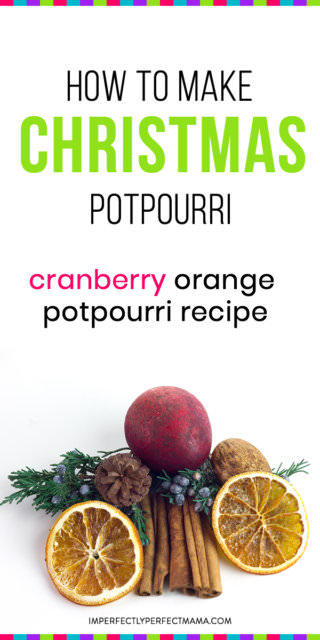 So, when I was thinking of Christmas gifts to give to my friends and neighbors, I immediately thought of the homemade stove top potpourri my mom has made in the past.
It was so simple, yet thoughtful and elegant.
The perfect gift!
There are several different recipes for Christmas Stove Top Potpourri.
I am not one to measure ingredients, especially in something I am not going to eat.
So, I have created a recipe that will give you some ideas of ingredients to put in your potpourri. Be creative! Add what you like or leave out ingredients you don't! Here is what I used!
Cranberry Orange Christmas Stove Top Potpourri
Bring the smell of Christmas to your house with this AMAZING homemade Christmas potpourri!

Ingredients
3

handfulls

Cranberries

uncooked

1

Orange

whole

1

pinch

Cloves

3-5

Cinnamon Sticks

2

Sprigs

Rosemary

2

pinches

Ground Nutmeg

2

pinches

Ground Cinnamon

this is optional
Notes
Be creative and make this recipe your own! Measurements are generalized as you can add more or less of what you like!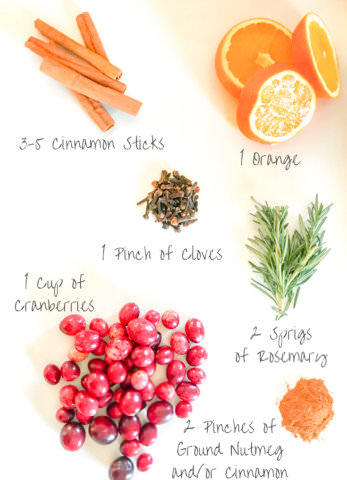 I will say, this potpourri is best when made very close to the holiday. Since it does contain fruit, it will mold if kept in the bag for too long!
Follow directions on the tag and enjoy the smell of Christmas! This potpourri will have your whole house smelling like Christmas all day! I love it!!
If you like this post, you may like 25 Advent Calendar Activities for Toddlers or 22 Non-Tradtitional Gifts That Keep on Giving!
Merry Christmas!