I have an image in my mind when I think of the word picnic.
I imagine a peaceful, serene landscape with delicious sandwiches coming from a vintage basket, on a red and white checkered blanket with beautiful weather.
Maybe there's a tree above aiding shade.
Maybe the kids are playing nicely with the dog. Maybe there's even a small pond nearby with ducklings.
Sounds like a page from a children's storybook, yes?
Well, I'll just have to say that although that is my ideal picnic setting it might not be yours, and that's ok.
The actual definition of a picnic is an occasion when packed meals are enjoyed outdoors.
It doesn't matter if it's in a giant park by your house, if it's in the woods an hour away, or if it's under the tree in your backyard, it is still considered a picnic and thus the benefits are the same.
So even if the way it looks may be different for you than from a scene of a picture-perfect family in a kid's movie, I can almost promise you that when you slow down to enjoy nature and it's beauty while having a picnic, you'll want to add that to your weekly schedule.
It is most definitely one of my favorite ways to bond with my family so I like adding it to my to-do list a couple of times a week when the weather allows.
Everyone always has a great time!
There are even a few added health bonuses which I will get into a little bit further down in the post.
Why I Encourage Picnics
First and foremost, they're a whole lot of fun!
How often do you get to enjoy a meal out of the regular setting?
Another reason why is because there are many health benefits involved with this activity.
Here are a couple of the reasons why I encourage families to create picnics a weekly thing
A Great Way to Embrace Nature
It has been proven that outdoors does wonders for the mental, physical and spiritual well being. In the modern world, many of us lack a good dose of nature due to busy schedules.
Adding a picnic is an amazing way to get back to nature for a little while.
It's Peaceful
You're not necessarily focusing on anything when you're enjoying a picnic. You're just genuinely enjoying the meal and place you're at. It helps you destress from everyday responsibilities and pressures.
Valuable Bonding Time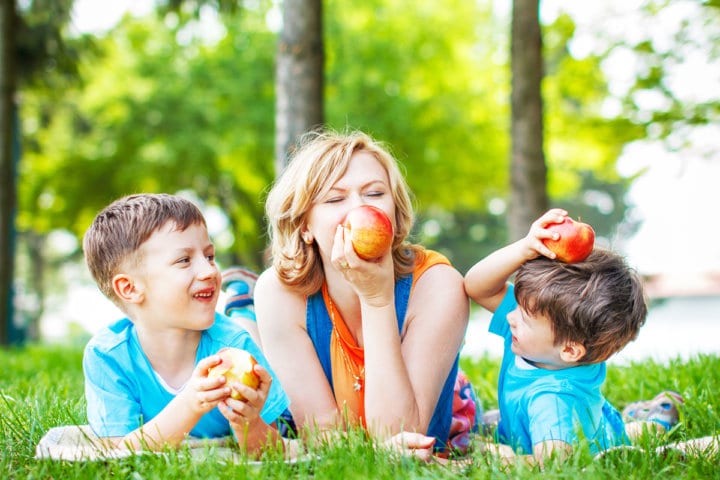 It's a great way to bond together with family.
Everyone helps prepare and set up. Once there, you're all enjoying the change of venue and the meal. It also encourages communication amongst each other.
Sparks Creativity
When you take technology and regular everyday toys away you get to discover a different world. Sure, I think taking outdoor games is a great idea, but letting little ones discover the many different possibilities there are in nature is amazing.
Slows You Down
Life is so busy nowadays. There's the carpools, the cleaning, the cooking, the constantly something going on.
Having a picnic forces you to slow down and relax. It's so important for our well being to enjoy the process of life and I feel that picnics really encourage that.
Great for Mindfulness Practice
The fact that the activity slows you down also helps you practice mindfulness.
Helping prepare the food, enjoying the meal and flavors, the texture of the blanket, the grass, the air flowing, the sound of animals and air going through trees, the sun on your skin…
These are all examples of what to be mindful of when you're at your next picnic.
It's a Historic Activity
Picnics are an activity that people have been doing for ages! Being part of the activity is being part of history and embracing it in your own, unique way.
How to Enjoy a Stress-Free Picnic
I don't know about you, but I love the thought of stress-free.
Do you want to know how to have a stress-free picnic?
…being prepared!
Preparing early is the one tip I can give anyone after going on probably 100 picnics.
I've learned the hard way a couple of times and I'm here to tell you the easiest way to prepare so that you don't have to go through the trouble that I have gone through.
1. Create a List
Creating a list is probably the most efficient way to success.
It's so simple, yet I feel that so many people skip this part, myself included. I went through the trouble of typing up a checklist to reuse every time and realized it wasn't any trouble at all.
Now I just skim through it before we head out the door.
2. Get a Picnic Specific Bag
Another way to not forgetting things behind is by having a bag specifically for picnics. Now it doesn't have to be a bag.
It can be a cooler bag, a cooler, a box, a basket, or anything really that works for you.
The point is to have it extra in a designated space for you to have everything prepared for you to just grab and go. Some of the items I usually keep in my picnic bag are paper towels, silverware, plates, cups, rags, and a blanket.
This little tip also saves you some time, which is always a plus for me.
3. Know What You'll Be Eating
It's probably a pretty good idea to know what you'll want to eat beforehand.
The reason why is so that you're not stressed about creating a meal from what you have at home or even stopping at the store on the way to your destination.
Keeping it simple to just some snacks and drinks is perfectly fine, however, my husband loves grilling so we usually get some meat ahead of time so that way it's a smooth meal.
Usually, food is prepared beforehand, but if you do decide you'll be grilling then I suggest having everything else prepared so that you only have to do the meat once there.
4. Have a Few Games Up Your Sleeve
Although being out in nature can be fun and engaging for a lot of kids, I'd suggest it's better to have a few games and activities just in case.
I like to see how long we can go without any games or sports whenever we go on picnics, and it usually surprises me how long we last every time. I recommend you give it a try without the games, however, it's good to have a backup.
We like to take a ball and frisbee, as well as, a bike and scooter. We recently decided to get a set of giant Jenga blocks so there's another idea of something you could bring along.
The activities and games are endless honestly, so bring a couple of those with you in case you need to do some entertaining. Plus, they're actually a lot of fun and start to get everyone more involved as well.
Now Get Out There
That just about wraps it up for some of the benefits I love about going on picnics.
Now I do hope you go out and enjoy picnics more often. And now that you know some of these benefits and tips, I hope you embrace picnics on a deeper level.
Now you tell us what some of your favorite benefits are from this old, historic activity!
Also, do you have any more tips on making it stress-free? Comment below so you can share your wisdom with us!