My husband and I lived in NYC for 7 years in a 400 sq. ft. apartment before moving back to our home state of New Hampshire, so we know what it's like to live with very little belongings.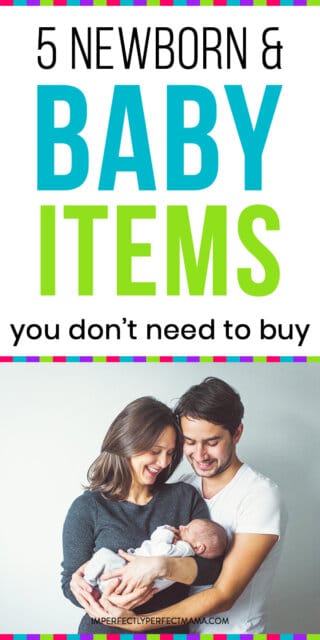 When we were planning for our new baby, we wanted to keep the same mindset that we had in NYC – only buy what we absolutely knew we needed.
That said, when we found out we were pregnant with our first child I felt like there was a ton of social pressure to have every possible item for our baby.
Not to mention I was sucked into every Instagram ad and social media influencer product recommendation!
Luckily my husband is the practical and logical one and he questioned everything we purchased.
We started out with the absolute necessities and then purchased additional things as needed. There were a few "big" things we never purchased for one reason or another.
Looking back, I'm so glad we didn't as we were able to save so much money! You'll see some people say you have to have these things below for your baby.
Take it for what it's worth, none of these items were missed in our lives:
1. Wipe Warmer
I'm sure you've heard a lot about wipe warmers. To me, a wipe warmer seemed like a nice to have item.
Parents obviously want what's best for their baby and if having a warm wipe would help, I was all for it.
After much thought and deliberation, we decided against purchasing a wipe warmer.
Our thought was, babies are probably going to cry getting their diaper changed regardless if the wipe is warm or cold.
Not to mention, if they get used to wipes being warm, they will most definitely not be happy when you are out and about and have to change their diaper with a cold wipe.
Take it from me, save your money, you don't need this. I don't think having a cold wipe had anything to do with our baby crying when getting his diaper changed!
2. Diaper Changing Pail
We went back and forth on deciding whether to purchase a diaper changing pail or not.
Ultimately we decided we would hold off and purchase one if we thought necessary.
This may be an unpopular opinion but, after a few weeks, we realized it was not necessary in our lives.
Not only did it save us a lot of money not having one, it also saved us a very smelly baby room! In my experience, diaper pails get super smelly because they don't get taken out every day or even every few days.
Diaper pails also typically have custom garbage bags that you have to purchase which can be expensive and inconvenient.
Being a family of four, we take the trash in our kitchen out every few days and we simply just put all diapers in the kitchen trash.
Honestly it hardly ever gets smelly. If we have a really bad poop diaper, we will wrap that in an extra plastic bag.
It has worked for us and saved us money!
3. Changing Pad/Station for Nursery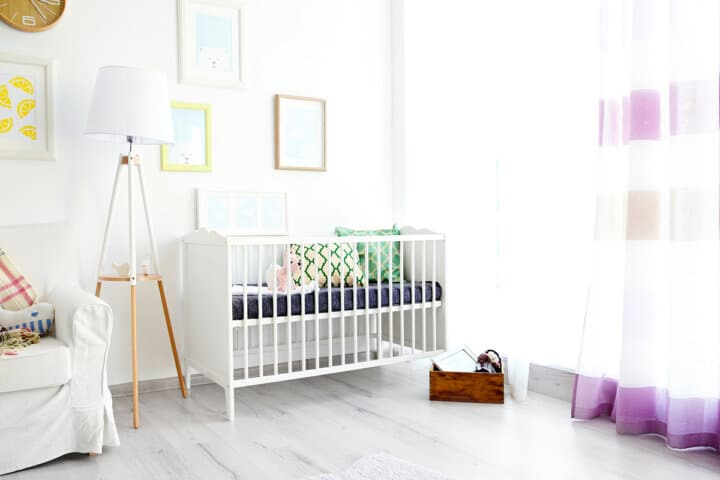 This will depend on your house setup, but we have found it unnecessary to have a changing pad in our nursery.
I always thought my nursery was going to be like all the perfect nurseries you see on Pinterest. After getting ours set up, we realized we didn't have a changing pad or station for on top of the dresser.
We had a changing station on our first floor and having another one in the nursery seemed excessive but also felt like it was necessary given all the perfect Pinterest worthy nurseries you see.
Instead, we ended up purchasing a pack of Boppy changing pads for $15. We use these on the floor when changing our babies in the nursery.
I've found that I enjoy changing the babies on the floor more than on a changing table and I'm so glad we held off on buying another changing pad/station.
It has become our bedtime routine where I change my 6 month old on the floor while my 2-year-old throws the babies dirty diaper down the stairs. I then just pick it up on my way downstairs and put it in our kitchen trash.
It may sound weird but my 2 year old loves it and that's all that matters!
4. Bassinet
It seems like every year there's a new fancy bassinet that comes out that everyone says you need and your baby won't sleep well without it!
You know the ones I'm talking about. As a parent, you feel like you absolutely have to have the newest and greatest bassinet for your sanity and sleep.
My husband and wallet, however, felt very differently!
We ended up asking for a mini pack 'n play for our baby shower. It came with an insert that allowed the baby to sleep high up in the pack n play as opposed to bending over to put the baby in and out.
We were able to use that next to our bed for the first few months and then transitioned both our kids to cribs in their rooms.
Not only were we able to use the pack n play for their newborn months but we were also able to use it for many other things as they got older. It was a 2-for-1 deal!
5. Bottle Warmer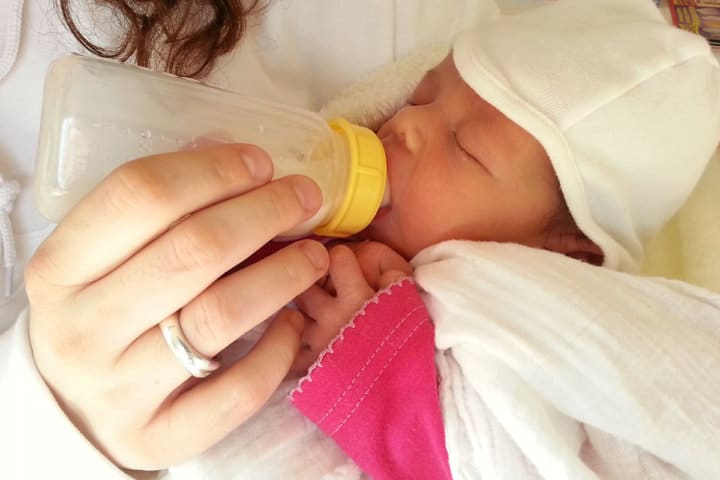 This is probably preference but I did not find any use for a bottle warmer. I did breastfeed for the first year but we did give our son formula quite a bit from 6 months to a year.
We would just warm a bottle up by putting it in a mug of hot water. To me, the fancy bottle warmers weren't worth the money.
Save Yourself Some Money!
Having a baby is overwhelming on so many levels. The stress of making sure you have everything you need for the baby is real.
Do yourself a favor and really think through what your life is going to look like with a baby and think through what is absolutely necessary versus something you don't need immediately.
There are definitely ways to help save money and I hope the above can help other moms out there trying to buy only the essentials!