In the spring of 2013, while on maternity leave, I decided to read the highly anticipated Lean In by former Facebook COO, Sheryl Sandberg.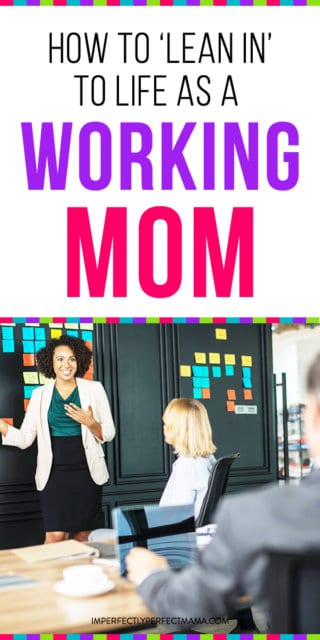 My husband thought that I would be dying to read it so he secretly gifted it to my iPad which was very sweet and forced me to overlook the comments he made about my love for all things "girl power."
I was excited to read it because of all the press it received before it even hit the stores. My expectations were high despite not really knowing what the tone would be.
I was hopeful for some practical advice with real-life applications for females like me who want to have both a family and a successful career.
I had a three-year old daughter, a newborn and eight weeks away from my corporate job.
I was looking for a woman who had been there and done that to reassure me that I could do it too.
I could have the husband, the kids, the dog and be a glowing success in my career. All the balls in the air at the same time and rock life as a working mom.
Give me all the inspiration.
Instead I felt defeated and scared, questioning if its possible to be all those things and have all those things with equal passion, attention and success.
After reading, was I leaning in like the girl [and mom] boss I want to be?
I think the most important takeaway for me was Sandberg's point that a combination of guilt and instinct will tell you to pull back and put your family first when career and family don't have to be interchangeable all the time.
Rather than shying away from an opportunity because you aren't sure how it will affect your kids or husband, "lean in" and give it a try. Consider all the options before you decide you have to back away.
While I wasn't in love with every concept shared in the book, I took it and got to work. Literally.
Abandon Balance
Five years later, how do I lean in as a working mother of two?
I now reject the concept of work/life balance and commit to the philosophy of proportion.
I keep all the balls in the air, but not at equal height all of the time. It's taken time to find the system I believe in, including alienating myself from some friends and tough discussions with my husband about our goals.
Balance implies equal weight on all sides, like a see saw with two kids of equal weight and neither of their feet touch the ground.
My reality as a working mother is that my life isn't just two sides of a see saw, its much more than that.
Life has become a giant pie with many slices. Not every slice of the pie that is my life will be the same size every time I slice it.
There is the family I created with my husband but also the family I came from 300 miles away, friends, career, a house to manage, bills to pay, pets and more.
Striving for balance wasn't giving me the flexibility of different size slices because all had to be equal to feel successful. Life with children and a full time job continued to throw me things that would tip the see saw one way or the other, causing feelings of anxiety, failure and guilt:
Diaper blow out requires immediate attention
Elementary school art show
Unexpected illness that requires pick up from school or visit to doctor
Car breaks down
Washing machine dies
Meeting or appointment runs long
Unexpected phone calls
Last minute business trips
Assignment takes longer than expected to complete
Lean In Through Proportion
It has taken time but I am embracing that my way to Lean In is with a focus on proportion. How does it work?
There are times I will expend more energy at my job and not talk with my parents as much as I like.
There are times when I don't return a call or email from a friend because my children need my full attention. There are also times each month when we line up the babysitter because my husband and I need our bond to be strong at all times.
Accept that there are times when the scale is going's to tip more one direction.
If you can accept it and expect the unexpected, the pressure to live life in perfect balance is significantly reduced.
Take these seven tips to live life with successful proportion as examples:
Focus on the day, not the year: Over the course if time it may be a balance but live in the present to see what needs your attention on a daily and weekly basis. Find the best proportion for your time and energy in the short term.
Discuss expectations: Know your role in your business, in your family and with your friends. Get realistic about what you can give and communicate it often.
Rely on helpers: outsource where you can to streamline the pulls on your time and energy. Asking for help can be hard but surrendering the smallest pieces of your pie can be freeing and satisfying.
Limit distractions: commit to the time when you will be fully present and distraction-free. At home with kids for family dinner, leave the phone in the car. Tied up in key meetings at work, temporarily abandon the to-do list from home.
Ask the questions to know when family and work can be combined: Don't be afraid to elevate your needs within your career. Feeling out of proportion, combine the two were you can. Take the kids to the office for a few hours or bring the family on a work trip if its to a place they might enjoy visiting.
Utilize time off: Employees are provided with a certain number of vacation and leave days for a reason. There is no award given to the employee with the most unused vacation days. Give yourself a break when it makes sense and go on a vacation or have a stay-cation to refresh. Your emotional well-being is its own slice so don't forget that!
Kids are life but so is your partner: Make time to recognize the role your partner plays in your success. When you have a success, big or small, share it and acknowledge the contributions of your partner.
As much I would love to, I can't provide a guarantee that shifting to the idea of work/life proportion will work in every situation.
I do like to think that it will change your life.
Striving for balance led me to fear my decision making at work and at home but proportion has given me freedom. Is it perfect, all day, every day?
Far from it but I think that's also the basic definition of parenting young kids these days and I am embracing it, not fearing it.
How to you 'Lean In' to the life you are creating as a working mother? Share your story in the comments below. We can all learn from each other.
Please join me on the Her Generation Project and the Project Network Facebook page to be a part of a wonderful community of mothers committed to raising strong daughters.