Kids seriously grow like weeds!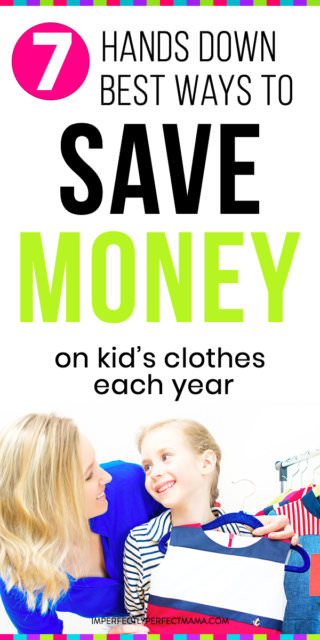 So paying a lot of money for your kid's clothes each year isn't necessary even if you don't need to follow a strict budget.
I love dressing my kids up in the latest fashions BUT I never pay full price!
My mom's a fashionista extraordinaire and taught me the tricks of the trade on saving thousands on clothes for my family.
And I'm going to show you how to do the same!
Brand name children's clothing is really expensive if you don't know the secrets to finding them at steep discounts!
In this post, I'm going to reveal the tricks I use personally to find the cutest and best quality clothes without breaking the bank!
Here are 7 simple ways to save money on children's clothes – hands down!
1. Start Shopping at the Back of the Store
Anytime I walk into a clothing store or boutique, I walk straight to the back of the store first. This is where all the "real deals" are usually located. Look for red and yellow banner signs.
Most of the sales located at the front of the store are just there to draw you in and keep you shopping in the store. They're more like teaser prices that aren't significantly discounted. You'll typically see markdowns to only 20-30% off the original price. Not great.
Now, the back of the store clearance rack deals are usually 50-70% off the original price and even sometimes 30% or more off the clearance price.
Now that's a deal! I once found an adorable brand new 2-pack set of 12-month footie pajamas for only .33 cents at OldNavy! That's .16 cents a pair!
2. Shop In the Off-Season
Shop for your kid's clothes in the off-season as a way to save on kid's clothes.
Stores are eager to off-load their seasonal clothing to prepare for the new upcoming season. So you'll find steep discounts that the end of each season.
Let me give you a word of caution with this method, so you don't waste money.
Since your child obviously won't be wearing those new jean shorts at the start of winter, it's hard to tell exactly what will fit since they won't be able to wear them for 6 or more months.
Always buy larger than you think is needed. And if your child is in the middle of a growth spurt, go even bigger!
I learned this lesson the hard way. It's astounding how much a kid can really grow in a 6-month span of time!
I usually stay away from this method for infants and babies.
They simply grow too fast to be sure they'll be able to wear them in the following season. However, If you find some pretty major deals, just be sure to do the math to make sure that thermal 9-month jacket will still fit come November.
3. Sell and Buy in Gently-Used Retail Shops
This is one of my favorite ways to save money on kids clothes.
There are two parts to the process. The first being the selling, where you can bring in your very best unworn and gently-used kids clothes.
It's recommended that you place your washed and wrinkle-free items in a plastic bin.
I use a simple laundry basket. Your items will be evaluated by a retail worker to see if they'd like to make an offer to buy your items. They're looking for clothing that is new or like-new.
If they like what they see or they're not currently overstocked in your items, they'll make you an offer.
The offer will either be cash or a discounted or tax-free store credit to shop in the store.
Sometimes I've sold my items for cash and used it to put toward a huge blowout clearance sale going on in another retailer.
At the point of the offer, you can either accept their offer or reclaim your items.
The offer they give you is generally 50% of what they can sell the individual item for.
That's not great, but it's a hassle-free way to sell your children's clothing. Stay tuned, I'll share with you shortly how to sell your items yourself.
The second part of the process is to purchase items from the store.
You don't need to sell anything in order to purchase. These stores operate just like any other retail store.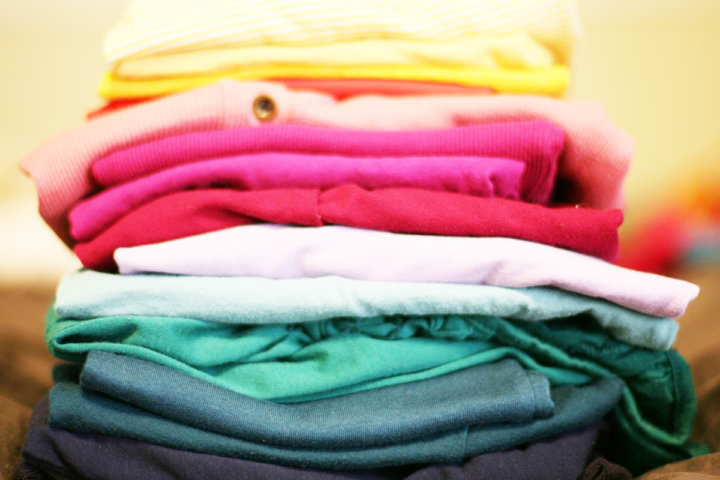 My method for buying from these second-hand stores is to only buy items that are or look brand-new.
I don't buy any items that look like they've been through the drier a hundred times!
I don't know if you've experienced this, but I'm always curious as to why these retailers reject some of my very good condition clothing and yet I see many things throughout these stores that are in pretty rough shape.
I guess I'll never know!
I also find that sometimes I can find a clothing item for less at the actual retail store that makes that particular item than at the discount store.
For example, there may be a "like-new" Carter's t-shirt that's priced at $5.50, but I happened to know that I can buy that same shirt brand-new at my local Carter's store for $3.99 on clearance.
In that case, I'll put that shirt back on the rack!
My favorite resale shops that are usually found in most larger cities are:
Here are some great online resale stores:
4. Sell and Buy your Gently-Used Clothing Yourself
Selling and buying your gently-used children's clothes yourself is most easily done today in online swap groups. They work a lot like the retail shops mentioned above.
However, there are some key differences.
The first difference is… it's a lot more work. You need to take decent pictures of each of your items and price them out individually or in what's called a lot.
A lot just means you're attempting to sell your items as a group for one price.
Then you need to post your items in different apps and on social media like in Swip-Swap Facebook groups or in the Facebook marketplace.
Once your items are public, you must stay glued to those programs so you can answer questions from potential buyers.
The entire process can take days or even weeks to find a buyer. Not usually an overnight solution.
Then there's the issue with safety. If you find a buyer, please be sure to meet in a very public location and ALWAYS bring a friend with you.
This is very important, and NEVER invite someone to your home.
Unless you're selling large items, in which case someone should be with you!
Also, never publicly give your meetup location address in the public comments or chat.
Always go into a private messaging area to discuss that information. You don't want to invite an unscrupulous person straight to your meetup when you don't know the person.
The bonus to selling your items yourself, is obviously that you'll make more money.
You get to set the price and you're not splitting the money with a middleman.
The downside is there's more hassle involved with finding a buyer and then meeting up at a mutually favorable location.
If you have several items for sale, we're talking several buyers and several locations in most cases.
If you can handle the hassle, have the time, and you need a higher return… this is the way to go.
Now let's cover the buying side. This part's easier.
Just search in these online programs and find what you're looking for. If you find some nice stuff, make an offer and set up a meet. Just don't forget the safety points I just mentioned.
5. Shop at Fine Discount Retailers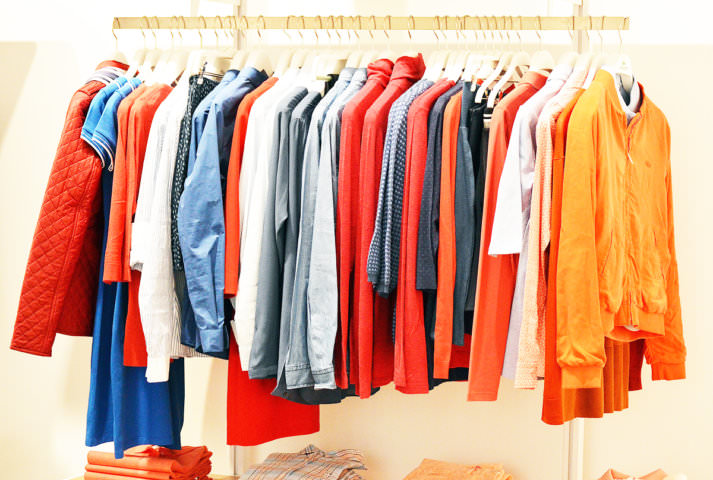 Another great place to find brand-new designer kids clothes is shopping at stores like Ross, TJ-Maxx, and Marshalls. They carry great quality name brand and designer clothing at a hefty discount for the whole family.
These retailers certainly will save you more money than paying full-price in that brand's retail store or boutique.
However, there are a few things to keep in mind.
I often find that buying designer sets can be more costly than finding a pair of jeans and a nice shirt separately from the same brand.
This is also the case with collections and mix and match sets that retailers offer.
They are trying to get you to buy the entire matching set of adorable bottoms, tops, hair bows, shoes, and anything else they can think to add.
The problem with this is those matching items often won't match with anything else in your child's wardrobe. Stick with the basics instead to get much wear out of them.
As I stated earlier, start with the clearance section and work your way to the front of the store. Depending on how close you are shopping to their latest markdowns, you can score some amazing finds.
6. Pass Those Clothes Down the Line
Saving your oldest child's clothes for the same-sex younger sibling is a way of life.
The funny thing is, my middle daughter, LOVES getting her big sister's outgrown clothes.
She actually ends up with more clothes than we can handle because we still buy her her own new stuff too.
I'm usually able to pass clothing down through two children and still sell them to a resale store because they're in such great condition. I'll share how I care for my kid's clothes so well next!
I use a giant clear tub and store my oldest child's clothing inside as she grows out of anything.
Then each new year her little sister is able to pull out great new-to-her clothes! Like I said, she loves it. And it saves me a ton of money each year.
I also keep the same clothes for each kid until they actually outgrow them.
For example, my youngest daughter is maintaining her weight and size for the last couple of years.
So, I didn't buy her a new winter coat this new year just for the heck of it.
If it still works, we keep it!
7. Preserve Your Clothes Well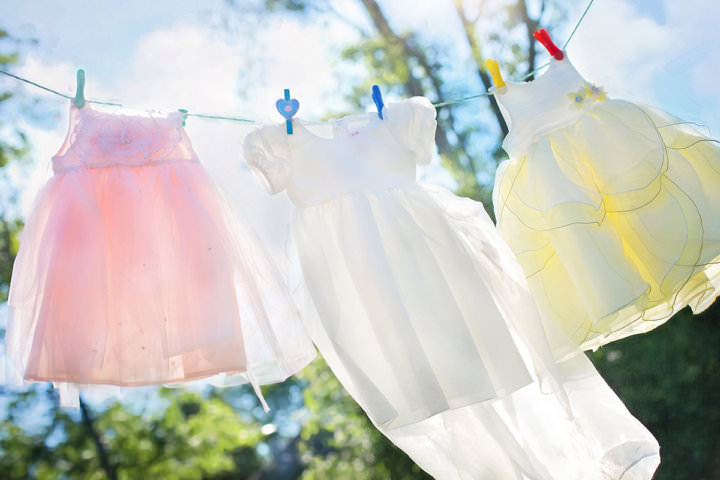 The final way I save on my kid's clothes is to take good care of the ones we have.
This is important because I like my kids to look their best and having clothing that is well cared for makes me feel like I'm getting good value for my clothing dollar.
I mean, this post is all about saving money, right?
It's also important if I plan to resell their clothing for cash like I detailed above.
If it's pilling from being over dried in the dryer I won't get a single penny for them!
I care for my kids' clothes in several ways.
The first is, I wash them in a gentle detergent. I don't know if this really makes a difference but my family's clothes always look brand-new so I'm standing by it.
The second is, I don't dry them all the way.
They should come out mostly dry and wrinkle-free but NEVER hot.
Super hot drying kills fabrics and causes pilling and fading, especially with cotton blends like T-shirts.
The final way I preserve their clothes is to buy inexpensive play clothes for them to wear around the house and to play outside.
Their nicer clothes are saved for school, church, and other "go out" places.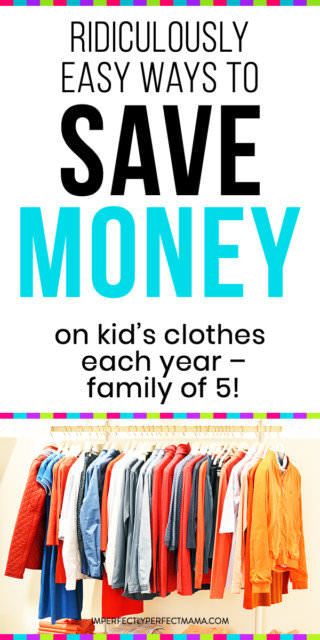 I find their cheap play-sets at places like Wal-Mart and Target.
One day I was shopping for groceries at Wal-Mart and I saw one of their Garanimals tables and the items were marked with their neon yellow tags.
They were all marked $1.00 for cute play T-shirts and leggings for girls!
Cha-ching! I literally bought the entire table, I think. Hey, I have two girls!
Using these strategies, I literally save thousands each year on my kid's clothes.
Let me put it to you this way, I spend WAY less than $500 on clothing for my family of five each year! And they are always dressed to impress.
They're just too cute not to dress them up… in my opinion, of course!
What are your money saving ideas? Share in the comments how you save on your kid's clothes! Let me know what I missed!