So your BFF is becoming a new mom! Whether you are a mom or not, you might be wondering what you can do to help.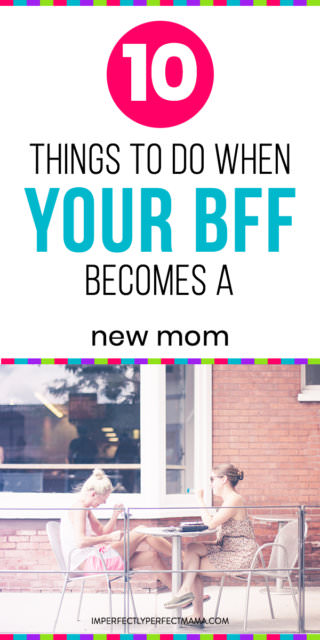 Becoming a mom for the first time is one of the most life-changing events. No amount of organizing or cleaning can really prepare you for how life is about to change.
It can be overwhelming, anxiety-inducing, and just plain hard at times.
Support from family and friends can make all the difference!
If you haven't already you should check out my posts on How to Support Your Wife as a New Mom and How to Support Your Husband as a New Dad.
As a friend or family member, there are many ways you can help ease the transition into motherhood.
I did some reflecting on my own time as a first time mom and here is what I came up with.
This Post is sponsored by Little Nest Boutique, Moose and Goose Studio, and Sweet Vintage Designs. This post contains affiliate links. All opinions are my own.
1. Help Her Register
If you are a mom yourself, there is no one better than you to help your BFF register for her first baby. One of the most overwhelming parts of becoming a new mom is trying to register. I remember spending 3 hours in the store with my husband registering. We looked at the entire wall full of bottles and had no idea where to start. Not to mention, I was pregnant, tired, and hungry.
Set up a time to go with your BFF to register. Better yet, sit down and create a baby registry on Amazon from home! Shop Amazon – Create an Amazon Baby Registry
Don't know where to start? Check out my post on Ten Products Every New Mom Should Know About.
2. Throw a Baby Shower
Obviously, if your BFF is having her first baby you should throw her a baby shower! Since baby showers can get a little pricey, ask some other friends to go in on it with you! Having multiple hosts helps take the pressure off and saves you some money.
3. Get Her a Gift
Not just any gift. This is your best friend we're talking about! Try to think of something personal to go along with something from her registry. Here are some fantastic little Etsy Shops that have adorable baby gift ideas!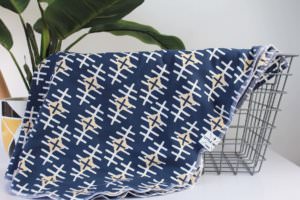 At Little Nest Boutique you can find blankets, swaddles, bibs, made to order bassinet and crib sheets and so much more! You have to check out her shop!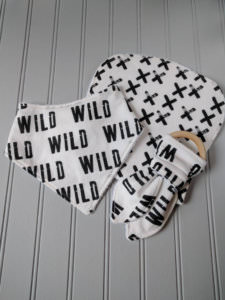 Go check out Moose and Goose Studio to find wooden teething rings, bibs, pacifier clips, and more! Follow Moose and Goose Studio on Facebook and Instagram and message Rachel to receive 10% off your first order!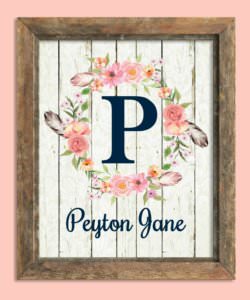 This is just one example of the cute prints that Peggy at Sweet Vintage Designs creates! She is able to customize the name and colors of any print in her shop! Be sure to go check out all of her other designs as well!
4. Make Her a Meal or 2 or 3
This one is a MUST! The new mama (and her family) need all the nourishment they can get! It is so easy for new moms to forget about taking care of themselves while they care for a new baby. However, it is so important!
Bring a hot meal and a few that can be frozen. After I had my first, I also had a friend that came and stocked my pantry! It was so nice not to have to search for food when I needed a quick snack! When I needed a meal, all I had to do was heat something up and voila a fresh, home-cooked meal! Totally beats take out any day!
5. Set Up a Meal Train Calendar
Help your BFF and yourself by setting up a meal train calendar! Send it out to her friends or add it to Facebook. The more meals, the better! You can set up a free meal train HERE!
6. Help Her Address Thank You Notes
With a new baby comes gifts galore! While taking care of a new baby writing thank you notes can be a bit overwhelming! Help your BFF by addressing and sending out her thank you notes!
7. Call and Visit Her AFTER the Hype is Over
Who doesn't love visiting a brand new baby? Continue to call and check on the new mama in the weeks (and months) after the baby is born. After the hype of the new baby is over, it can get lonely at times as a new mom. I found I really needed friends after my husband and mom went back to work and I was home alone with the baby all day.
8. Ask Her What She Needs
You may really have to pry on this one. Some mamas don't want to bother anyone or ask for help. Insist on helping somehow and ask what she needs. It may be something as small as a coffee run or something like help cleaning the house! Be available and ask what she needs.
9. Get Her Out of the House
I remember my very first trip out of the house as a new mom. My mom came with me and we took the baby to her first doctor's visit. Afterwards, we made a trip to Target and got things I still needed for the baby. Had my mother not been with me, I don't think I could have made that first trip out by myself! It sounds silly, but it caused a lot of anxiety for me as a new mom! So thankful I had my mom with me that day!
10. Don't Expect Anything From Her
Make this time all about your BFF and her the new addition to her family. Things may never be like they were between you and your BFF before the baby came along. Understand the changes she is going through and give her time to adjust. Eventually, you and your BFF will find a "new normal."

Do you have other helpful tips for friends of a new mom? Leave them in the comments below! 🙂
Would you like to see more from Imperfectly Perfect Mama? Just sign up for e-mail reminders any time a new post is published! I promise not to spam! 🙂
Save
Save
Save
Save
Save
Save
Save
Save
Save
Save
Save
Save
Save
Save
Save
Save
Save