Hey there, I see you, freshly postpartum, holding that baby that smells like heaven, yourself reeking of two day old body odor, spit up, dry shampoo, and that one Dorito you had for lunch.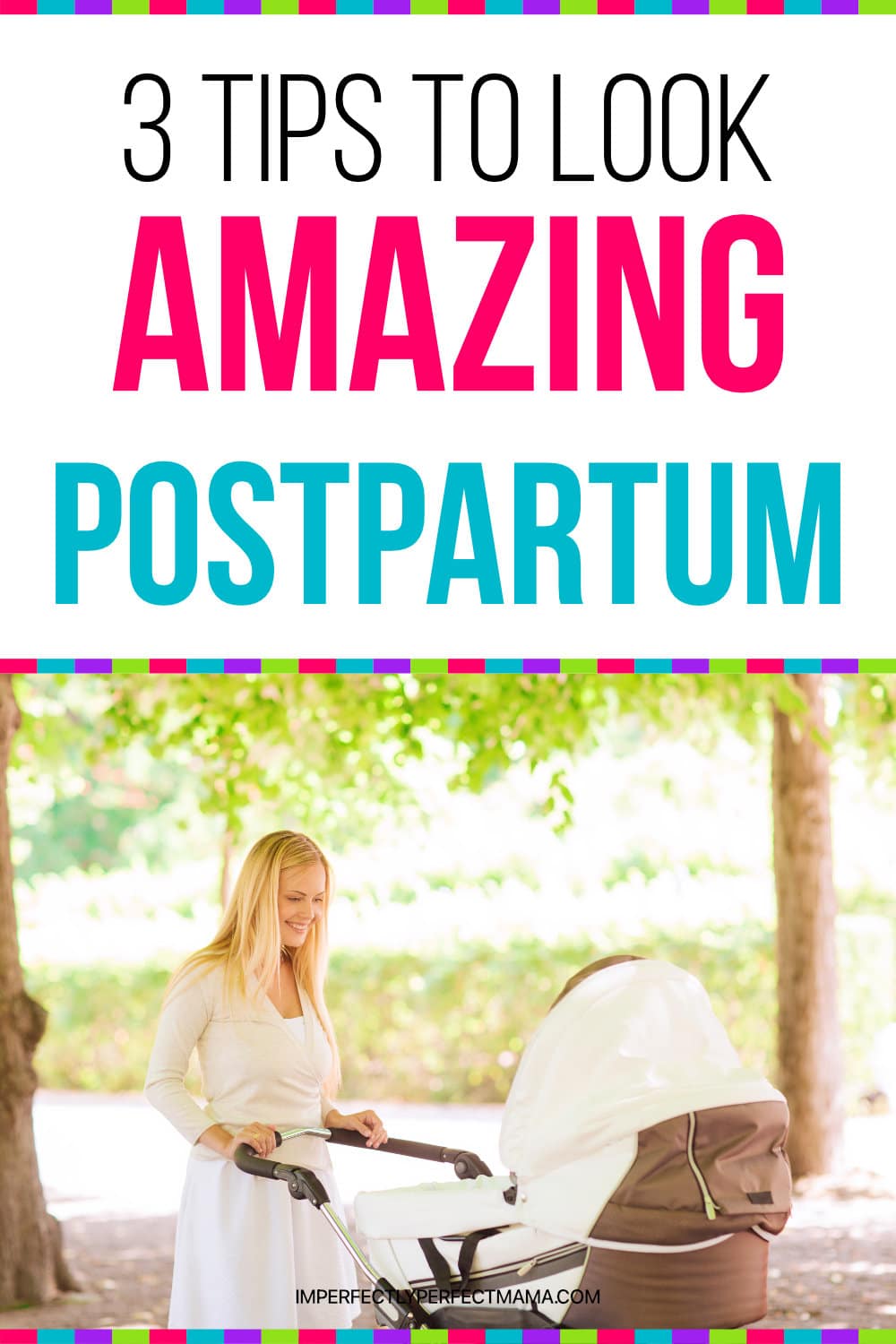 Heck, I AM you.
Times five.
Postpartum bodies are a funny thing.
Funny haha a few years out, but funny-what-the-heck-is-going-on-here in the trenches.
Your old clothes don't fit, you don't even know what "mom style" is supposed to look like, and you're not even sure you care.
Who can be bothered with jeans when all you really need is a good nights sleep?
Then comes that day when you need to actually get dressed like a grown up again.
Maybe it's coffee with friends, or a doctor appointment, or even your first date night after baby. But when you try to dress your new body, everything falls apart.
You CAN look amazing without changing a single thing about your body, or losing a pound.
These tricks will elevate your look, make you feel confident and look beautiful with the body you have right now, even if that body feels like a stranger!
Buy New Underwear
This is not the time to keep wearing your underwear from last year, or even maternity underwear.
What goes under your clothes forms the structure for what your clothes look like on the outside.
We need to approach this from two separate angles, because you need different kinds of support on top and bottom.
New You Panties
First, I want you to take those maternity panties, and pack them away. They're not doing your figure any favors, and they probably make you feel frumpy and unattractive.
There's no reason your bra and panty waistband need to be BFFs at this point. It's time for a breakup. Below are several common styles of panties.
Briefs offer the most amount of coverage on this list. Think of them as micro maternity panties. Full disclaimer, I actually wore oversized briefs during my pregnancies because I'm simply too frugal (aka cheap) to buy maternity panties. They are notable for having a high rise and typically have low cut legs.
Bikini is a very common cut and is a smaller version of the brief. These typically have a lower rise and higher cut legs. Although these are a classic, they may feel uncomfortable postpartum because they do not contain the extra skin and weight in the lower abdomen from growing a baby.
Hipsters underwear are my top pick for panties after baby. Somewhere between the maximum coverage of the brief and the "my belly is pushing it down" situation of the bikini, hipsters are perfect! The waistline is high enough to contain any mom pooch, but they still have an element of youthfulness.
Boy Shorts are designed to mimic the shape of men's boxer briefs, and provide the most leg coverage. These can work great under skirts and dresses as they offer more modesty in case of a wardrobe mishap.
Thongs are the answer if you wear tighter clothing and need to avoid visible panty lines. A thong has minimal coverage with a low rise waist and no cheek coverage. The low waist on these can create the same overhang problem seen in bikini cut.
So which style is right for you?
Well dear, your underwear are definitely a matter of personal preference. The important thing here is that you take the time to purchase some new ones that fit your body and make you feel good.
Look for elements like lace trim or fun patterns and colors to fit with your personality. I highly recommend choosing cotton or another natural fiber like bamboo (or silk if you're feeling luxurious) to protect your sensitive areas the most.
Support the Girls
Now that we've covered the bottom with some new underwear, let's focus on your breasts. Your body has done some heavy work, growing a human for nine months. One of my favorite tips is to be gracious with your body and to remember,
It took nine months to grow your baby, give your body nine months to feel normal again.
Your breasts experience changes that exceed this range, however.
During pregnancy, your rib cage expands 2-4 inches to accommodate your growing baby. This typically reduces in the postpartum period. In addition, you grow mammary glands during each pregnancy, which increases your breast volume. As milk comes in immediately after birth, they grow again.
Whether or not you choose to breastfeed, this is a lot of change within a short period.
The most important part of your bra is the band, but the reality is that most women are sized incorrectly.
This can be because of store policies or because of availability based on location. Your first step here is to get a proper measurement. If you are breastfeeding, hold off on this until at least the 6 week mark when your supply has stabilized.
When your first use this calculator you may get a number that makes no sense.
Trust the process!!! Using this system is the first time in my adult life I've owned a bra that actually fits!
These sizes are UK based, and I also recommend finding brands that are produced in the UK, as their sizing is more generous.
Even if no one but you sees what you're wearing under your clothes, it's important to take care of yourself in this small way. The massive physical changes of growing a human demands new underwear to frame and support you properly.
Wear Your Best Colors
This is my number one tip for everyone at all times.
Do you have a no-way color?
I certainly do, and it's lavender.
I mention this one, because it's a beautiful lovely color, and I actually really adore it. It does not love me back, sadly. That hasn't stopped me from trying to wear it (badly) at many points in my life.
I actually had a lavender chiffon prom dress.
Wearing colors that are not your best colors is a recipe to make you feel off. Your worst colors can make you feel depressed and down.
Not only do they make you feel blah, but they also accentuate any imperfections on your face like lines, shadows, blemishes, and unevenness.
Your best colors, on the other hand, make you look radiant. They create a natural glow and enhance your skin tone.
They make your eyes pop and are congruent with your coloring. The become an extension of yourself and make you feel on top of the world.
Color Analysis is the process of finding your best colors – and those to avoid – by analyzing your skin, eyes, and hair.
You can even look at clues like your personality and the patterns in your eyes to start discovering your best colors.
If you want to feel like a million bucks postpartum, go to your closet, pull out your best, favorite color item, and wear it.
If your baby is very young, you'll probably get compliments about how well rested you look. It's likely you'll get at least one kind word from someone when wearing your best colors.
Since everyone has a set of best colors, and they are in alignment with your natural features and beauty, these best colors go a long way towards erasing any imperfections that only we see.
If a bold beautiful crimson is your best color, no one is going to notice the extra 10 pounds you can't seem to lose. If that power color is blush pink, you'll exude a youthful glow instead of looking like you were up half the night with a teething baby.
Put On a Dress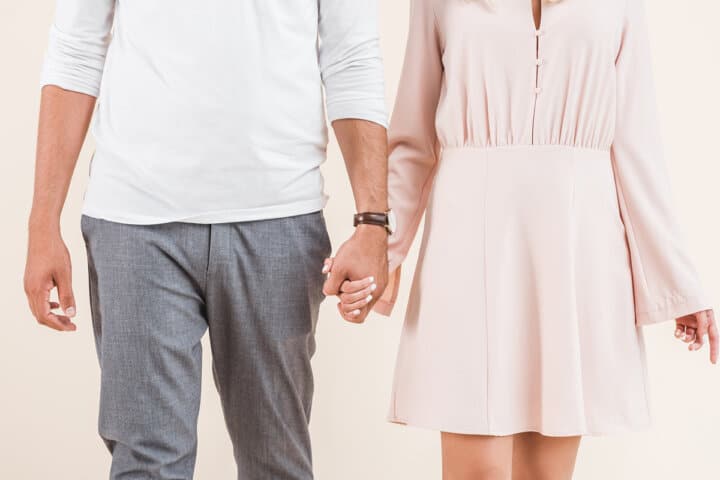 Let's talk about the thing that no one tells you about your postpartum body.
Even if you shrink back down to your pre-pregnancy size, there's a high likelihood those clothes won't fit the same. Maybe ever again.
Bones and muscles have shifted and some of them have experienced a profound lifelong change.
I never had any personal expectations of bouncing back like a slinky postpartum.
I've struggled to lose weight most of my life so I assumed it would be a marathon and not a sprint. I've been proven right and the closest I ever came to pre-pregnancy weight was 7lb.
Through 5 pregnancies I've dealt with this in different ways, from continuing to wear maternity clothes, to falling into cultish fads like leggings, and even living in athleisure after number four.
Truth time, these never made me feel confident, even if they were comfortable. I always felt a little sloppy and messy.
Towards the end of my fifth pregnancy, it was sweltering in July, I was past my due date, and my maternity shirts no longer fit over my 9 pound baby belly.
I started wearing dresses because it was the only thing that fit and kept me cool.
Fast forward a couple months and I was really struggling to feel comfortable in my body. Even pants that fit were constricting. Waistbands became enemy number one and my frustration with my wardrobe was at an all time high.
In a random moment of genius, I challenged myself to wear only dresses and skirts for 30 days.
At the end of that period, I came away completely changed and I still only wear dresses.
Now, I don't expect you to do anything quite so radical.
But my point is that putting on a dress creates an immediate feeling of put togetherness. It has the added benefit of only being one item of clothing to choose and coordinate.
It is also feminine, and typically other people treat you a little bit differently when you're wearing a dress.
If you're nursing I know access can be a bit of a challenge, but the ladies over at Latched Mama have solved this beautifully. If you're reading this while pregnant, their clothing is also maternity friendly.
Not only do they make mind blowing nursing wear, but I love supporting this company because of their woman friendly culture. The owner is amazing, they keep lactation consultants on staff, AND, get this…they allow their female employees to bring their babies to work for the first year.
If you're really feeling down about your postpartum body, grab a dress and give it a try!
I used to think that putting on a dress was "too much work" or that I would get it dirty, but kids are messy and one item of clothing is actually less work.
Final Thoughts on Postpartum Image
I know all too well how hard it can be too feel like a human after having a baby.
And some days the thought of ever looking awesome again seems so far away. But you don't have to stress and obsess over your new body. It's a powerful body that grew a human and deserves your love and respect.
If you need a quick win with your look, these tips to look great postpartum will get you on the road to feeling beautiful, confident, and maybe a little bit like your old self, all without actually changing an inch of your body.