The autumn break is coming up and the festive season will be hot on its heels. It's definitely the season for visiting far-flung family members.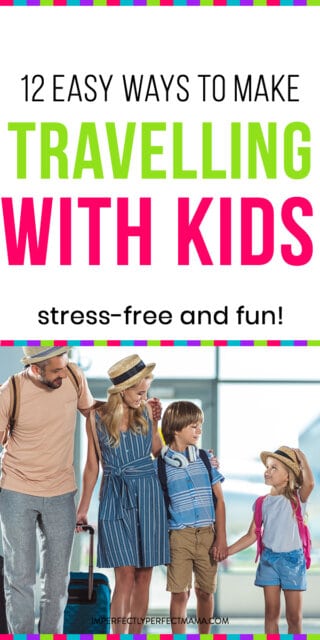 Let's talk about the kids, though.
Are you relishing the idea of a six-hour drive with your little darlings?
Brimming with joy at the thought of trailing toddlers through an airport terminal?
All power to you if so.
If not, then these twelve hacks for keeping your sanity on long trips with children will help:
1. Prepare, Prepare, Prepare
Set the scene with your kids. Let them know how the journey is going to play out.
My teenagers still ask 'what's the plan, Mum?' before we go anywhere and they cascade the information down to their little sister to help me out.
We underestimate how scary the unknown can be for little kids.
After all, you planned the journey, you chose the route, and you know exactly what is going on. Your kids might know the destination, but they don't know all the steps to getting there.
2. Snack Packs
I have been traveling alone with my kids since the eldest was seven weeks old.
Tiny babies are a breeze to travel with, especially if you're breastfeeding, but toddlers and bigger kids need to keep their blood sugar on an even keel.
I learned the hard way on a long road trip with no access to convenience stores that it makes your life much easier if you pre-prepare the snacks.
I like to bring a small insulated bag with the snacks that my kids love (and what I prefer them to eat).
I freeze small cartons of juice which then act as freezer packs and which are still cool and good to drink at the end of the journey.
Things which last a few hours and which are comfortable for kids to eat in the car, plane or train are carrot sticks and little pots of hummus, finger sandwiches, individually wrapped cheeses, or pre-cooked meatballs.
I try to keep the really sugar-laden snacks to a minimum as I don't want to get the kids too hyper! I do take grapes, blueberries, bananas as my middle son has a super sweet tooth.
3. Individual Carry On Bags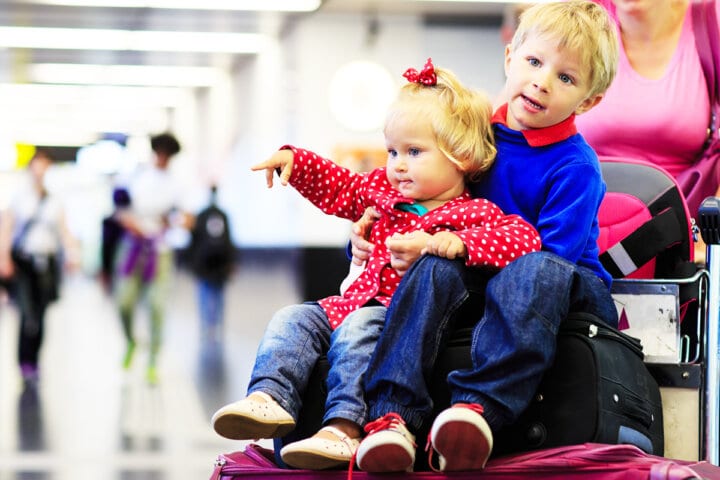 Kids love bags. All of my children, two boys, and a girl have adored carrying their things around in a rucksack that they have picked out.
This is invaluable when traveling as they can keep their own small books and toys with them to access as they please.
I put each child's water bottle, notebook, and crayons in their own bag, along with a large card with my name and mobile number just in case any of my little treasures wander off.
I used a great backpack for toddlers when they were small which was in the shape of a butterfly or dinosaur, and had a little leash attached that I could loop around my wrist.
Having more than one small person with me always made me hyper-aware of not losing anyone.
5. Water Bottles
I've already mentioned putting water bottles in the backpacks that my kids carry.
To me, a small child with an open cup is an accident waiting to happen!
If we're road tripping, then I fill the bottle ready to go, and at the airport, I take the empty bottle in the bag to refill once we get through security and can get to a shop or water fountain airside.
6. Activity Sets
I have bought and made activity packs since my kids were able to hold a crayon.
When I buy them, I always end up disappointed. There doesn't seem to be anything out there that has enough content to fill a plane trip plus wait time or amuse kids on a long car journey.
I have some waxed material bags with a small handle for hanging on airplane seats which I use to pack full of activities and bring out when the situation is getting tense.
I (and my kids) love new books, small card games, 'magic' coloring which doesn't make a mess such as the Color Wonder range.
I add small craft sets from bargain stores, we can make friendship bracelets, for example, but I don't buy anything with fiddly beads. No one needs to be chasing those around a plane.
I take stamps, Melissa and Doug do great travel-friendly sets, and stickers so we can add to the fabulous pieces of art that have been done with the crayons from the personal backpack.
I create a pack for each child and plan to distribute something, either an activity or snack, every half an hour. I change up the tempo of the snack for each child.
For example, if I give the eldest a friendship bracelet set, I'm going to have to participate in that activity, so the other two kids get a book or stickers which they can do independently.
7. Break Out the Screens
When the whole experience gets too much, you'll all need some downtime.
Enter the Kindle Fire, Ipad, Mum's phone, or whatever you use.
I love the Kindle Fire; the kids' edition comes with a bounceable rubber cover which is easy for little hands to hold.
I have a subscription to Prime, so I can download films and tv for my children to watch on the move and pre-vet the games so that they can play too.
I know that lots of parents have strong feelings about screens … I know, I know, you're not engaging with your kids, they're passively staring at a device, its damaging their necks.
But sometimes everyone needs a break.
If you get on the road early then, there will be a slump in energy and behavior – from parents and children. A quiet film or TV show can just calm everyone down and change the pace a little.
Remember to bring headphones. If your kids are sharing a device, then you can get a headphone splitter and not inflict the pain of an hour of Peppa Pig on the rest of the passengers.
8. Emergency Sweets
Having talked about my healthy fruit and veg snack packs, I do have an admission….
Tiny packages of gummy sweets and lollipops to act as prizes if you're playing games, or as an incentive for your little poppets to behave well.
At one point, I worried about my middle son's hearing until I realized that he could hear the crackle of a sweet packet at 100 paces.
The promise of a treat significantly improves my children's behavior, and it is something that always hold in reserve on a trip.
9. Books and Games
New books are always a joy, right? They are for my children and me.
I always put a couple of current favorites in the kid's backpacks then add to the activity packs a few new books that I've picked up.
My daughter loves anything with glitter on the pages, she's a magpie, and I know that a new sparkly story will hold her attention for quite some time.
Now that my sons are older, then I pick up the next book in a favorite series which I know will keep them gripped.
We have a few card games that everyone enjoys, which also come out on long trips. We take the traditional pack of cards which can be played to suit all ages.
Our family loves Dobble which handily comes in a tin and which is fantastic fun for children of about three upwards, and Top Trumps is always a winner when we're on the move.
10. Comfortable Clothes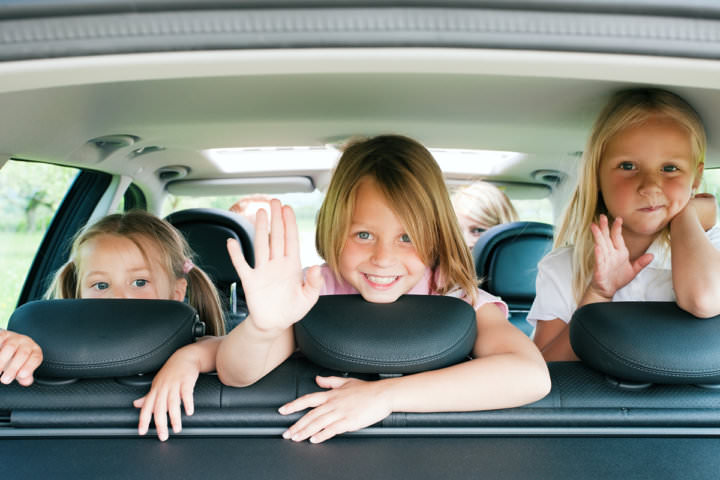 Do your kids do the wee dance? All of my children have been toilet deniers until it is desperate and they MUST GO RIGHT NOW.
Clothes that are easy to whip off when necessary are vital in case of loo, or vomit emergencies.
When my first baby was seven weeks old, his father was working away with the military, and we were able to fly out and see him during a rest period.
I was pretty excited as you can imagine and packed everything in the world on my carry on luggage so the baby would be happy and comfortable.
Anyway…the 8-hour flight was delayed when we were on the runway, and I fed the baby.
An hour later, we were taxiing down the runway, and I fed him again; I heard that it helped equalize baby ears and wanted to keep him pain-free.
You know what happened next.
The baby was so full he vomited generously all over me before we had even left the ground.
I was covered in second-hand milk from chest to knees, and although I had a change of clothes for my precious bundle, I had nothing for me.
I stepped off the plane, having not seen my husband for four weeks smelling of sick. Which is why I now carry a spare top for everyone rolled up in my bag.
11. Battery packs
I know from experience that if the battery on your phone dies, or even worse the tablet dies in the middle of Frozen, stuff is going to go down.
Take a battery pack with you, they're easy to get a hold of in the airport or service station, and if you're organized enough to have a lead to hand, you can usually charge it up there and then in the car or airport.
12. Sense of Humor
Although this is my last tip, it is absolutely the most important.
You cannot expect traveling with children to be like traveling alone or with another adult. You have to expect there to be challenges, and you have to expect the seas to be a little choppy at times.
Children are a part of life and when we take them or a plane or a roadside restaurant then yes, we let them know how to behave and provide guidance on what you expect, but we can't expect them to be perfect.
As long as you're well prepared in terms of organization and time, then you will get where you're going and your kids will learn how the process works. It may not be perfect, but life and travel aren't perfect – it's a journey.