Many of us are familiar with the African proverb "It takes a village to raise a child."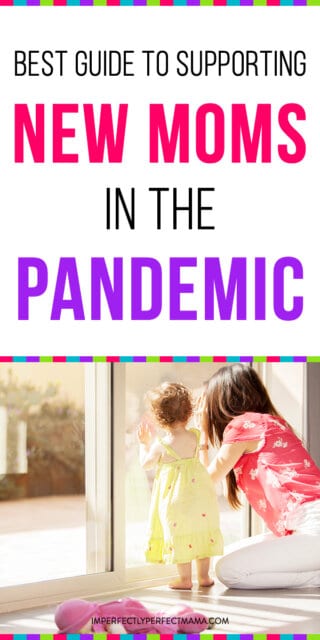 In most cultures across the globe, new mothers would traditionally have had the ongoing support and help of their communities as they started their parenting journey.
In more recent times, the pace and style of modern life have changed this for many.
Lots of moms are living long distances from their home places, and it's becoming more and more usual for neighbors not to know each other.
But since COVID-19 hit, becoming a mom can be a more lonely experience than ever before.
Being a New Mom During The Pandemic
Here in Ireland, we went into a national lockdown on March 27th 2020. At that point, I was seven months pregnant with our second child – a little girl.
Suddenly, the experience of being pregnant was completely turned on its head. So many things were different and difficult compared to my first pregnancy.
Buying the essentials I needed for the new arrival was nearly impossible and all had to be done online.
My husband wasn't allowed to attend antenatal appointments or scans. In the end, I had to give birth without him, and he didn't meet our daughter until we got home from hospital.
Of course, we were so thankful that our little girl arrived safely and I recovered quickly from the birth.
But the differences didn't just end after she was born.
The main frustration was that family and friends couldn't meet our daughter due to travel and visiting restrictions. Indeed, there are still lots of people who haven't got to meet her yet.
As well as this, the typical supports of parenting classes and groups weren't available for support and encouragement.
Ways to Support a New Mom During The Pandemic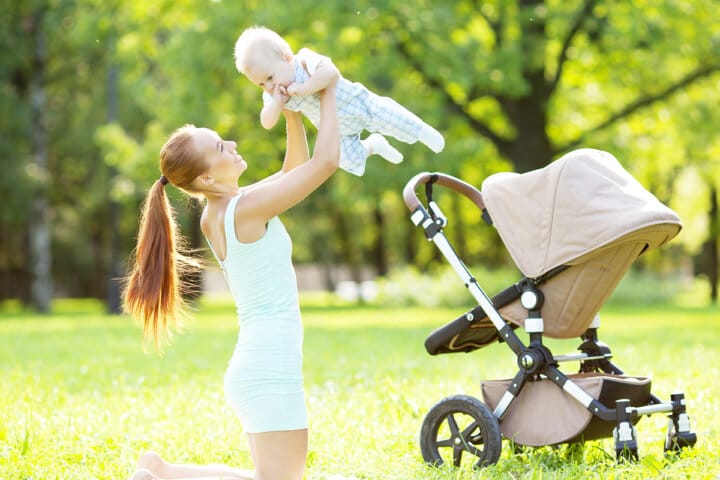 In spite of all the restrictions, our friends and family found lots of creative ways to show their love and care to us.
We were so grateful for this, at what could have become a very lonely and isolating time.
I've reflected on our experiences to share six tips for supporting new moms during the pandemic.
Of course, different parts of the world have different levels of restrictions. At the time of writing, Ireland is back in its highest level of lockdown after a third surge of cases in December and January.
As well as this, different families may have different attitudes and approaches regarding the virus.
So, not all these tips will be relevant to you and your situation. But take what is useful and adapt them to help the new mom in your life, whether she is still pregnant, or back home with her new bundle of joy.
1. Acknowledge That It's Scary
Being pregnant is full of anxiety at the best of times. But COVID-19 has introduced a new layer of complications.
Attending clinics and appointments is often more difficult because of social distancing and mask wearing and many moms have received bad news alone at scans because their partner can't be with them.
Some may have had to change their birth plans completely.
A few weeks after lockdown started, I got a lovely text from a friend. She said she was sure it was a frightening time for me and that I was in her prayers.
It felt really great to have someone acknowledge how scary it all was. She didn't try to pretend everything would be okay because nobody could say that for sure.
If everyone had tried to be upbeat all the time, I would have felt very alone. Because unless someone has done this already, they really don't know what it feels like.
So, be encouraging and positive with new moms right now but don't shut them down when they talk about their very real fears and concerns.
2. Don't Force Contact
This is an important point even during normal circumstances.
It's the most natural thing in the world to want to visit the new baby or to offer to come help.
But sometimes visits can feel overwhelming for a new mom, even from their closest friends. So, it's always good to follow the new mom's lead and only do what she's comfortable with.
During the pandemic, even if home visits are allowed in your area, new parents might be reluctant to have callers to the house. The responsibility of a new baby can cause them to be more cautious about contact than usual.
Please don't take it personally if a new mom doesn't want you to visit even if you just want to help.
Instead, take the time to find out what kind of communication would be most helpful to her. Text messages were best for me but others might prefer video calls.
If you do visit in person, consider how you might help the new mom to feel safe. For example (depending on local circumstances), you might:
Wear a mask
Keep social distance
Avoid holding the new baby unless offered
Keep the visit short
Cancel the visit if you are feeling unwell
It can also be a good idea to pre-arrange a time, so the new mom doesn't get surprised by your visit at a stressful moment.
3. Give Her The Opportunity to Talk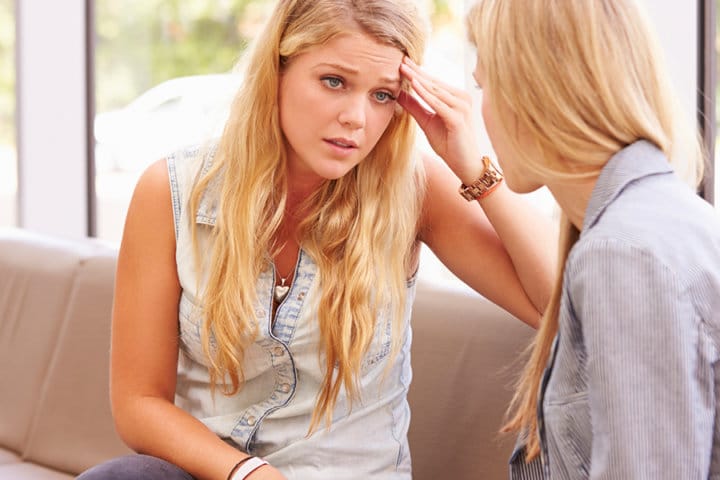 I don't know about you, but sometimes I'm scared to talk to people who are going through a difficult time. I tend to be worried about saying the wrong thing or of upsetting them.
After I had my daughter, I really appreciated people asking me questions about the experience.
In general, I don't really like talking about myself. But in this case, it helped me process all the strange things that had happened.
I was grateful for the people who weren't afraid to bring up the subject.
So, if you know a new mom at this time, give her the chance to chat. Don't be nosy, but ask her general questions that give her the chance to open up if she wants to.
For example:
How are you feeling about the birth?
What was it like in the hospital?
Did you miss having your partner with you?
How did you feel about the change of plan?
If the mom doesn't want to talk, that's okay. But if she does, it's great to be given the opportunity.
4. Be Alert For Postnatal Depression
For many moms, the arrival of a new baby can be accompanied by postnatal depression. But the signs of this can often be difficult to detect.
During the pandemic, when new moms are more isolated, this difficulty may be even greater.
If you know a new mom, it's a good idea to educate yourself about the signs of postnatal depression, just in case.
There's no need to make a big deal of it, but if you have it in mind you're more likely to be alert to the possibility.
Keep in regular touch, and let her know she can contact you if she ever needs to talk. Reassure her that you won't be shocked by anything she tells you about how she feels.
Encourage her to approach the appropriate medical professionals if she is struggling.
Finally, see if you can help her find appropriate options for building up a supportive community of other moms (even if it can only be online).
5. Feed The Family
If you're a parent yourself, you probably find it stressful getting everybody fed on time. Especially with a new baby in the mix.
I find babies always seem to need to be cuddled at the most critical point of cooking dinner!
We were delighted to have some tasty home-cooked meals dropped to our doorstep after we got home from hospital. It was such a treat not to cook for a few nights and to enjoy food somebody else had prepared.
Giving meals to a new mom is a thoughtful gesture that can make a real difference to her day and her wellbeing.
They are especially helpful in situations where family or friends aren't able to call in and help with housework or childcare.
There are a few ways you can get food into the hands of an eager family:
Prepare and deliver the meals yourself
See if there are any ready-meal delivery services in the area
Get takeaway delivered
Send a voucher for a local restaurant doing takeaway/delivery
In my experience, it's probably best to check ahead with the family before you send food. They may have lots already and struggle to eat more before it goes bad.
The freezer might be full at the moment or the meals might be more useful to them in a few weeks time.
6. Make The Most of Delivery Services
Perhaps travel restrictions or distance mean you can't get anywhere near the new mom's house, even if she wanted you to!
Delivery services have been working harder than ever during the pandemic and the arrival of a new baby is the perfect time to make use of them.
I've already mentioned how you might make use of food delivery services but there are lots more options you could try.
After our daughter was born, some friends of ours had flowers delivered to us. It was a lovely gesture and surprise.
Since we were all expected to stay at home as much as possible, it was refreshing to have the pretty blooms brightening up our house. Especially since we'd been stuck looking at the same four walls for months by then!
A very practical way to help is to do an online grocery shop. Ask the family to send you a list of what they need and you can take it from there.
Finally, think about what the new mom enjoys and see if you can have it delivered. If it can be ordered from somewhere local, all the better.
There's nothing nicer than a thoughtful and helpful delivery straight to the front door.
The One-Stop Guide to Supporting New Moms in The Pandemic
I hope this post has helped you think about how best to support the new mom in your life.
Every mom is different, and will have different needs and ways of dealing with things. And it's so easy for us to feel helpless, when we can't show our love and care in the usual ways.
But with these tips, hopefully you'll feel one step closer to being part of the "village" that helps her as she raises her precious little one.