It's summertime!
What a beautiful time of the year.
The days are longer, fruit is beginning to ripen, and well, let's face it, the temperature is rising.
When the heat starts to sink in, what is a better way to have fun than a day at the lake?
We personally like to kick off our summer bucket list with a trip to our local lake.
Swimming really sets the tone for fun summer festivities.
Aside of the lake being super refreshing, kids will have loads of fun and get in their good dose of exercise and nature.
I can pretty much promise you they'll be so tired they'll fall asleep on the ride back home.
When my son has this much fun it is always a good sign for me.
So to summarize my answer as to why, well, because it's refreshing on hot days, it unites the whole family to create fun memories, and it is a great addition to a summer bucket list.
5 Steps for a Successful Lake Day
These are five easy steps that I do every time we go to our local lake.
I made them easy and fast because I know that we're all very busy with fast moving life and chasing after little ones.
Besides, I know I am usually one to wish I could skip straight to the fun part.
So without further ado let's get started with the steps to have a successful trip because the last thing we want is to forget the sunscreen and have a few cranky kids for the next couple of days due to terrible sunburns (I've been there).
1. Prepare for the Lake Early
Everyone is excited, and I mean everyone! The kids, the spouse, even the dogs are eager to get on the road.
That being said, pack early.
Some lake day essentials are:
Bug spray
Emergency kits
Ziploc bags
Clorox wipes
Trash bags
Portable charger with USB cord
Eating utensils
Bottle opener/wine key
Hand sanitizer
Toilet paper
It's also a good idea to fill up the car with gasoline whenever you're planning on heading on a day trip. Even if it isn't a far drive you'll be tired on the way back home.
I personally prefer to go straight home on such circumstances.
Also, have EVERYONE go to the bathroom before anyone heads out the door.
2. Get Creative with Food/Snacks
My husband loves a good old Carne Asada/BBQ.
If we plan on staying at the lake for a few hours, which we always do, we prepare to have a nice lunch there.
We usually research if there are grills and picnic tables and if it's a first come first serve scenario. I definitely recommend checking to see what your local lake does.
If you want to keep it simple, however, I suggest packing sandwiches and other finger foods like fruit, crackers, popcorn, etc.
Make sure your cooler is packed with plenty of ice.
…and please, don't forget the water bottles!
3. Prepare the Car
I'm just going to have to tell it to you straight, the car will get dirty!
Good thing is that we can prepare to keep it from being a complete disaster to it needing just a little dust off and a light vacuum.
My number 1 tip -take a bin
When everyone is tired at the end of the trip just throw everything in the bin.
For example, the water toys, the extra water bottle that didn't make it in the cooler, the random sock that popped out of who knows where.
I think you get the idea. Having everything contained makes it so much easier than having everything thrown around.
Also, I like to put towels on the car seats to keep them from getting wet and sandy/muddy.
4. Don't Forget to Take Lots of Pics!
It is going to be so much fun for everyone, including yourself!
I like taking a lot of pictures on occasions like these because it really captures a beautiful memory. Besides, lake pictures make gorgeous prints for the home.
Some of my favorite lake shots;
Kids and pets in the water
A picture of the lake and surroundings
A shot of the group
5. Start a New Tradition/Continue an Old Tradition
Everytime we go to the lake weALWAYS bring a watermelon with us.
It has slowly become a tradition that we kind of look forward to every time.
It's simple, sweet and delicious. Aside from it having healthy benefits it is also very hydrating.
Not to mention that nothing yells summer more than a juicy, ripe watermelon.
So I encourage you to start a tradition. Make S'mores as a dessert, skip rocks on the water or even steal my watermelon idea. It's a beautiful way to bring everyone together.
That just about wraps up the tips I have for a fun, successful day!
In the end it'll be a great day no matter what so go have fun with the family and make new memories.
Please let me know what you think and add some of your personal tips for a lake day.
Checklist for the Lake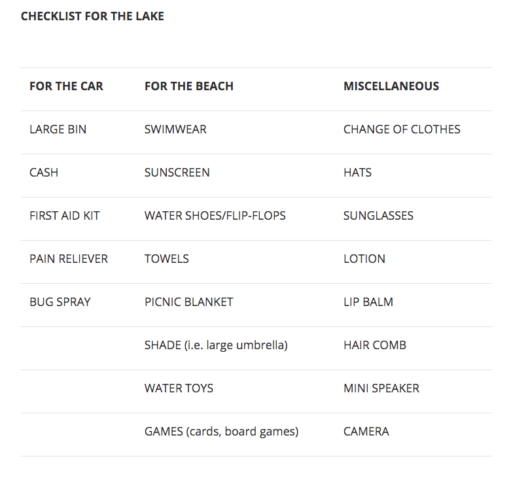 Checklist for Food and Baby