Before I became a mom, I vaguely understood that diapers were expensive.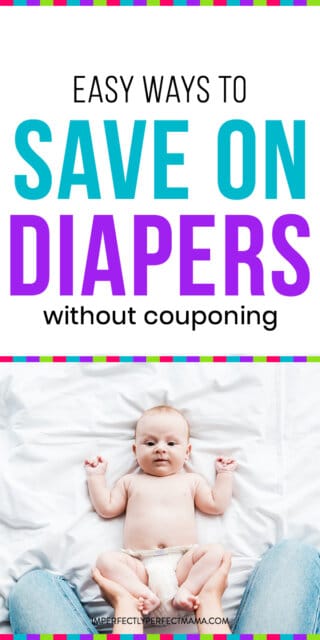 Let's be honest, though…the actual cost of diapers doesn't quite hit home until you've changed one just five minutes after your baby's last blowout.
There is no doubt, babies require a lot of diapers.
In fact, the average American baby uses about 2,700 diapers during his first year alone.
If you're raising a baby on a tight budget, this number can seem massive.
So, learning how to save on diapers is a no-brainer.
You've probably already heard about the most popular method of saving, couponing.
But, if you're anything like me, couponing is not for you.
It takes time (that you don't have) and the memory capacity to remember to use those coupons (which almost no new mom has).
Luckily, this post is all about using convenient, easy methods to save on diapers without couponing.
6 Easy Ways to Save on Diapers (Without Couponing):
1. Buy in Bulk Only if You Plan for Growth and Sales
Buying in bulk when diapers are on sale is my secret sauce to massive savings.
When you plan your diaper purchases, you're not stuck paying premium prices for an emergency box you bought from the nearest convenience store. You're always equipped, and you're able to take advantage of the best sales of the season.
Unfortunately, buying in bulk can come with severe disadvantages. If you buy too much or too little, you end up wasting money. That's where planning for your baby's growth comes in.
To implement this method, you need to look at a standard infant growth chart. Babies tend to grow unpredictably, but double-checking your diaper purchases with a growth chart will ensure that you don't buy too many of one size.
For example, if your baby is 6 months old and weighs 16lbs, you can reasonably assume that you can purchase a few boxes of Size 3 diapers without waste.
To buy diapers in bulk, you must also budget for your baby's diapering needs ahead of time. That way, you'll actually have the cash you need to take advantage of upcoming sales.
If you plan on buying in bulk, here are some of my favorite sales events:
Black Friday and Cyber Monday
Presidents' Day
Independence Day
Prime Day (for Amazon Prime Members)
Labor Day
Veteran's Day
2. Size Down During the Day, Size Up at Night
Generally speaking, the larger the diaper, the more expensive. If your baby is close to moving a size up, you can try this hack to temporarily save money.
Let's say your baby is almost a Size 3. During the day, equip your baby with a Size 2 diaper. Because you're changing diapers more frequently during the day, he'll be less likely to leak or have blowouts.
The idea is to use the less expensive diapers for as long as possible.
At night, switch your baby to the Size 3. Even though the Size 3 is more expensive, it has a greater capacity, which results in fewer blowouts or leaks.
Using this method is a win-win. You won't change as many diapers and your baby (and you) will sleep longer at night.
3. Download the Krazy Coupon Lady App
Wait, I said "no coupons", right? Just hear me out!
I love this app because I hate couponing. The Krazy Coupon Lady app highlights certain online and in-store deals based on your preferences. It's very similar to the Flipp app, but it's run mostly by users.
Basically, when a Krazy Coupon Lady scout sees a good deal, she takes a picture and reports it on the app. Then, based on your preferences, you are notified of that deal.
This app has told me about the most spectacular deals. I'm talking .10 price cuts for Pampers diapers, BOGO deals for Publix diapers, and so much more.
I would have never found these sales if the app hadn't notified me. And honestly, because of the app, I haven't had to coupon once.
4. Buy Quality Off-Brand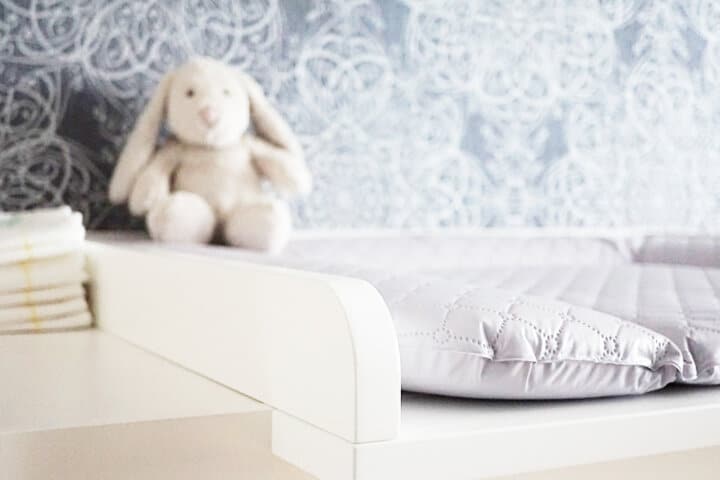 Newborns tend to have blowouts and skin sensitivities, preventing parents from trying out off-brand diapers. However, once your baby is a little older, do not be afraid to try out quality store-brand diapers.
My favorite store-brand (and diaper of choice) is the Kirkland Signature Supreme from Costco. Target's Up and Up and CVS diapers have also worked well. On sale, these diapers are almost half the price of Pampers Swaddlers.
Alternatively, you can always use a quality name-brand diaper at night and a generic brand during the day when leaks and blowouts are less likely.
5. Join Diaper Reward Programs
If you're buying Huggies or Pampers diapers without logging your purchases into the corresponding apps, you are missing out on free diapers.
These apps are ridiculously simple to use (they require maybe 1-2 minutes of your time), and offer fairly decent rewards.
If you're purchasing off-brand, don't worry. You can still save! Simply scan your receipt into a rebate app (like Ibotta or Rakuten) to receive a small cashback reward.
With the frequency of your diaper purchases, these apps can save you a pretty good chunk of money.
6 Buy Resale to Save on Cloth Diapers
If you're still pregnant and on the fence about using disposable or cloth diapers, this one's for you. Many moms recommend using cloth diapers because of the overall cost savings.
How much you save is completely dependent on your initial costs, local utilities, and any diapering services you might purchase. The real savings occur after your baby's first year, when you pay off your initial investment.
Having said that, many moms are turning to resale cloth diapers to help minimize that hefty initial investment. Online marketplaces like clothdiapertrader.com are becoming more common, but personally, I have seen the best deals at local consignment sales.
Local platforms like Facebook Marketplace or Craigslist can be good, but consignment sales and online platforms offer additional vetting that is usually much appreciated for cloth diapers.
You Can Save on Diapers too!
Believe me, if I can do it, you can too!
If you really want to save big on diapers, your most effective strategy is to simply plan your purchases, if only by a couple weeks. This allows you to find the best diapers for the best price.
If you're not able to plan ahead, at least try to recoup some of those costs with reward programs or rebate apps. Both methods only take a few short minutes of your time and can save you a lot of money.
If you have any diaper-saving tips you would like to share, let us know in the comments below! Good luck!