Thinking about using cloth diapers on your baby?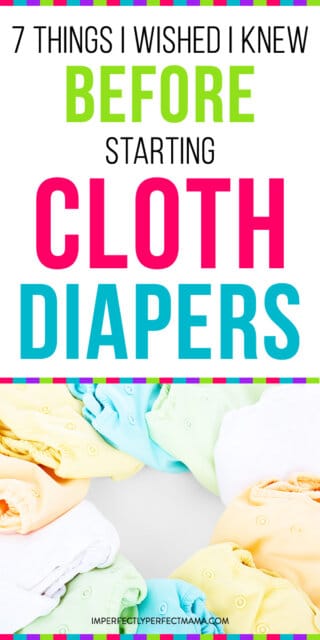 Want to make sure you have all the best advice on what to use and what to avoid to help make your cloth diaper journey more successful?
After 3 years of cloth diapering 2 kiddos, I've really become quite the cloth diaper geek.
But in all honestly, it took some trial and error along the way before figuring out what worked and what didn't.
Now I want to save you the hassle and share all my best cloth diaper tips to help you succeed and enjoy your fluff.
Listed below are 7 things I wish I knew before starting to cloth diaper my babies.
1. Velcro Doesn't Last
When we initially started building our cloth diaper stash, we bought quite a few hook & loop (also known as Velcro or Aplix) diapers because they seemed so simple and easy to use.
And, they are really great to have for daddies, daycare, and other caregivers.
But, they just simply don't have the longevity that snaps do. Even if you're caring for them properly and securing the velcro onto the laundry tabs before washing. The velcro eventually begins to lose it's sickness and still manages to attract a bunch of fuzz.
Velcro is also much easier for your baby to get off when they start to become a crazy toddler and can be itchy against your baby's tummy.
If you're shooting for ease of use, then I recommend going ahead and get some Aplix, but if you want your fluff to last as long as possible and give you the most bang for your buck, then I'd definitely stick with snaps.
2. The Detergent Makes a Difference
Washing cloth diapers is totally different than washing clothes. Why?
Because your diapers are soiled with human waste on the inside rather than just some dirtiness sitting on the surface.
And, in order to get your diapers squeaky clean, you have to have the right detergent and a good wash routine in place. Plus, some detergents have formulas that can cause repelling issues, ammonia buildup, irritation, and even chemical burns.
You'll need to find a detergent that works with your baby's skin, your family's values, and your washing conditions.
If you have an HE washing machine, you'll need to find an HE-safe detergent.
If you try to avoid synthetics, then you'll need to find a plant-based detergent. If your baby has sensitive skin, you'll want to avoid fragrances. And, if you have hard water, you may need to add a water softener to your wash routine.
You'll also want to be sure to avoid detergents that are soap-based, contain fabric softener or bleach, and don't have any/enough surfactants.
By the way, homemade detergent will not get your cloth diapers clean and could possibly ruin your energy efficient washing machine.
In fact, homemade detergent really isn't detergent at all. It's just soap.
We use Seventh Generation Ultra Power Plus in our home and many moms have great success with trusty Tide Powder, but here are a few other general recommended detergents for washing cloth diapers:
Synthetic:
Foca Powder
Gain Liquid
Purex
Plant-Based:
Amway Legacy of Clean SA8
Kirkland Environmentally Friendly/Responsible
Ecover
You can find a full list of recommended detergents over on the Fluff Love Detergent Index.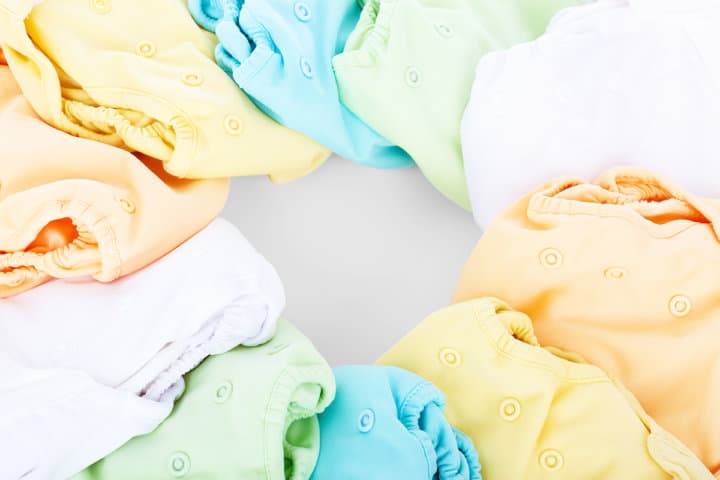 3. There's Also a Science to Choosing Diaper Cream
Not only do you have to choose the right detergent, but you also need to find diaper cream that is cloth diaper safe.
Now, if you're only using natural fibers, (like hemp, bamboo, or cotton) and washing your diapers in hot water, then you really don't need any special diaper cream at all. You also really don't need any special diaper cream if you're using liners religiously.
But, if you're using microfiber or wanting to wash on cold, then you'll need to avoid diaper creams that contain petroleum products and mineral oil, as those can cause repelling issues and leaks.
Zinc oxide is fine to use with your fluff, but just be aware that it has the potential to create stains (although we haven't had an issue with this).
We tend to use plain coconut oil as diaper cream at our house, but we also use Bordeaux's Natural Butt Paste from time to time.
4. Natural Fibers are More Absorbent
We didn't worry too much about what material we used with our first baby because she never really leaked through her diapers. Our second baby, however, has been such a heavy wetter.
We've tried out various fabrics, insert combos, and diaper styles, and what's really worked for him is natural fibers.
Organic cotton, bamboo, and hemp seem to do just the trick to avoid leaks. We've even come up with some reliable cloth nighttime solutions.
Wool covers are also a big game changer if you have a heavy wetter on your hands.
Do be aware that it usually takes a few washes for natural fibers to start fully absorbing. A brand new organic cotton diaper can take up to 8 washes before it reaches it maximum absorbency since the natural oils have to be stripped.
You can go ahead and use your diaper, but in the meantime, you may need to add an additional insert to avoid leaks.
5. But Also Break down over Time
The downside to natural fibers is that they break down over time, especially cotton.
Don't be surprised if your natural fabrics start falling apart after a few years. This is to be expected.
We've been cloth diapering for over 3 years now and our cotton prefolds have finally started to fall apart.
But for how much we've used them and only paying $13 for a 6 pack, I'd say they were well worth the investment!
6. DIY Liners are a Total GameChanger
DIY reusable liners are one of my favorite cloth diaper hacks around. These liners help wick moisture away from your baby's skin, keeping them nice and dry and helping to prevent diaper rash.
They also help make cleanup a breeze, as it makes the poop more "plopable." Plus, if you're baby's poop is really just that bad, you can always just throw the liner away and be done with it.
Liners also come in handy if you have to use a diaper cream that isn't safe for your fluff.
The next time you're at Walmart, pick up a micro-fleece blanket for about$3 to make your liners. Use an insert to help trace and cut your outlines.
You should be able to get around 30-35 liners from just one blanket. It's also probably best to wash your liners once or twice before using them on your baby's bum.
7. Newborn Cloth Diapers are SO Worth It
I wasn't so sure if newborn cloth diapers were going to be worth it when I was first looking into how to cloth diaper, but now, 3.5 years later, I'm so glad we decided to get a newborn stash.
Our first baby was born at 36 weeks and was only 5 pounds, so she couldn't even wear most of her newborn diapers for a few weeks. But, after that she wore them until she was about 4 months old and 16 pounds.
Newborns go through about 10-14 diaper changes in one day alone (sometimes even more). That's a whole lot of diapers to go through in those early months!
So, if you go with cloth, you'll be saving a whole lot of money. Especially because you'll be able to use them on your next kids or resell them when you're done.
Not to mention, cloth is amazing at containing blowouts.
Those newborn squirts are just the worst.
We were only able to use our cloth diapers on our second kiddo for about a month since he was so big, but now the kids use some of them as doll diapers. And, they're still in such good shape that we can use them again if we decide to have a third.
If you're really not so keen on buying a complete newborn stash, then stick with one-size diapers that run smaller than others (such as Best Bottoms or Lighthouse Kids Company) or newborn diapers that run big (like Nicki's Diapers).
Gotta Love that Fluff
Cloth diapers can certainly seem daunting, but with the right strategies in place, they're really quite a breeze. Plus, you just get addicted to all those cute prints!
Now that you know these 7 things I wish I had known, your cloth diaper journey will be more successful and more enjoyable.
What are some things you wish you had known before starting with cloth diapers? Share your best cloth diaper tips in the comments below and be sure to share this post with all your expecting and new mom friends.