As a busy mom, do you often wonder: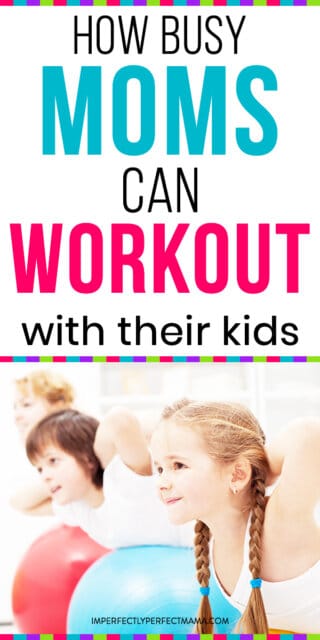 "How can I get a good workout in with my kids at home?"
Of course you don't! It's actually the last thing you're worried about, because you know that it's impossible for you to workout!
Yes, this was me at the start of CoVid-19 and social isolation.
Now it is summer break!
I stopped doing all my workout routines due to my two oldest being at home more. My normal routine is long gone and I found new ways to stay active.
The best way for a busy mom to get her workout in with kids at home is to make them join you and make it fun!
It's simple, and as busy moms we forget that kids can work out with you! Baby stage to teen stage, a mom can work out with their kids and not even realize it!
Forget the gym there are plenty of ways a busy mom and get a good workout in at home with their kids!
1. Learn How to Include Them into Your Exercise Routine
Let's start with the actual workouts routines.
Kids can do simple exercises such as:
Squats
Lunges
Running
Walking
Sit-ups
Crunches
Jumping jacks
And the list goes on, Even toddlers can perform these simple exercises.
When you workout at home, let them join.
You can add in variations to the simple exercises moves such as
Walking lunges
Squats with a kickback
Jumping squats
Walking squats
Dead bug
Bicycle crunches
Superman Planks
And again the list goes on the different workouts you can do with your kids. If you like you can add in light weights to help them build muscles.
If you're a mom with a toddler or baby, you can include them into your workouts by using them as weights.
2. Play Sports as a Family
People made sports to keep everyone fit and active. This is how many kids find their journey into fitness.
Since many sports cancel because of CoVid-19, it's the perfect timing for moms to try sports with their kids.
Now I know what you are thinking, "I can't play sports!"
Well, I can't either and I'm horrible at it.
You don't have to be the best at the sport. The point is, you're trying and showing your kids that sports don't always have to be competitive and serious.
Also, it's a great workout for you and the kids!
Make it fun and joke around!!
You don't have to stick to one sport all the time. You can try to play other sports too. In my family, we love basketball, but we like to play soccer too.
Experiment and find out which sports your family enjoy playing the most.
Also to mention there are tons of benefits of playing sports as a family.
3. Play Outdoor Games
Let's take it back to your childhood and play everyone's favorite P.E. game:
Kickball!
Yes, this game can still be fun. The kids will enjoy playing these games even more because you're doing it with them.
You can also try playing some of these other outside games as a family.
Sack races
Obstacles
Hide and Seek
Freeze Tag
Simon Says
Mother May I
When playing "Simon Said" and "Mother May I", I like to throw in basic cardio workouts such as: Jumping jacks, squats, mountain climbers and running in place.
This creates a fun experience for working out by turning it into a game.
4. Do Yard Work
Yes, you can get a good workout while doing yard work too! People forget how much sweat and tears goes into having a perfect garden and keeping the grass in shape.
Have your kids pitch in next time you need to garden or mow the yard.
There are so many ways you can get a good workout with your kids by getting outside.
This will also help teach them responsibility and give them chores.
5. Take a Nice Long Walk
Studies show that walking before or after dinner every day has major benefits.
HINT HINT: If you're a mom of a newborn baby or toddler, this is the perfect way for you to get your workout in. People forget that walking is exercising!
A busy mom can lose a lot of weight from walking daily and eating right.
I enjoy walking with my kids after dinner for two reasons:
I'm showing them exercising is not a chore.
I'm able to bond and talk with them.
If you have older kids, this can also be a time for them to ride their bikes, roller skate, or let them walk the dog.
6. Take Advantage of the Playground
Yes, you can get a good workout at the playground. The secret to it is that you can't sit out on the sidelines and scroll through social media. (Don't feel bad, I've done this too)
A workout at the playground can be playful and creative. It's different and a great substitute for the gym. You can work out at the monkey bars, bench park, or do spirits.
After this workout, you'll be ready to quit your gym membership.
7. Dance
This is my favorite workout to do with my kids for four reasons: It's fun, easy to do, it's free and it's a calorie burner
All you have to do is turn up your favorite song and dance away. If you want a more structured dance, try going to a Zumba class or find a dance workout on YouTube for you and the kids to do.
8. Yoga
For the longest time, I could not get my son to enjoy yoga.
My girls love it, my son finds it to be boring and thought only girls should do yoga.
Yoga has many health benefits for children. If your child is inactive, yoga can be a significant starting point.
The key to getting your child into yoga is to make it fun and less serious than when you're doing it by yourself.
I use these tools to help my children enjoy yoga:
Cosmo Kids YouTube channel
Use games
Props
Dress up in costumes
After learning how to make it more fun for my son, he enjoys yoga now and complains way less.
But Wait…How Can You Workout With a Baby?
It's the same as with older kids. Including your kids is not as hard as you think it is. It's simple to do and often it's more fun to workout with them.
It's best to do it when they're not cranking and full of energy.
If you have a newborn baby, it's important for you not to push yourself. Take your time and take advantage of those lengthy walks.
Now your turn:
How do you find time to workout as a busy mom? Or what are some other ways you work out with your kids?