When I was a kid, my mom read to me every night until I was in 4th or 5th grade.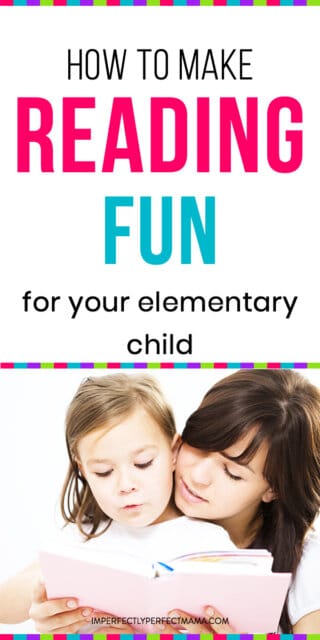 We read all of the Little House on the Prairie books as well as a good chunk of the Sweet Valley Twins series.
We read the Babysitters Club, the Ramona Quimby series, and most of the Bill Wallace books.
Reading with my mom is a positive memory for me and helped me develop a love of reading at an early age.
It's also a tradition I've continued with my own children.
At 8 and 10-years-old, my kids still love to have me read to them every night before bed. But more importantly, they have developed their own love of reading.
How to Motivate Your Child to Read
I don't know that I can entirely take credit for how much my kids love to read.
I do think reading just comes more naturally to some people than others. There are plenty of adults who find reading boring and avoid it at all costs.
So if your kid dislikes reading, it's not a parental failure.
But I do think there are ways to help them begin to enjoy it more. And it's worth the effort because there are so many benefits to reading.
Just so you know, I'm not a teacher, educator, or expert in childhood development by any stretch of the imagination.
I'm just a mom who loves reading with her kids. And if you're interested in helping your kids enjoy reading, here are seven things that worked for me:
1. Read to You Children Every Night
A lot has been written about why you should read to your child when they are a baby, toddler, and preschooler.
But I think it's just as important to keep reading to your kids once they're in elementary school.
Don't assume your kids will outgrow this right away.
My oldest is in fifth grade and she still enjoys having me read to her. Who knows if that'll last once she starts middle school next year but I'm going to keep reading to her for as long as she'll let me!
Even if you only have 10 or 20 minutes, try to read to your kids every night before bed.
And don't treat it likes it's a chore or something you "have" to do.
Make it fun for them! Find a special spot where you can read together, let them pick out a snack, and do different voices for all of the characters. Try to make reading together something they'll look forward to.
2. Don't Be Picky About What They Read
To illustrate this point, I'm going to reference one of my all-time favorite children's series: Diary of a Wimpy Kid. The series is about a boy named Greg and his adventures in middle school.
Throughout the books, Greg's mom regularly complains about how much time Greg spends playing video games.
So in Diary of a Wimpy Kid: Dog Days, she starts a Reading is Fun Club for Greg and all the neighborhood boys.
Several boys attend the first meeting and they all bring a book they want to share. But Greg's mom doesn't appreciate their low-quality reading selections and insists they all read books like Charlotte's Web and Little Women.
You can probably guess what happens next. Membership to the Reading is Fun Club tanks and those kids go back to playing video games and not reading.
There's no better way to teach kids that reading is boring than to force them to read books they aren't interested in. Yes, I want my kids to branch out and read a variety of books.
But I'm not their English teacher, I'm just trying to make it fun and get them in the habit of reading every day.
In the beginning, let your child choose the books they want to read. Don't try to force them to read books they aren't interested in, even if you loved it as a kid.
You can slowly begin introducing new books over time and help them expand on their reading choices. I promise you, they will not read Captain Underpants forever!
3. Go to the Library All the Time
The library is quite literally my happy place.
I know that's super nerdy but I just love it. I remember how exciting it was to be a kid and to load up your basket with 15 different books you can't wait to go home and read.
I aim to take my kids to the library at least once a week.
They both have their own library cards and can log in on the library's website and request books they're interested in reading. This gives them more ownership of their reading and makes it fun for them.
Plus, our local library is awesome! They have computers the kids can use and stations where they can color or build things. And the librarians are always happy to recommend a new book if someone is stumped as to what they should read next.
4. Make Reading a Treat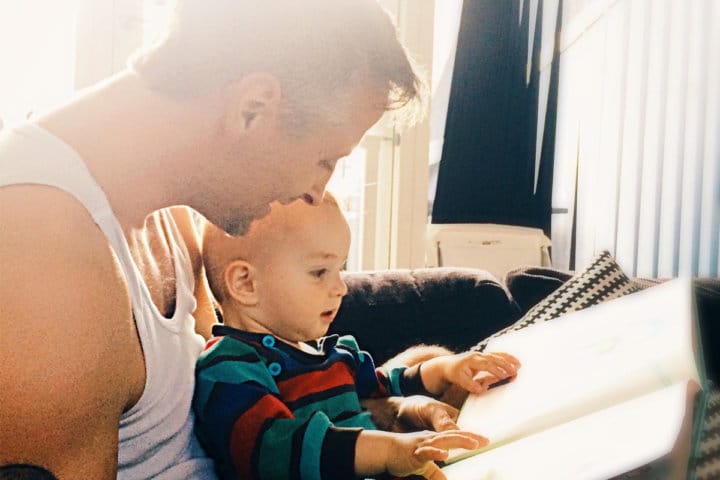 Like most kids, my son used to really fight me at bedtime.
I would put him to bed at 8:00 and he would find every reason he could to climb out of bed. He always had some very important question that couldn't wait until morning or he just needed his 20th sip of water for the night.
So instead of making him go to bed right at 8:00, I told him he could stay up and read until 9:00 every evening. He was thrilled with this arrangement and over time, he quit popping out of his room every 2 minutes.
The time he spent reading didn't feel like a chore to him.
Rather, it felt like a special treat because the alternative was going to bed. Plus, I noticed his reading skills really began to take off once he had an uninterrupted hour to read every evening.
5. Make Connections Between the Books and Real Life
My 10-year-old daughter loves the Dork Diaries series.
Nikki is the main character and the series chronicles how she deals with middle school and all the challenges that come with it for a teenage girl. Honestly, I didn't really like the series that much at first because there was so much girl drama in every book.
Then one day we were talking about a Dork Diaries book and my daughter asked, "Mom, why is Mackenzie always so mean to Nikki?"
This led to a really interesting discussion about bullies and why some kids pick on other kids. We also talked about how Nikki doesn't always choose the right response and things she could do differently.
We've had discussions about procrastination, doing your best work, and being a good friend. These conversations were all prompted by books we read together.
My daughter recently read The Seventh Wish which addresses drug addiction in an age-appropriate way. It's not a comfortable conversation to have with a 10-year-old but I know it's important.
The point is, talk about the books you read with your kids. Make lots of connections between the story and real life. They will roll their eyes at you so much less when you disguise your life lessons in a discussion about a book they love.
6. Read the Book then Watch the Movie
Is there anything better than reading a book and then seeing that book play out on the big screen?
My kids and I love to talk about how the story from the movie compares to the book and what differences we noticed. And we talk about whether the characters in the movie looked the way we imagined they would.
This can also be a great incentive to get your kids to start reading. For instance, you could tell them that they can begin watching the Harry Potter movies after they read the books.
7. Set the Example
The best way to help your kids in any area is by working on yourself first. So if you want them to love reading, try modeling this behavior for them.
If your kids see you doing something on a regular basis, they will naturally be curious about it. (This applies just as well to negative behaviors but that's a whole other article!)
Talk to your kids about why you love to read and tell them about the books you're reading. Tell them about books you enjoyed as a kid. Make reading a priority for yourself and share it with them.
Some Ideas to Get You Started
Finally, I wanted to share a list of books my kids have loved reading throughout their elementary school years. I've already mentioned a few of our favorites but this list should give you a great place to start.
Keep in mind, these are just my own recommendations based on what my kids liked. Obviously, you should use your own discretion when picking books for your child!
Books for kindergarten and first graders:
The Junie B. Jones series by Barbara Park
The Captain Underpants series by Dav Pilkey
The Magic School Bus Series
The Magic Treehouse Collection by Mary Pope Osborne
The Ramona Quimby series by Beverly Cleary
The Berenstain Bears books by Stan and Jan Berenstain
The Judy Moody series by Megan McDonald
Books for second and third graders:
The Diary of a Wimpy Kid series by Jeff Kinney
The Harry Potter series by J.K. Rowling
Any books by Dean Pitchford
Any books by Roald Dahl
The City of Ember series by Jean DuPrau
The Calvin and Hobbes series by Bill Wallace
The I Survived series by Lauren Tarshis
The Chronicles of Narnia by C.S. Lewis
Books for fourth and fifth graders:
A Wrinkle in Time by Madeleine L'Engle
The Percy Jackson series by Rick Riordan
The Warrior series by Erin Hunter
The Dork Diaries series by Rachel Renee Russell
The Goosebumps series by R.L. Stine
A Series of Unfortunate Events by Lemony Snicket
The 2018-2019 Mark Twain Award Nominees
The Anne of Green Gables books by L.M. Montgomery
The Little House on the Prairie books by Laura Ingalls Wilder
Is there anything I should have included in this list? Let me know in the comments!