You've just had a baby and are expecting to be busy, out and about with your little one in tow.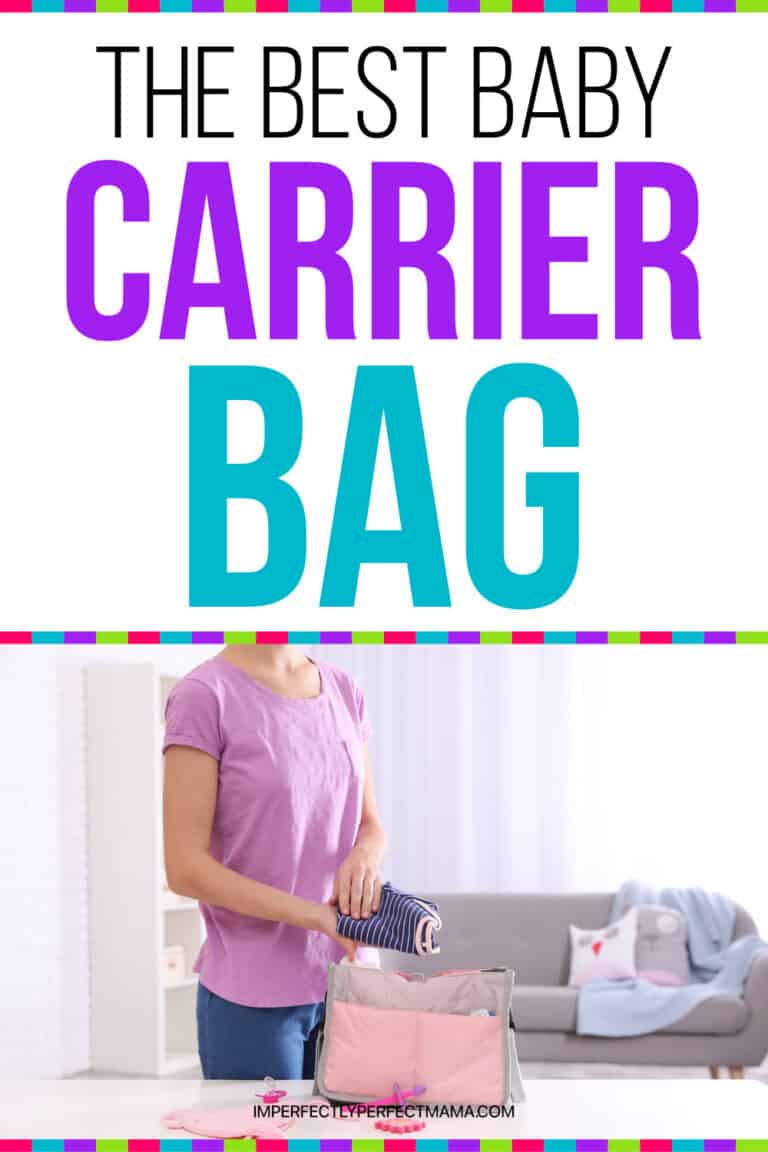 While you could use any kind of bag to carry the baby carrier, you may find that using the right kind of bag will make things easier on you and ensure that your precious cargo has everything he or she needs on hand when you need it most.
Carrying your baby has many benefits but it's also a quick way to run errands and get about in your day.
But, of course, you're not going out empty-handed, right?
You have a diaper bag to use so you can stash much-needed baby supplies!
So before you leave the house with your little one, consider which kind of bag would be best to use as a diaper bag with the carrier!
Best Bag Options for Your Baby Carrier
There are some things you just have to have when you're a new parent.
A baby carrier is one of them.
From outings at restaurants and coffee shops to take your little one on a walk around your neighborhood, it's important to choose a carrier that is comfortable for both you and your little one.
One factor that can make or break your experience with a baby carrier is how comfortable it is for both you and your child.
You want something ergonomic and lightweight such as a baby front carrier so that no matter how long you wear it, either or both of you aren't left feeling fatigued or in pain.
Backpack Diaper Bags
Backpacks are great for parents who want to keep their hands free, but some backpacks also tend to be on the larger side.
If you're looking for a large bag, however, a backpack diaper bag could be your best bet.
These bags often have large compartments to store all your baby-related items and include multiple pockets for smaller objects like bibs or formula bottles.
Backpack bags such as these diaper bag backpacks from Sleepy Panda usually come with many straps so that you can wear them as a backpack or carry it by hand.
Some even have an outer compartment that allows you to carry it as a duffel bag.
The nice thing about a backpack is that it works well with your baby carrier since the weight is being distributed with both shoulders.
Another option is the Skip Hop diaper backpack. It's vegan and chic to boot!
Be sure to place the straps on your backpack first and then your baby carrier over while you wear your baby.
Messenger Diaper Bags
These bags work well if you're carrying a few items or if you'll be out for just a couple of hours. Also, they look very much like regular messenger bags and can't tell that they're meant to carry diapers.
When choosing one of these, though, it's important to remember that babies need more than just a place to keep their diapers and cream; make sure you have room for bottles, wipes, burp cloths, and other essentials as well.
That said, there are some really nice-looking options out there for diaper bag carriers.
Make sure to check out the Lekebaby messenger diaper bag for styles!
Some even look like purses so no one will know what's inside!
If you plan on wearing your baby in your carrier quite often then consider a full backpack style bag since it has lots of storage space compared to other styles.
With a messenger bag style, you may feel the weight of the baby and the weight of the messenger bag all on one shoulder which some people don't mind, while others do.
Another issue some parents find with the messenger bag is that it tends to bump against your leg with every step your take.
This may or may not be a big deal for you, be sure it's comfortable enough for you before heading out.
Tote Diaper Bags
Tote bags are great for carrying everything you need while out with your baby.
These kinds of bags can be found in a variety of shapes and sizes, so it's easy to find one that fits all your needs.
Tote bags typically include a top zipper, which is important when you want to keep your things safe while keeping a close eye on your baby.
Zipper closures also make it possible to quickly retrieve items if needed during a stroller ride or errand run!
Tote bags are a bit larger than regular handbags, but they're still comfortable to carry with an over-the-shoulder strap.
So whether you prefer staying at home or heading out for some shopping, there's likely a diaper bag for the carrier that suits your style.
With this style of bag, it may be less on your shoulders to carry on top of a baby carrier, however, it doesn't leave both of your hands-free which may or may not be a problem for you.
This type of bag would typically be worn during shorter trips so that you can manage both the baby carrier and your tote bag.
Check to make sure that you can manage both before leaving the house.
If you have a tote bag you really want to take out, you can always wear it when you have a stroller nearby so that when your hands or baby get tired, it's easy to put down.
Another scenario where you can take your tote and carrier together is if you have a partner around to help with either.
But as you can see, if you're alone carrying a tote in hand is hard to access while also carrying a baby so this type of diaper bag is best with a stroller.
Wrapping it Up
If you're planning on wearing your baby for long periods of time, a backpack is your safest option since it leaves you hands-free whenever you need to tend to your baby and is also more convenient when it comes to wearing both at the same time.
Another thing to consider is how to store your baby carrier once you take your baby out of it.
It would be more convenient to have a diaper bag that has enough room to store it when you no longer need to wear it.
Before you leave the house, be sure to practice wearing your baby in your baby carrier while carrying a diaper bag so that you can be sure that you can manage.