Your kids are one of the most important things in your life.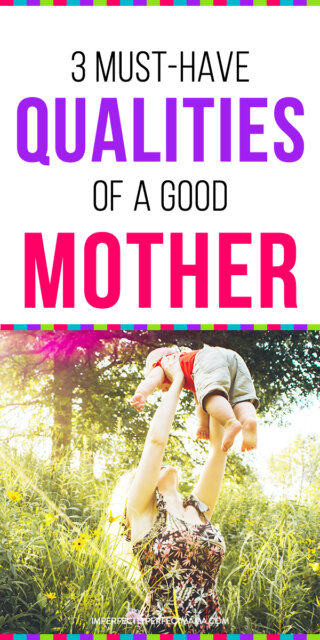 And you want to be everything for them.
But trying to be perfect all the time can cause you to feel like you are failing your kids, your husband, and yourself.
I am here to let you in on a little secret.
No one is perfect.
Your kids don't need a perfect mother, and they probably wouldn't want one.
But what they do need, is a good mother.
There are 3 must-have qualities of a good mother and I can't wait to share them with you.
1. Having Patience
This is the first quality of a good mother for a reason. From the moment your baby is born, she needs you to show her how to do things.
Everything from eating to sleeping, to putting on her shoes.
It can get really frustrating when it's 3:00 am on night 4 of a sleep regression and you haven't gotten more than 3 hours of broken up sleep since before you can even remember.
And that beautiful little baby you love so much won't stop screaming enough to latch on and eat so you can both go back to bed.
She's crying. You're crying. You curse your husband's name because he gets to stay in bed and sleep while you deal with everything.
Even through everything, you stay. You don't lose your mind and scream at that precious little thing. Because you know she needs you.
The need for patience becomes even more real when you have a toddler throwing your folded laundry on the floor into a giant pile to jump in for the third time today.
And it takes a new meaning again when your teenager calls you to say that he got suspended from school for punching another guy who called him weak.
No matter what stage of life you are in with your kids, you need to remember to be understanding when they make mistakes, and consistent with your reactions.
By reacting in a calm manner you will encourage your child to come to you when they need help rather than trying to hide it and make it worse.
If you only have one must-have quality of a good mother, this is the one you need the most. Because without it, motherhood is going to be very long and even more strenuous than it usually is.
If you want to work on being more patient, take a look at how to use positive parenting solutions to be a good mom.
2. Set an Example
One of the best ways to be a good mother is to try to set a good example for your kids in everything that you do.
Let's face it, our kids see and hear way more than we think they do. I mean think about what you heard when you were a kid and your parents didn't think you were listening.
So the best thing you can do is always assume they are watching and listening. And if you don't want them to do it, then you shouldn't either. Monkey see monkey do is a saying for a reason after all!
Make a point of being open with your kids about what is going on with your family. Not in a way that scares them but so that they are never caught off guard by something serious.
For example, my grandma hid the fact that my Papa was dying from her 9 kids for months.
And I vividly remember being picked up from school and taken to the hospital to say goodbye to one of my favorite people on the planet. We should have been more prepared to lose him, but we weren't.
Try to let your kids be aware of major things that are going on so they don't have to be shocked if you can help it.
One other thing you want to set an example of is something moms often forget. Let your kids see you taking care of yourself. If you don't do it, they won't do it. So show them that you make your health, and mental health a priority so that they will do it too.
Get 9 other specific parenting skills to work on like this.
3. Be Loving
I know that this seems like an obvious quality of a good mother. But I am going to include it anyway for one simple reason.
We all love in different ways.
So you need to learn how your child loves so that you can love them in the best way.
There are 5 Love Languages, acts of service, physical touch, words of affirmation, quality time, and receiving gifts. Each one requires a focus on different ways of showing you care about your child.
That doesn't mean that you only use that one means of showing your love, all of them are important to everyone, but it is the one you should place the most importance on and be using every day.
To hit briefly on each love language you can keep these simple things in mind:
Be kind, never hurtful or mean.
Act as a resource of information, not just an authority figure who disciplines when mistakes are made.
Give praise when they do something well or are helpful with or without being asked.
Be forgiving, kids have to make mistakes to learn and grow into responsible adults. Let them know that it's okay to fail.
Be a Good Mother, Not a Perfect One
Always remember that perfection is not real. If you look at someone and think they are perfect it means you don't have all the information.
Your kids were given to you because they needed you to be their mom.
Just by being here, reading about must-have qualities to be a good mother, you are showing that you already are a good mom! You wouldn't be here otherwise.
Be easy on yourself and your kids when it comes to expectations. You will all be better for it.
By being patient, setting an example, and loving your kids as often as possible, you will be well on your way to being a good mother that will raise beautiful and amazing children.
You've got this, mom.