Why can't I make mom friends?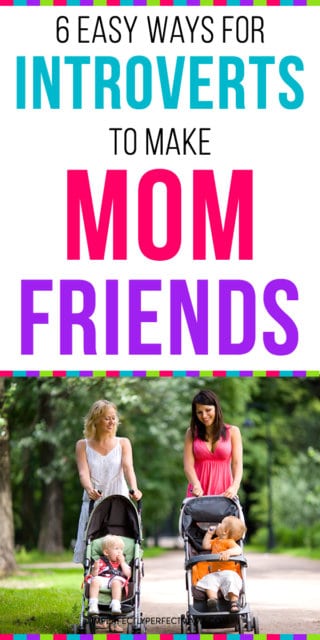 It's a question asked by many introverted moms.
Yes, you like alone time, but you need a friend or two to have some fun with. So how do you find those perfect friends? With these 6 tips on how to make mom friends.
A few years ago we were in Washington D.C. tagging along on my husband's business trip. One of the days we were there we caught a kite festival.
It was awesome! My daughter was 4 at the time and completely mesmerized by the hundreds of kites that filled the air.
I remember thinking I wish we'd known about the kite festival so we had a kite she could fly. And while I was thinking that she went over to the family next to us and asked if she could fly their kite.
I was embarrassed and not sure what to do. Never in a million years would I be brave enough to ask someone new if I could fly their kite. But she did. And you know what happened? They said yes!
She got to fly a kite and had an incredible time because she was willing to make new friends.
Life as an Introverted Mom
I want to be like my daughter. Thinking of all the wonderful experiences she's had with so many new friends made me realize what I was missing out on.
Now me? I'm more of a (very) shy extrovert.
You see, I can be a loud person and recharge when I'm with others. But only my people.
Mostly that's my family because we've moved a lot and it is hard to get out of the house and make new friends.
So I get it. I know how hard it is to put yourself out there.
Besides who even knows if this person is someone you're going to get along with anyway.
Many people think that being an introvert means you don't need people but that's not true. Introverts seek alone time to rejuvenate but that doesn't mean they are anti-social. Just like anyone else introverts need friends.
Especially in motherhood.
Why You Need Mom Friends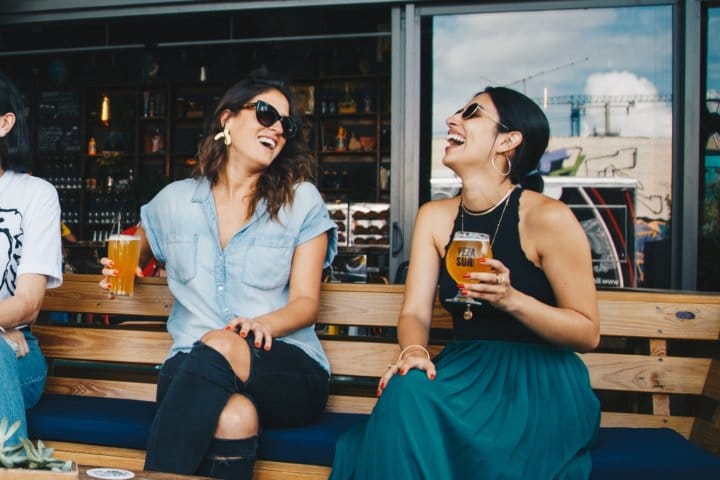 Don't go at this mommy thing alone. You need to find other mothers that can understand and support you in your role as a mommy. And care about you outside your role as a mommy too.
Let's put it out there: motherhood is HARD.
There are amazing moments and I am so grateful that I'm a mom. But that doesn't mean it's easy. And we shouldn't pretend like it always is.
Everyone needs friends and mom friends are the best. Here's why:
You Can Have an Adult Conversation – because they desperately need one too!
They Are Less Judgemental

– they also have had bad mommy moments they regret.

They Provide Support

– they all know the struggle of parenting.

They Know How to Encourage

– because they see that you're raising a good kid when you're too lost to see anything but your mistakes.

They Give Great Advice

– the same thing happened to them only last week!

They Bring New perspectives

– everyone views the world a little differently.

They are So Much Fun

– because they need a break too!

Your Kids Can Have a Friend too

– it's like a double play date one for you and one for the kids.
Mom friends are the best people around.
I am so glad I've found the ones I have because it's nice to know that I'm someone outside of mom.
My friends help me remember what it's like to have hobbies and downtime. I love them and, having had periods of time without any mom friends I can tell you life is so much harder without them.
Finally, make sure to look for someone who has a similar parenting style to your own.
It definitely helps with the "less judgemental" thing, as well as advice.
How to Make Mom Friends
Now, on to the hard part. I mean, good stuff.
How do you actually make mom friends as an introvert?
I've got six ideas to help that won't be too overwhelming. No "throw a party" or anything that is something you wouldn't even consider doing.
These are simple and easy so here we go.
1. Reconnect With Old Friends
Start with the simplest one.
Find some of your old friends. Chances are they are moms now too and you already know a lot about each other.
Reach out and connect. Make plans to get together.
2. Leave the House
This one isn't as bad as it sounds, just say yes to things.
Yes, I'll go to the school activity, yes, I'll take the kids to the park today, yes, we'll linger after story time at the library.
If you take off as soon as something ends or only go to things that you need to go to you'll never make friends.
Leave the house and go to events. Just be outside more. You're not going to make those friends staying at home.
3. Stay Off Your Phone
This makes it easy for others to come and say hello to you.
It can be hard not to have something that you're doing, but by just staying off your phone you will make more friends.
Bonus, you might not even have to be the one to say hello first.
4. Introduce Yourself
Sometimes you do have to make the first move though. Make sure to say hello to the same faces you see.
After dropping my oldest off at kindergarten I would let my younger two kids play on the playground until the bell rang.
So did this other mother. We said hello, but it's a year later and I don't even know her name.
Make sure you introduce yourself in addition to saying hello. It would've been nice to have a friend to chat with every morning but neither one of us introduced ourselves.
5. Make Specific Plans
I mean an exact date, don't just plan on "some time." Some time never happens.
When we first moved to Michigan a couple asked us if we liked playing games. We told them yes and said we should play sometime. The husband responded with "We should! When? How about this Friday?"
It put us on the spot but we had a plan and got together. We ended up getting together and playing board games on a regular basis and became pretty good friends.
6. Listen
When it comes to making and being a good friend you don't have to be the most interesting person on the planet. Thank goodness.
You just need to care about others and listen.
Plus listening is a task that comes easy for those of us who are shy.
Remember, moms need friends too. They provide encouragement and fun.
Things you need as a mom. By getting out of the house, introducing yourself and making specific plans you'll find your tribe of mom friends.
Be yourself right from the start. It's a bit of trial and error but don't give up!