Working out is tough for a new mom.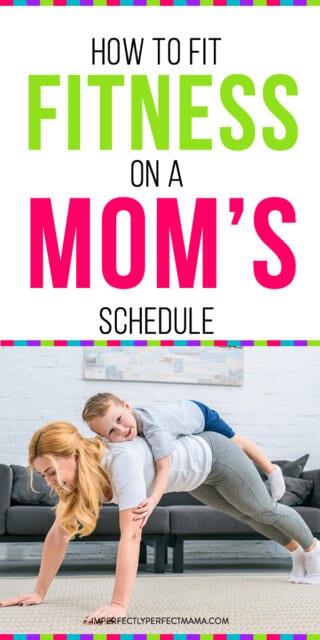 There are a lot of outside forces keeping you from hitting the gym or home matt.
The lack of inner motivation plus the distractions of children gives mom a load of excuses for not taking time for herself.
What many of us forget is we need our time, it helps us mentally prepare for the stresses life throws at us.
We all know the benefits of working out so I am not going to drone on about it.
I want to show you there are ways to add a small workout to your everyday activities and still feel the rush of endorphins you need.
Resting Time
We all have heard the term "sleep when the baby sleeps," well if we did that mommy will be smelly and our houses a mess.
Nap time is the best time to focus on ourselves! When my son was growing out of the napping stage, I was a little sad.
After some research, I started implementing "resting time." Resting Time is my sons time to unwind and relax with quiet time activities; such as reading a book, coloring, or tablet time for one hour.
This allows mommy time to catch up on activities without distractions.
For this mommy, I spend that hour doing 15 mins of workout, a shower, and some chores. Dealers choice if your workout is yoga, cardio, or weights, the important thing is to ignore all of your instincts to not workout and just do it.
There are times when I spend that hour just jogging on my stepper and binge-watching Netflix.
Let's All Get Moving
There is also an opportunity to get your children involved.
Kids may not understand the importance of exercise, but we do.
It also helps them get rid of that extra energy they seem to store. There are many options to working out with your kids. Taking a walk is a very peaceful moment to spend with our children.
Joining our kids outside to kick a ball, tag, popping bubbles, or play catch is surprisingly a fun way to get some cardio in. Indoor and outdoor pools offer low impact ways to burn calories all year round so enjoy a splashing good time with the kids.
You are off the couch and moving that's what is important.
No Need For Expensive Equipment
You can find many interesting pins on Pinterest about ways to use the baby as a workout tool.
I use my 1-year-old as smaller weights, we do squats, Russian twist, and deadlifts.
When I need to up the weight challenge, I use my 5-year-old (50lbs and growing), to do bench presses, overhead presses, and bicep curls. The trick is not using terms like bicep curlers or deadlifts, instead, I use terms like a roller coaster and flying man.
We also did the flying carpet which allowed my son to rest on the top of legs well I performed what we know as the knee to chest stretches; I made it fun by moving legs side to side.
I learned that you can also use this idea to teach your child spatial awareness. Doing squats, repeat the phrase up and down with your baby teaches them where they are with respect to the ground. Right and left can be used during the Russian twist. I believe you get the idea.
Who doesn't love a good teachable moment?
Focus on the Little Things
One thing we could all agree on is we want our babies to grow up strong and healthy. We can ensure this by being good role models for them. Exercising in front of them shows them what to do.
When I find myself lacking in the exercise department I try to find ways to add it to my daily routine. I do lunges when I walk from room to room. Calf raises while doing dishes.
Side bends and deadlifts while picking up toys around the house. If your house is anything like mine, this exercise will be used a lot. Use the heavy laundry baskets for weights and do a few bicep curls.
If you need help coming up with some ideas, Pinterest can be a great source.
Save the Best Exercise for Last
I know you are probably thinking, why didn't she add dancing to the list of fun ways to exercise. I have this routine were before school I blare some music and just move.
Dancing can be any kind of movement and movement allows us to burn fat and calories, yay! I learned about a fun Youtube group called Koo Koo Kanga Roo from my son's Pre-k teacher.
They have fun dance-along videos that really get kids moving.
The songs are harmless and funny such as "Cat Party" and Dinosaur Stomp". I dance along and it makes my son laugh and we get to bond over the silly moves we are following along. You could also turn the tunes on and dance your way to a clean house.
What's more fun than using your broom as a dance partner?
Make Exercise Your Daily To-Do
Exercising doesn't have to be a chore, though mindset can make it feel like one.
We sacrifice a lot when we have babies, our time, minds and body.
My mom bod is my trophy but I want to stay healthy for my kids and show them how to be strong. With our busy schedules finding the time to exercise can be tough, but using our time wisely we can sneak in a few moments.
We also don't have to do it alone. One thing about being a parent we are truly never alone.