Are you about to set up your baby's nursery?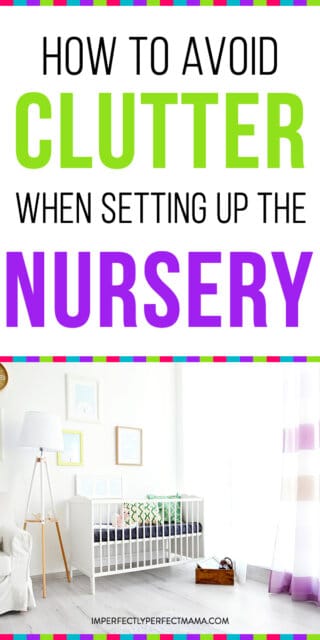 Don't know where to start but strongly wanting to avoid waste and clutter as you go about it?
The process can be overwhelming, especially if you're at it the first time.
If you're not careful, baby stuff could take over your house! The clutter could become overwhelming for you and baby, too.
Plus, you might also end up buying stuff you don't even need and won't even use. That's a total waste of money and resources.
At this point, it's becoming increasingly important for us to mind our impact on the planet, for the future generations' sake.
Setting up a nursery is not an easy project. Doing so while intending to lessen the impact on the planet makes it even more challenging- but we owe it to our children and the future generations to try.
Here are some ways to avoid waste and clutter when setting up the nursery.
1. Research
It is important to have good knowledge about what lies ahead. Read up or ask around.
When researching, rely on expert opinions and experienced parents.
If you don't know where to start, you can approach it in stages: pregnancy, birth, first week, first 3 months, first year, and so on.
Remember to focus on what's urgent.
For setting up the nursery, it makes sense to first focus on the things baby will need at the hospital, when coming home and for the following weeks.
List them down and look up where you can get them. This way, you can plan out and budget ahead.
2. Choose a Parenting Style That Speaks to You
Most new parents tend to ask, how will I parent my child?
If you answer this according to your ideals, your highest hopes and deepest dreams for your child – while being grounded with your situation – then you are close to discovering your parenting style.
I know it sounds silly to already think about this even when the baby isn't out yet but it's important.
This will be your compass as you go along.
Plus, since you've already pre-determined how you will go about some things when it comes to parenting, this will allow you to narrow down your choices.
In the end, everything will be less overwhelming.
3. Create a List of Things You Want and Need
Think about the things that you want and need for your child's nursery. Go back to your research. This will guide you when you go shopping.
Then, stick to it to avoid impulse buying.
You can also share this as a "wish list" to friends and family if you're one to organize a baby shower. Tell them about your intention to avoid clutter and waste as you set up a nursery for your baby.
You can also explain that it's your way of making sure that what they give is something you will really use. It's your way of honoring their time and effort in getting a gift.
4. Buy Intentionally
Most baby stuff is made to look so adorable. A part of you will want to buy almost everything you like!
But money and space-wise, that's not always possible. Plus, that's what we're trying to avoid here.
So, buy for a reason and for the long-term.
When tempted, it helps to ask yourself these questions:
Is it something you don't have?
Will the baby be able to use it repeatedly?
Will the baby be able to use it for a long time?
Is it developmentally appropriate?
Does it align with the values you want to instill?
If you answered mostly no, it's time to put the item back on the shelf.
5. Welcome Hand-Me-Downs
There is nothing to hate about this. Other people get to clear up precious storage space, you get to save some money.
If anyone offers, take it. Just make sure to check for the conditions of the items and organize them according to type and point when they'll be used.
That way, you know which of them you'll be using or what you truly need to buy. Be prepared to dispose of some items yourself.
What's more, reusing baby items and lessening the consumption of new ones, which means you are also reducing waste. By doing so, you are lessening your impact on the environment.
6. Make Room for Baby's Things
Clean up that extra space in your house and transform it into a nursery or baby's corner.
Remember to give a place for everything and put everything in its place. Assign an area for clothes, shoes, toys, books, and other baby items.
This way, your baby's items will stay organized. This will also make it easier for you to see what you already have and don't.
In the process, you will need to declutter and properly dispose of some of your own stuff too.
This takes time and effort but you will appreciate it once the baby comes along.
7. Declutter Regularly
Your baby will grow up so fast, especially during the first year. She will outgrow clothes, shoes, and toys quickly.
Declutter regularly. I'd say, every 3 months. That way, the size to work on is manageable.
Organize items into the following groups: Keep, Give, and Throw.
Keep items that still fit and can still be used.
Give some away to friends who are also expecting or donate or sell it at a fraction.
If you must throw, make sure they're already in poor condition. There are some clothing shops that accept clothes even in such conditions as part of their fabric recycling program. Some of them incentivize donors which is great.
So, there you have it! I hope these tips help you avoid waste and clutter as you set up the nursery.
Let me know how it worked for you.
Happy nesting!