Hi! I would love to work with you to promote your blog or product! If you feel your product, company, or blog could use my services and you would like to work with me, please contact me @ [email protected] Read my About Me Page HERE to see if you think Imperfectly Perfect Mama is a good fit for you!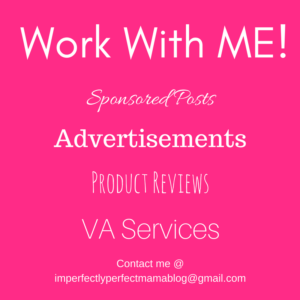 Here are some services I offer!
Sponsored Posts: I would love to share your product or promote your brand to the readers on my blog and my social media followers. This includes Instagram, Facebook, Twitter, and Pinterest.
Advertising: Place an ad on my page for moms to see! Contact me to discuss size and placement of your preference.
Product Reviews: Let readers see your product through the eyes of a real mom like me! I have two young children, and love to share products that we love!
Media Kit Available Upon Request:
Imperfectly Perfect Mama is a blog for moms with young children. If you feel that your product or brand is a good fit, please contact me. From there we can discuss a budget and plan for our partnership!
Have a GREAT day!